This year, Katie wanted a Sweetieland theme for her birthday party.  A sneaky way of ensuring that lots of sweets are included in the whole experience!  She chose and helped design her invite and out they went.  We didn't give people much time to RSVP as I have a nasty habit of thinking that June is so far away, that I seem to wake up around the last week of May that Katie is, actually, indeed, like really having a birthday in just a few days!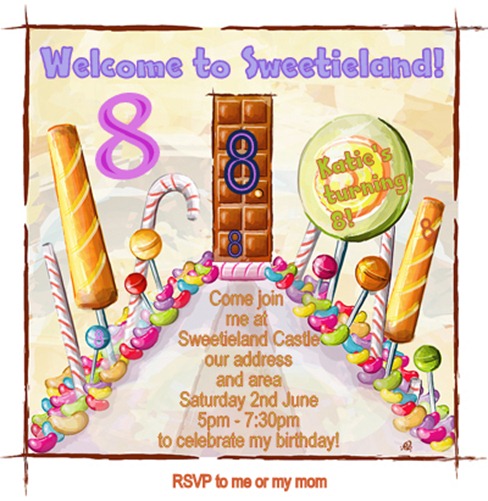 So Sweetieland it was, and I had to do some serious quick thinking in a seriously busy week.  Monday took me off to Gordon's Sweets for cheap cheap Chinese E-ridden sweets.  Why is it that something that tastes so good is so bad for you?  It's just not right! 
The rest of the week was chocobloc with a dozen other usual and additional activities, but I did manage to buy birthday pressies, plan games and generally get ready for the day.
Well, it turns out that the birthday day was BUSY and eventful!  We had Mamas and Munchkins in the morning, followed by the church's Grade 2 social for the Grade 2 girls and their families – a wonderful fun Art Jamming session.  Then home again, brief rest, and back to work.  We decided that a late afternoon party would work better than our usual 3pm deal.
"Work" entailed tidying up and preparing for 7 other kids arriving for a late afternoon-early evening party.  Part of that work was for me to head to Pick 'n Pay and Woolies for the last minutes buys like rolls for the kids' supper.  And that's when it went all a bit pear-shaped.
The queues were ridiculous.  For those who know Constantia Woolworths, I joined the queue at the back when it was by the bread section, having snaked its way through the meat section and all the way along the back.  Knowing my "quick trip" was going to take a whole lot longer, I quickly messaged Craig with a few instructions, including "please pop some popcorn!"  Well, the popcorn burned and Craig had to air out the house.  Which is where things really went pear-shaped.  The laundry area window shattered as he opened it, cutting his finger in a great big C shape almost down to the tendon.  Pain and blood were the order of the day.   He called for Kiera, trying to remain calm, and gave her step by step instructions while clutching his left finger in his right hand.  "Take my phone out of my pocket", "slide it open", "dial mom".  Kiera followed his instructions with calm precision.  She didn't panic.  She calmly took control of the situation, even getting her siblings to return to the movie they were watching so that they did not panic. 
I was really confused when I received a call from Kiera on Craig's phone.  By this time my place in the queue had progressed to the normal aisle – sandwiched between two long racks of sweets, with no escape.  I couldn't make sense of what she was saying.  Then I heard Craig shouting in the background, but still I was not hearing.  By this stage I was starting to panic.  I had no idea what had happened, but something was seriously wrong if Craig couldn't hold his phone himself.  Then Kiera was back on again and I heard a few words in the confusion of it all, "mom, come home NOW.  Dad … cut … finger … needs … hospital NOW."  There I was, stuck in the line with no escape.  I looked at my trolley, looked at the queue and then ran, abandoning my trolley for the poor guy behind me to push along in the queue until the exit. 
By this time, my heart was racing.  But a few phone calls later I had my mom finishing my shopping for me at another Woolworths and Craig's folks coming to our house to help out with the kids.  I arrived home to a grey husband clutching a blood-soaked facecloth around his finger and an eldest daughter trying valiantly to hold back the tears.  That was just about too much for me and my own tears came!  Thankfully, Craig's folks arrived shortly after that, having turned around from their intended drive to Hout Bay.  They took him off to the Emergency Room and the girls and I went into overdrive to get the house ready for the party.
Katie was all teary and said, "I'd give up my party so that daddy could be ok!" while Kiera, who had managed to squelch her tears, was in efficiency mode.  Both girls followed my instructions to the T.  In no time we had most things ready.  I was so proud of them!  While I was multitasking with the phone on my ear, catching up on Craig's latest at the hospital, Kiera was showing initiative and organisation like I've never seen before.  She just spotted what needed doing and did it.  Small things that I would normally take care of, she did, like filling the sugar bowl, setting out the tea and coffee, filling the water jug and so on.  I was amazed at how calm and efficient she was.  After a while, she relayed her own experience to me, giving her an opportunity to have some emotional release.  She had felt quite shocked herself, but managed to maintain control.
With about 20 minutes to spare, my parents arrived, with the hotdog rolls and sausages for the kids' supper.  And they too pitched in with efficiency and helpfulness.  They had my kitchen cleaned in no time and our supper all prepared and ready for warming in the oven.
By this time, we heard that Craig was to have stitches.  His finger had been cut down to where the tendon was visible – the doctor had a good ol' time showing off the tendon to Craig and the nurses.  But, knowing he was in good hands, and that it wasn't more serious than that, we were able to concentrate on the party!
And so we did.  Thankful for the help of granny and grandpa, who now took on the role of Craig for the party, I was able to get on with the games.  And games we did! 
I had planned four games and a piñata, but we ended up only doing two games and the piñata.  Keeping with the Sweetieland theme, all the games involved sweets.
First game: build a structure out of jelly-sweets and toothpicks.  Here I am demonstrating, while the kids listen with rapt attention!  Love their expressions!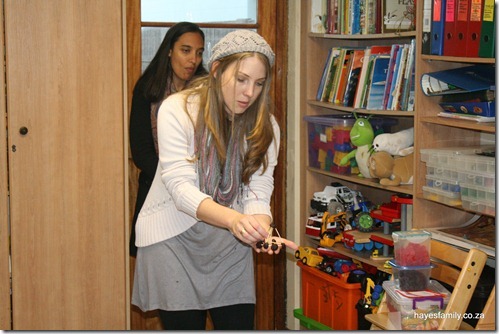 Micah was feeling a bit otherwise, but was absolutely fine so long as he had granny looking after him!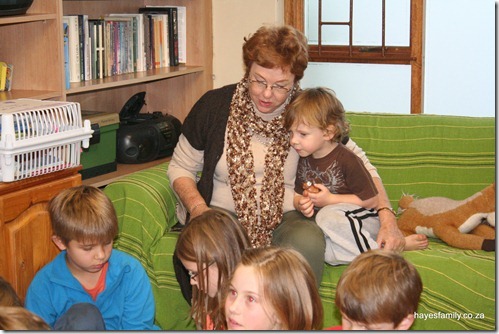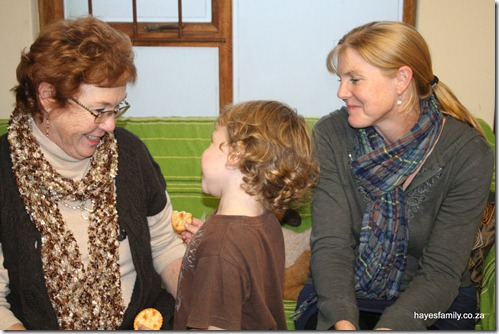 And I even got to relax for a few moments with my friends while the industrious kids worked hard on their structures.
And work hard they did!  Such industry!
The team with the biggest tallest structure won.  The blackberry team won by default as the raspberry team didn't join their structure together.  A lesson in teamwork methinks?  Certainly a tough lesson for all those independently minded kiddies in that group!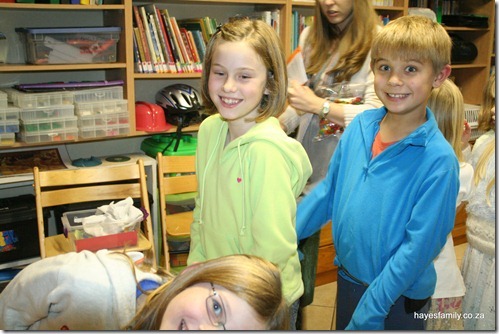 The second game was a scavenger hunt of sorts.  They each had a riddle that, when solved, would give them a clue to where a specific sweet/chocolate was hidden.  They would have to place said sweet or chocolate in my hand in order to receive the next clue…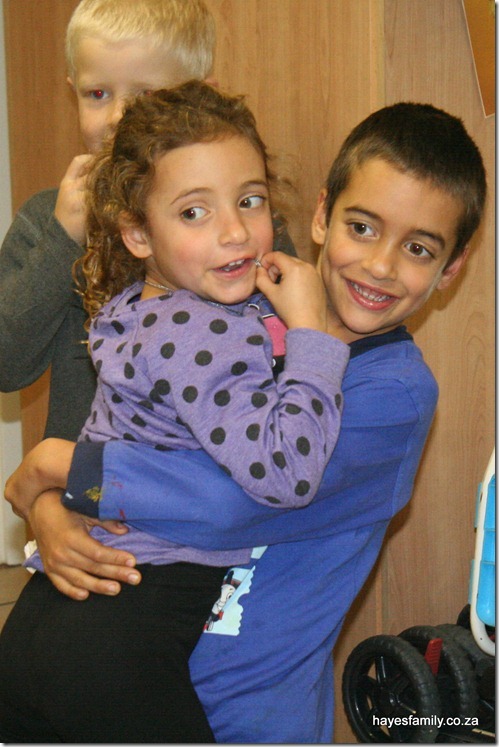 Oh what fun!  The hunting around was just hilarious!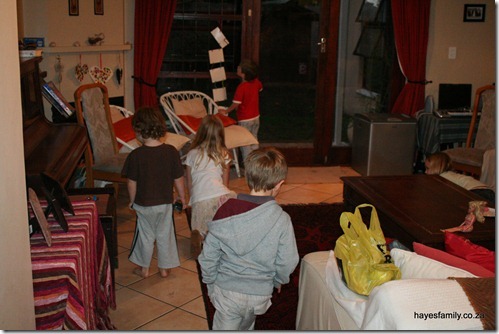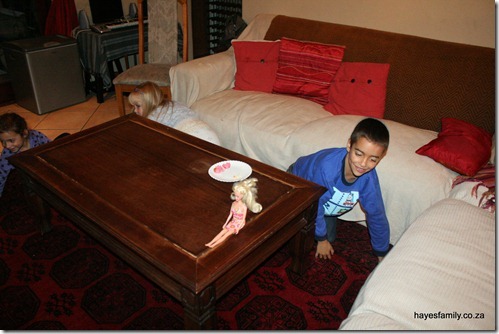 Eventually they found their answers… under the piano,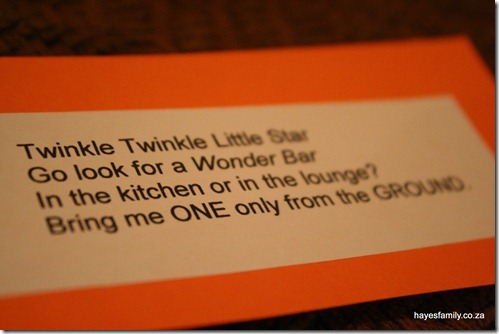 in the kitchen,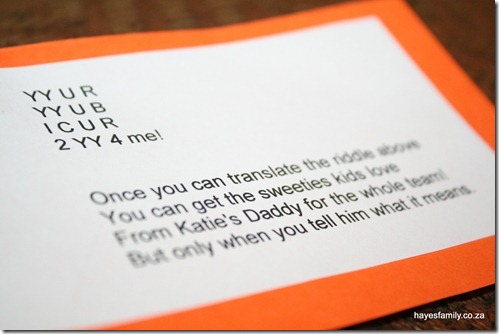 in our camping fridge,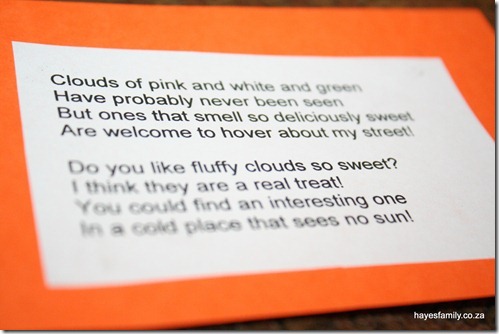 in the shower,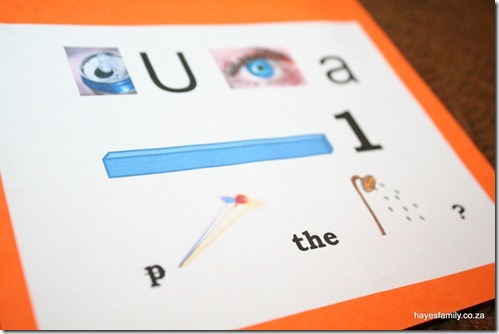 and in the tumble drier…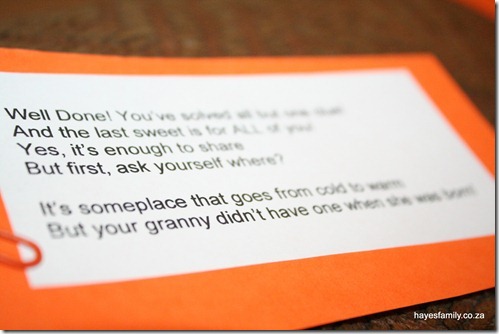 But they did look in all sorts of strange places and quizzed grandpa Peter too!
Their final clue led them to the piñata.  Katie insisted on a sweet-shaped piñata and so that's what we made the day before.  She enjoyed painting her special birthday game piece and took it all very seriously.
By the time we got to the piñata, it was dark outside and my outside light went on the blink!  But they managed none the less!
Eventually, the sweets flew out and we could gather them for the party packs later.  Craig arrived home by that time, all bandaged up.  7 stitches and a thorough bandage later, he was (almost) as good as new!  The kids were quite excited to see him.  He got lots of hugs from his girls, particularly.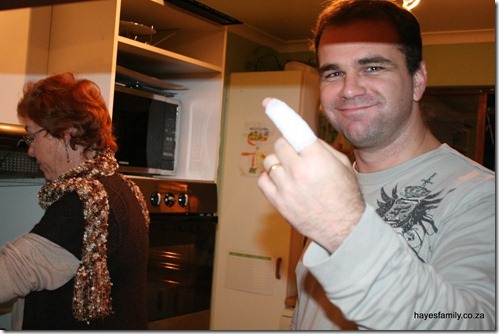 The plan had been to play the chocolate game and then a fun noughts and crosses (tic tac toe) game using chocolate as the board pieces, but by then they were all enjoying their hotdogs and were ready for some free play. So we left them to their own devices and before long, we realised it was cake time!
Craig made an ice-cream cake at Katie's request.  With a great big waterfall and land made from sweeties, the final product was lovely!
And the kids enjoyed every morsel of the yummy chocolate, mint and vanilla ice cream!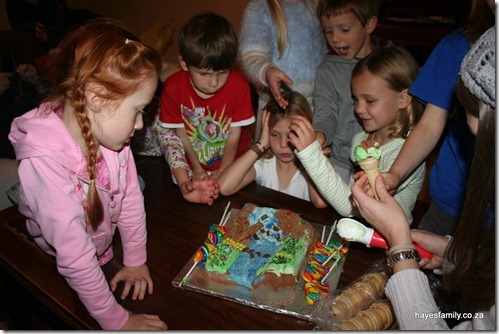 Holly stayed on with Uncle Cam to enjoy the present opening. Of course the boys wanted to be in on the action!  This time around we videoed Katie's thank you responses and sent them on there and then.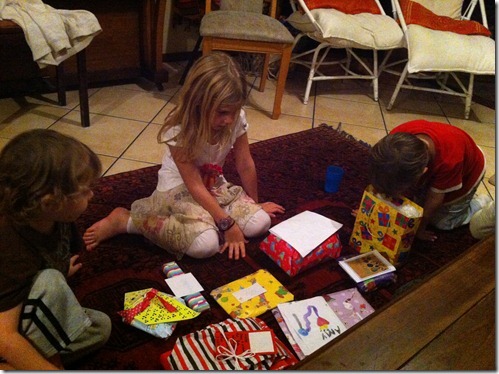 All in all, it was a lovely party, despite the panic stations just before!  Tidy up was quick with the help of the girls and soon it was time for bed, for the next day is church and we have a certain someone's 8th actual birthday to celebrate!