With all the discounts we got from Backpacker's Paradise for the various sites nearby and mom and dad's generous offer to split the costs – we got to enjoy the Cango Wildlife Ranch and the Cango Ostrick Farm on our last full day in Oudtshoorn.
Here we are – all ready to head off into the mouth of the crocodile at the Cango Wildlife Ranch.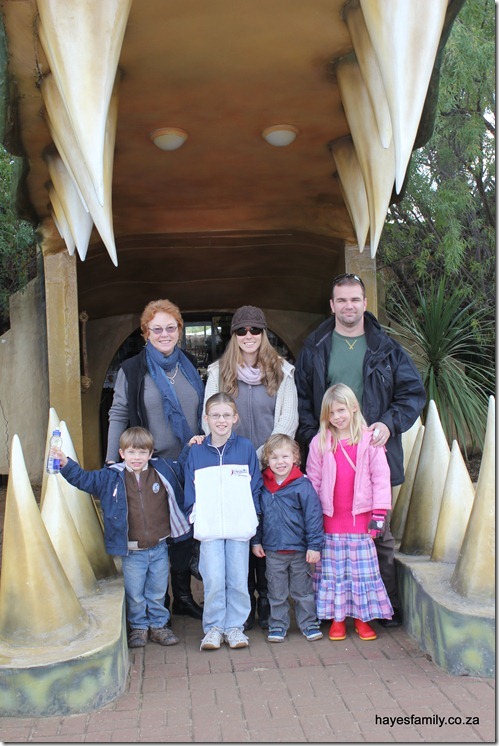 We arrived just in time for the next tour…
We were quite impressed with CWR – the tour was fun and interesting what with all the little quirky gimmicks and funny explanations.  The entire ranch has an Indiana Jones ring to it, what with the ruins and artefacts scattered here and there, the old rope bridges and the occasional skull.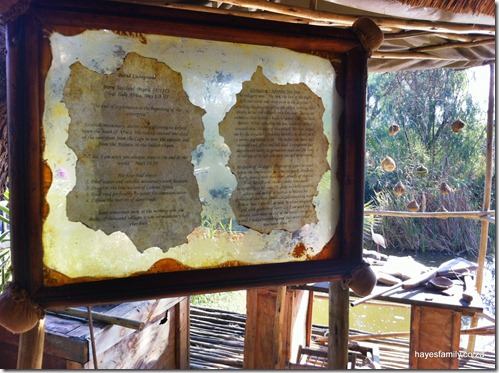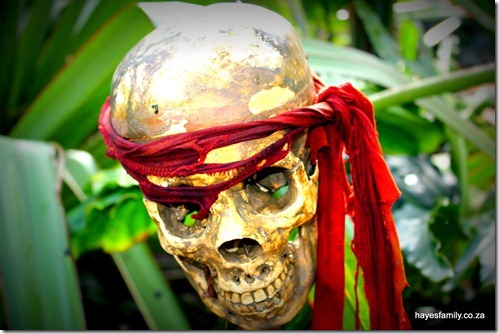 The tour took us through a gazillion fish, including one called "Angelina Jolie".  No guessing which one she is below…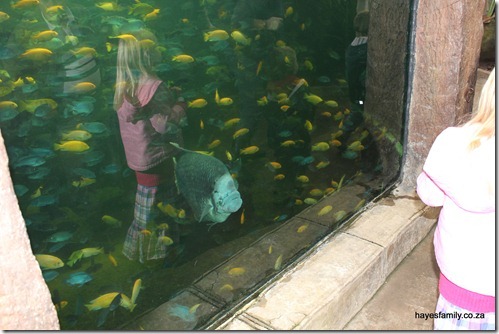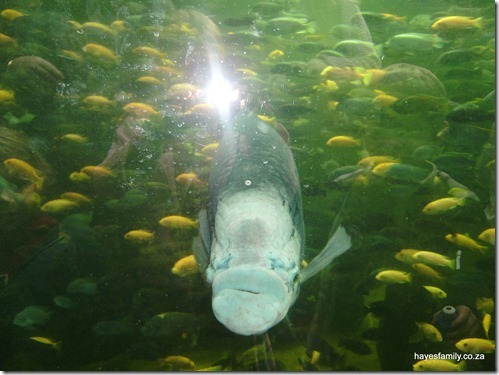 We met Fox Bats – ahhhh, it was surreal seeing these guys being all batty in broad daylight.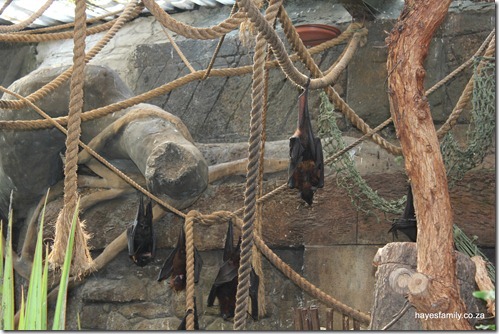 Our guide, Mikhaela, was on just her second day on the job – she did a great job of telling us all about the animals we were visiting…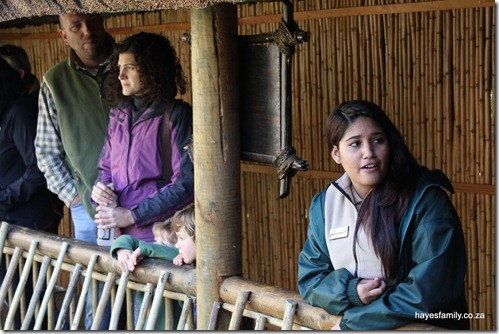 Like this spotted neck otter that slept through our entire encounter…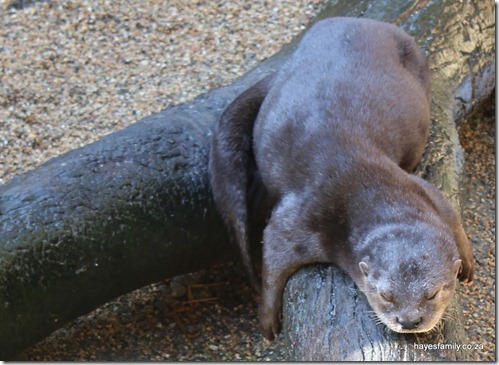 And these crocs bathing in the sun…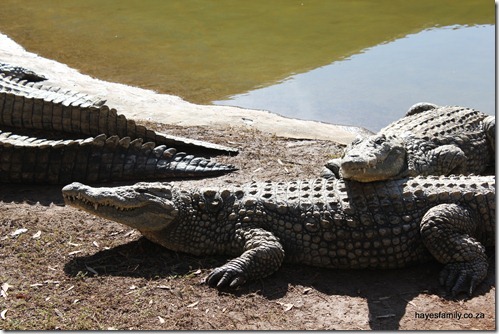 Or staring you down rather menacingly – as Katie managed to capture with her camera.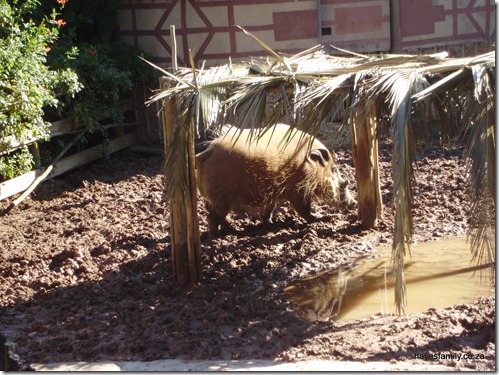 The best were definitely the big cats – these White Bengal Tigers are just 6 months old.  They were so playful, chasing around a large ball with some of the keepers.
Cheetahs anyone?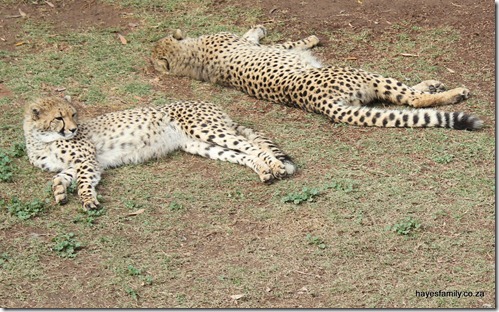 Or leopard, rather?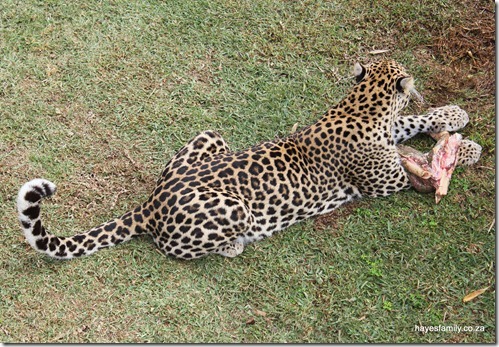 Personally, this White Lion was my favourite.  So majestic and beautiful.
The lemurs had my kids singing, "I like to move it, move it!"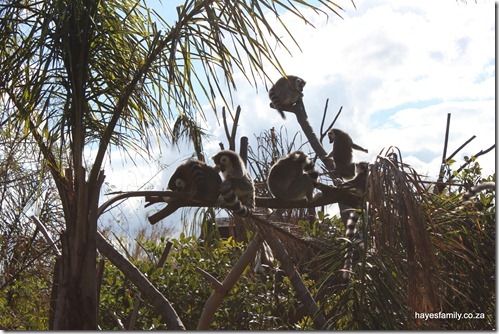 But, the snakes had some us wanting to sing, "I'm going to move it, move it! Outa here!"
This guy – a dragon lizard of sorts – was a big hit.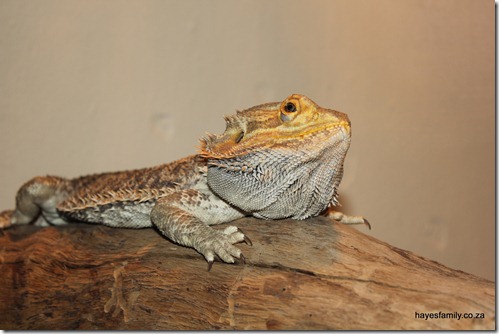 Vultures anyone?
Or Pygmy hippos?  They are still pretty big, fully grown.  But they're tiny compared to regular hippos.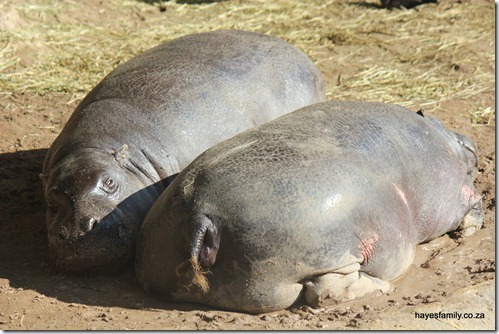 These storks are the ugliest of all storks and apparently get uglier as they age – these guys are only 2 years old, but look ancient.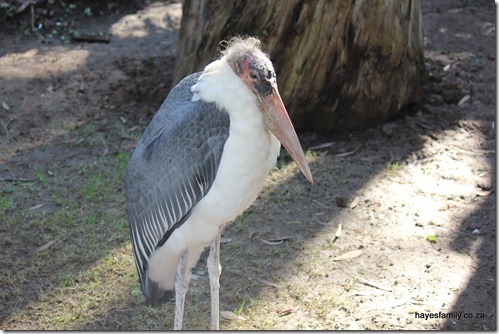 Next up?  Cango Ostrich Farm.  Most of the info our guide relayed, the kids already knew, thanks to our studies these past weeks.  But it was fun to hear it again and to learn a new thing or two.
Of course, the hands on experience was totally new too – and lots of fun, even if a bit smelly.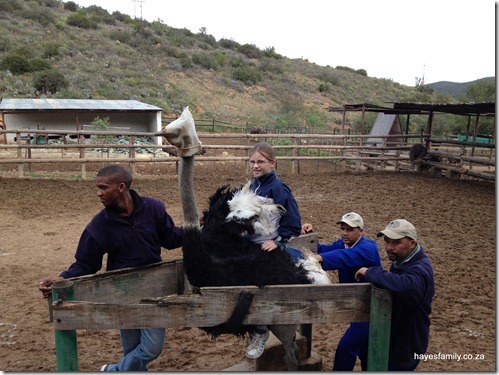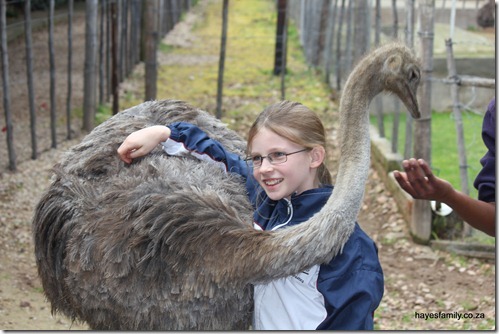 Yes, this is me trying to contain my laughter and freaked-outedness!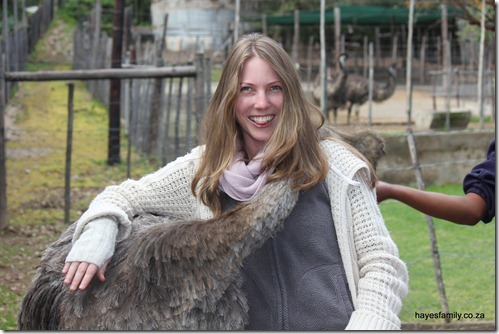 Granny Sally enjoyed every second!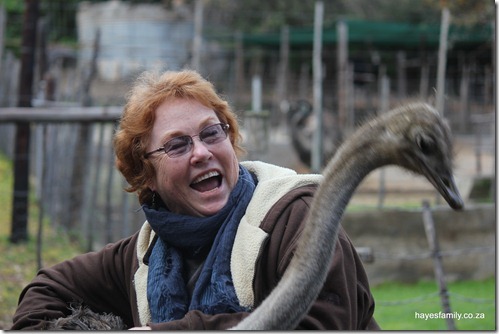 Such strange looking creatures, eh?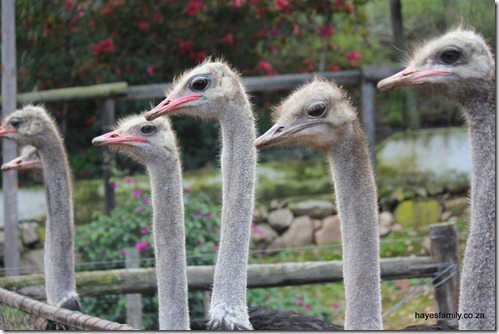 Craig got to feed some too – this part of the tour is called "the neck massage".  Ah, yes!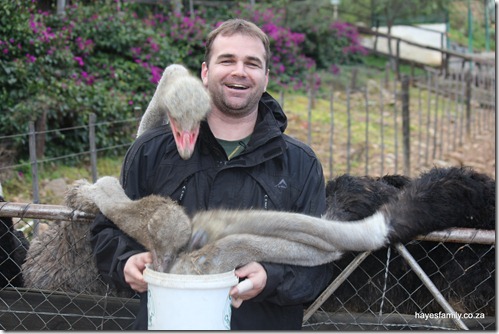 Then – standing on the eggs.  Katie proves a 26 kg child can't break them…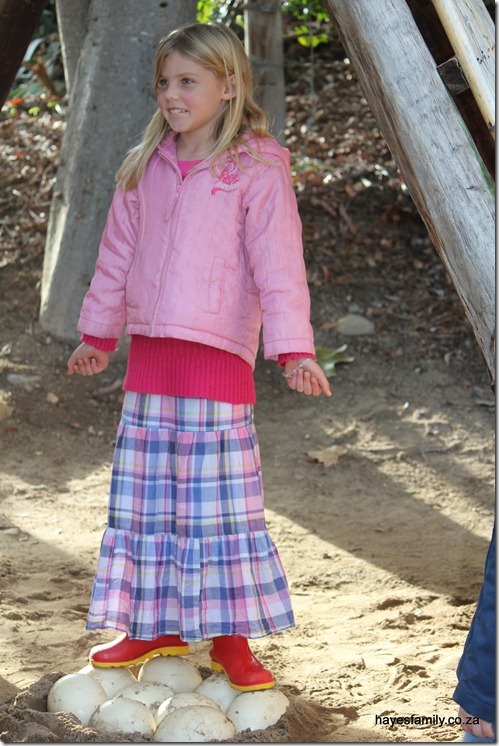 And a 18 kg little boy neither…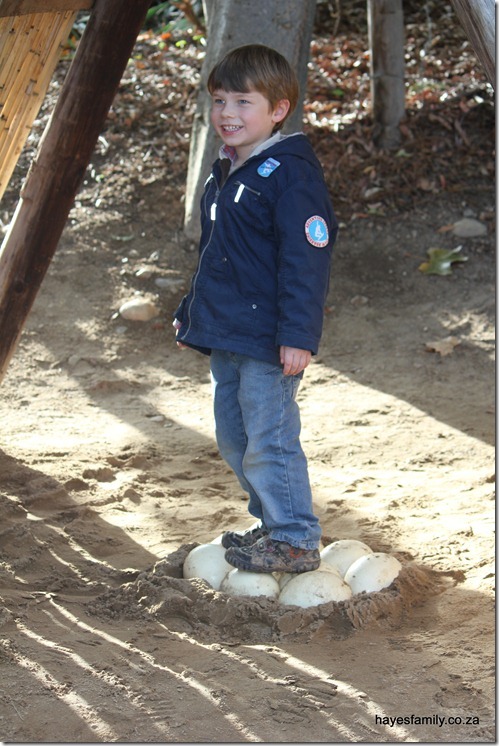 Even a grandpa!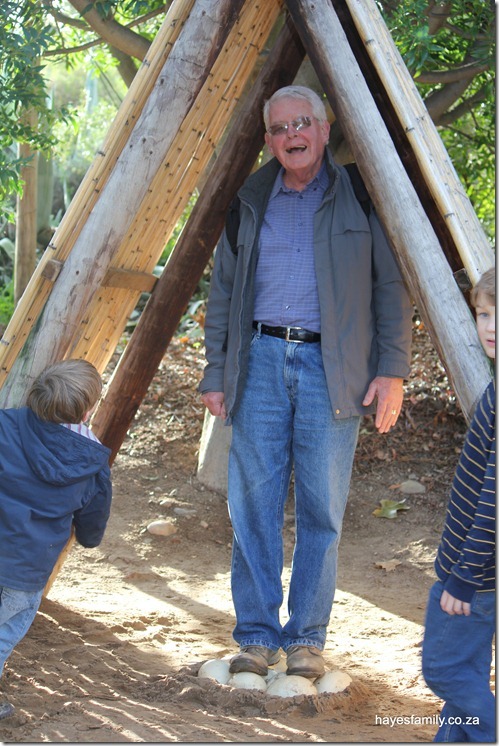 We found a sweet little kitten in the parking area that we all wanted to adopt – so sweet and friendly, it ran up to Kiera and didn't want to leave her.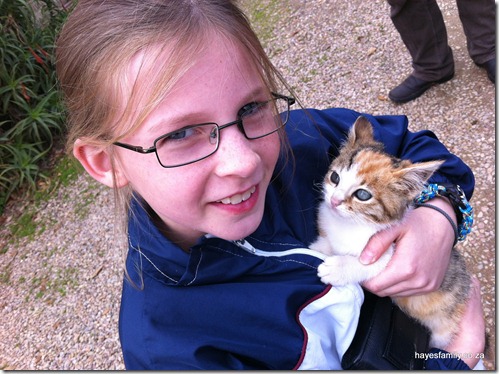 While Kiera and I returned this sweet kitty to her rightful home, Craig took photos of the church across the street…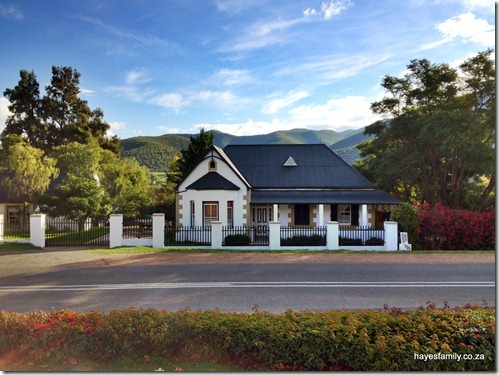 And the one up the road…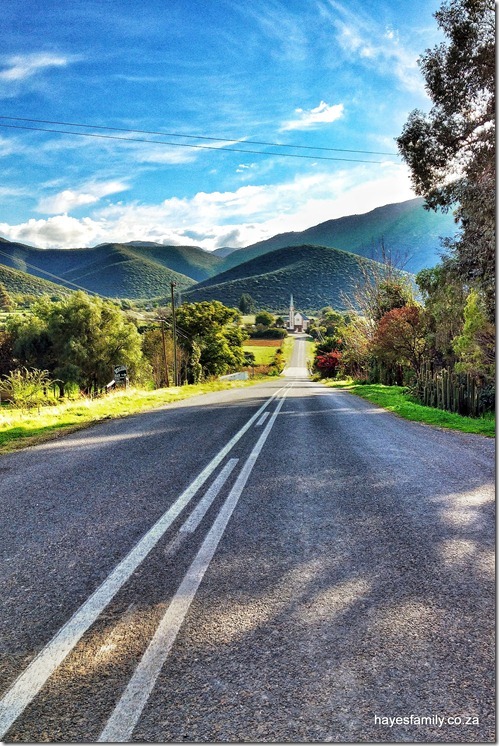 Finally, after a long and fun day, we came home for a few moments of outside play for the kids, before the rains came.  But not before Craig scored a couple more awesome shots…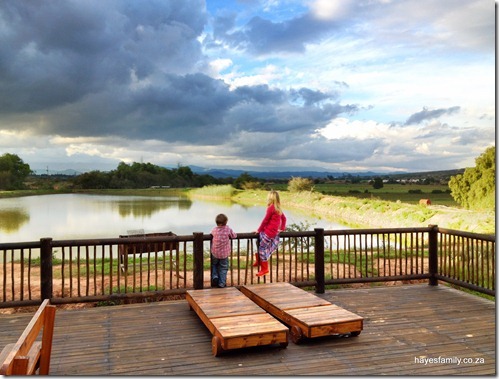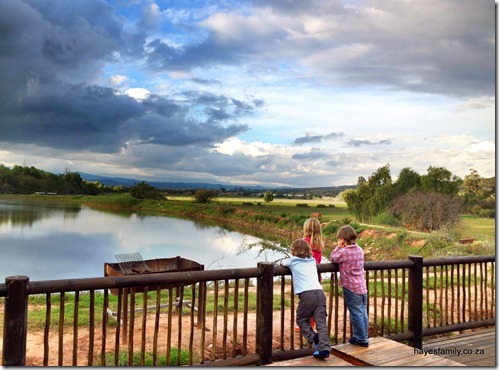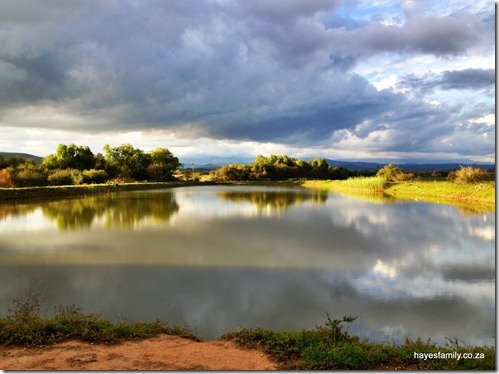 And a little tortoise of sorts on our stop off for more nopal cactus fruit.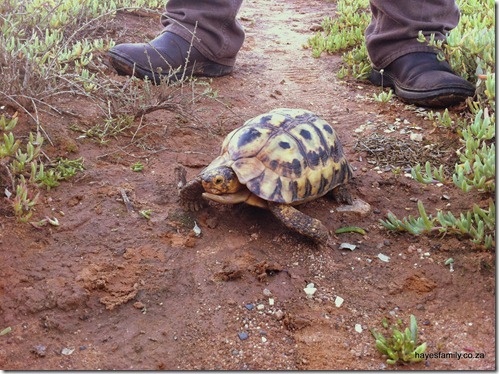 Another fantastic day!  And our verdict?  The Cango Wildlife Ranch is amazing – such high standards and lots to see.  Definitely worth it.  The Cango Ostrich Farm has a beautiful entrance and front lounge, but the tour part revealed a less polished operation.  Our tour guide, Granville, was fantastic, but the premises felt unkept and dirty.  It's been really wet and so the birds looked weighed down by their muddy feathers.  Many of them looked half pecked to death with large chunks of their feathers missing.  I have no other ostrich farm to compare it to, so perhaps this is the norm.  Maybe?
Links to all posts in our Oudtshoorn Holiday series