Another day, another opportunity to enjoy God's beautiful creation.  And so we did – another long farm walk with the family where we discovered spiders, foxholes, nopal cactus fruit and much more…
Starting with Grandpa Peter – aka Bush Guide – showing us the way … funny guy!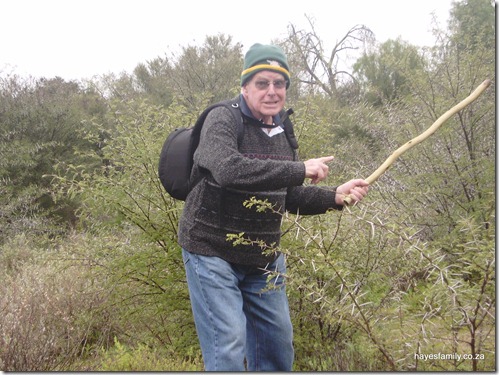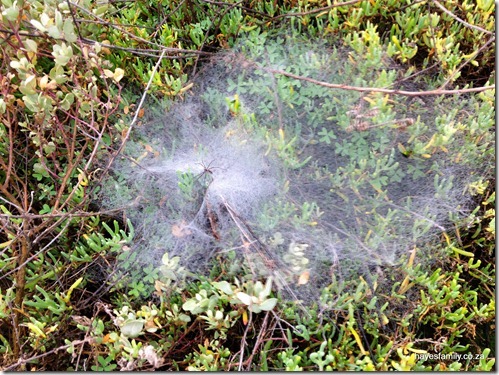 These spiders spread their webs over the fynbos like picnic blankets or washing out to dry.  I struggled to get a great photo before it disappeared down a funnel-like hole in its web.  Discovering that little funnel made us a little nervous – aren't funnel spiders deadly?  But don't they live in Australia only?  Nope, turns out we have a few of our own here in South Africa.  But, I'm still not sure if our spiders were of the same family.  Or if they were poisonous….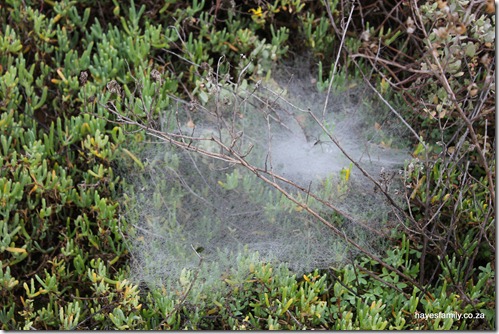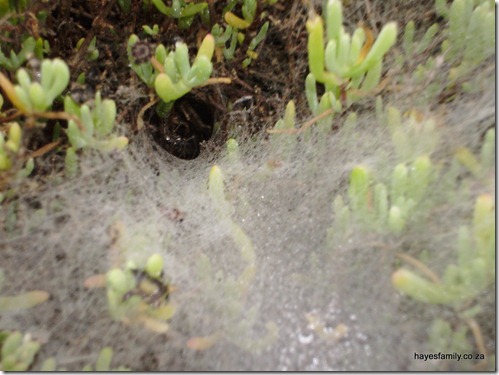 The men examine some interesting looking tracks – big and small.  Dogs?  Or some other more exciting wild animal?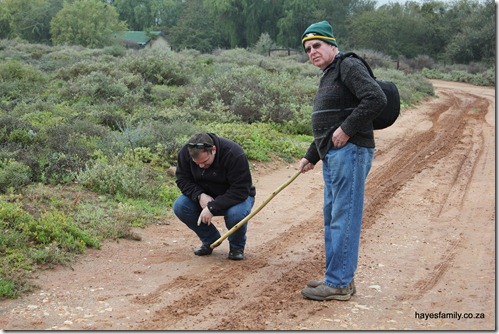 What makes these prints?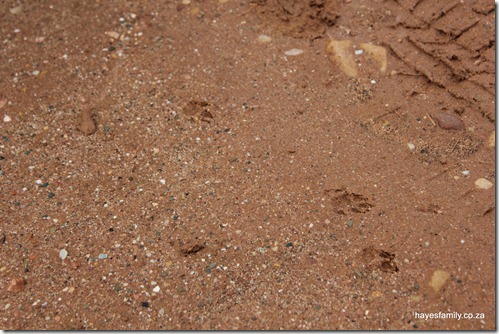 And who lives in these holes?  There were lots of these huge underground tunnels that looked like they had been dug on the quick.  I'll give you some guesses – mongoose?  fox?  porcupine?  terrorist? (lol!)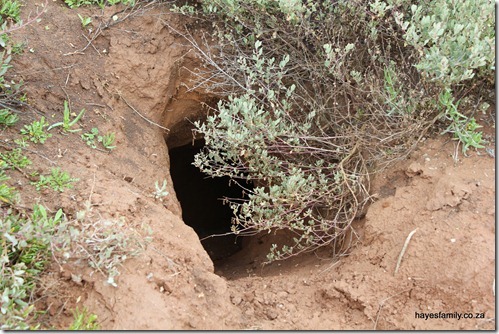 When we weren't discovering interesting creatures, we were enjoying muddy walks and picture making …
Mr Micah chose to draw a portrait of granny …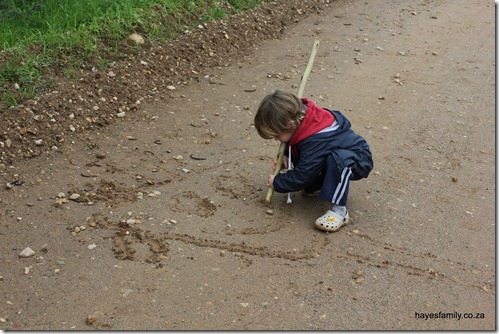 Quite a serious exercise requiring precision and deep thought …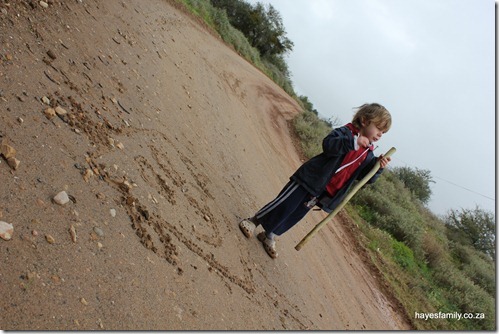 After our muddy interlude, we headed back into the bush and discovered a few more interesting things, including these nopal cacti with their purple fleshy fruit.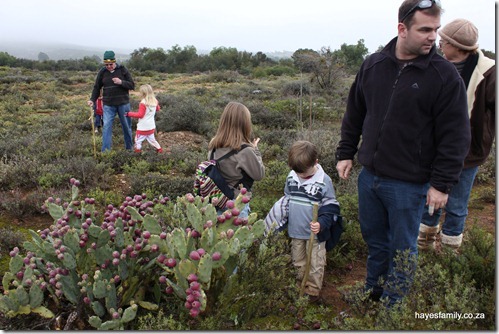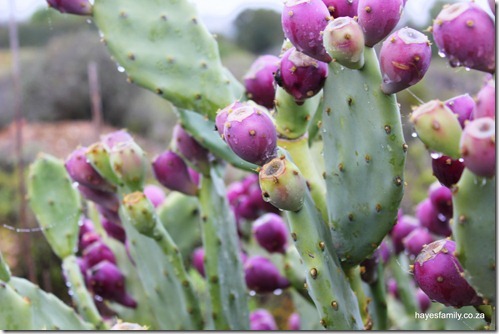 Not the friendliest fruit – it is covered in tiny little hairs that like to embed themselves – rather painfully –  into fingers and hands.  They taste as sharp as Australian cherries, but with the same sort of appeal.  They're really good for you, according to Craig's Google search findings.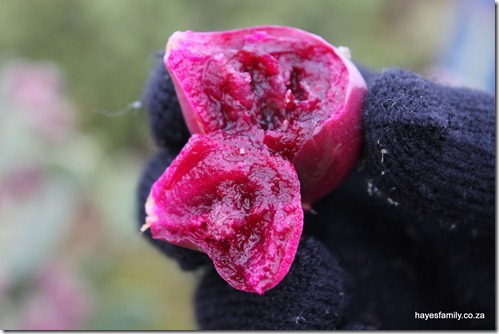 We got a few more beautiful shots too …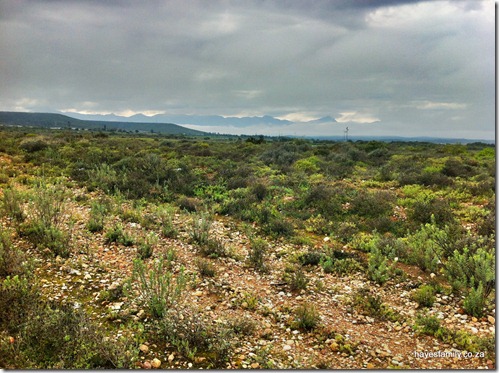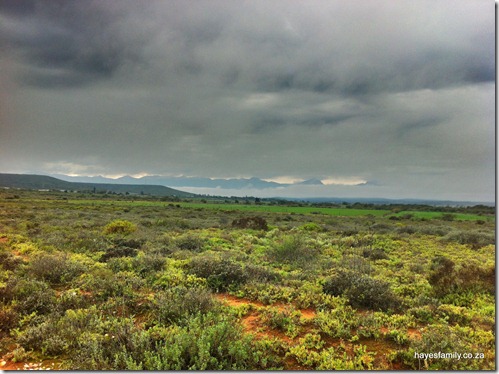 After all that mud, the kids enjoyed a midday bath and a dry by the fire before we had lunch.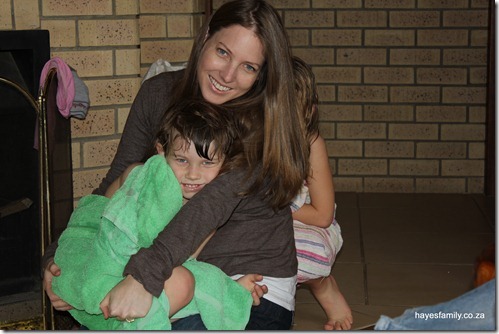 After lunch, we headed out to … Cango Caves!  We went three years ago when Micah was just a year old and Craig was not with us (work restraints with a new job).  So it was like a new experience, especially for Craig who last went as a 14-year old on swimming tour.  Much has changed since then!
Four young kids waiting at the entrance in excited anticipation …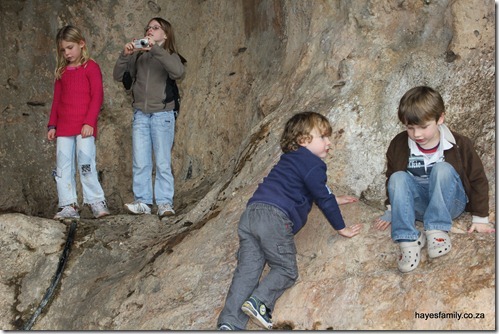 And the caves themselves… We've been learning lots about caves these past few weeks so it was fun for the kids to see real life stalactites and stalagmites and helictites too.  We learnt about flowstone and dripstone too.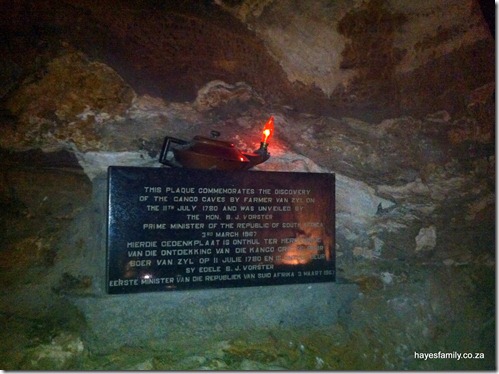 This time around, Katie listened more intently than when she was 5 (last time).  It helped to have learned a bit about it – she could hear terms like "calcite" and know what it meant.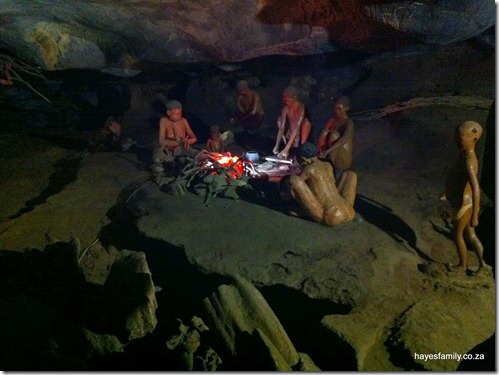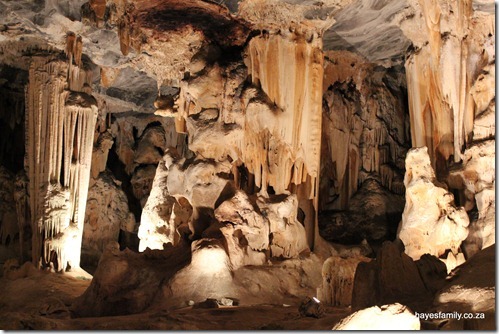 Four little kids bribed with wine gums for some smiles.  Can you see the fake smiles on the boys?!  Isn't it interesting how the my younger of each sex is almost as tall as their same sex older sibling?  We seem to do patterns in our family.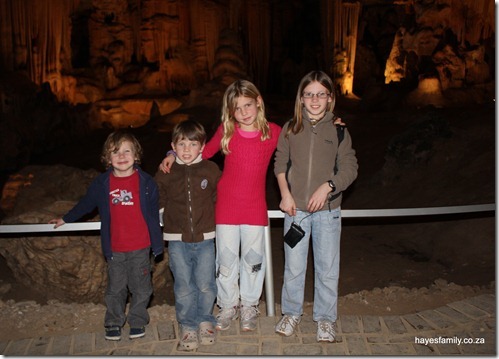 At the end of our standard tour, Craig and Kiera were allowed to hook up with the adventure tour that passed us by.  A last minute exchange of extra jackets and clothing, that would be more of a hindrance than a help in tight spots, took place and off they went.
The rest of us enjoyed a break on the patio while grandpa took dozens of photos including these beauties … My sweet boy, Sam…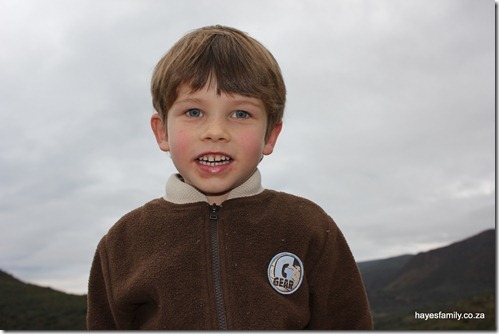 I love this shot – it depicts a very accurate aspect of my life – being dragged from pillar to post by a tornado-like three-year old!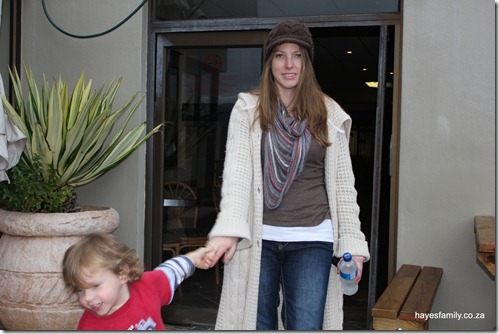 And then this is my new favourite shot of Micah and me – I love the way he is resting on my shoulder, so serious, yet so content and completely at home on his mommy's shoulder.  My sweet boy!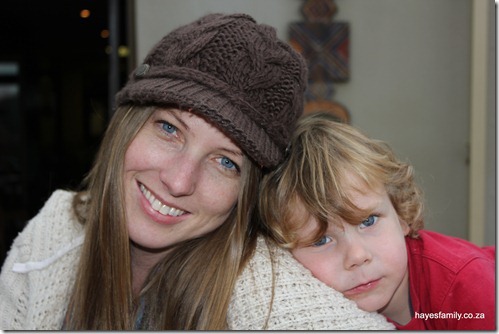 Grandpa and Granny tried to coax some smiles out of him for the camera, but Micah is definitely more of a natural smiler than a natural poser!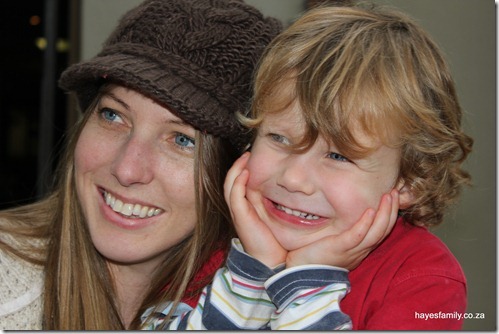 While we waited, we spent some time in the museum downstairs where the kids got to learn a few more new things.  Katie was fascinated with the story behind the Taung Child skull.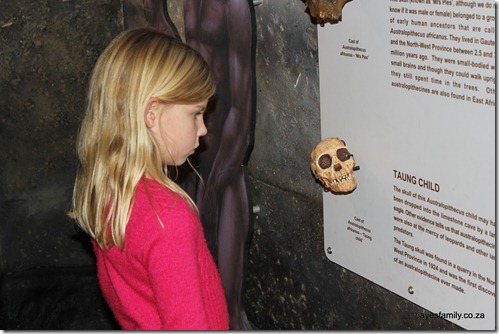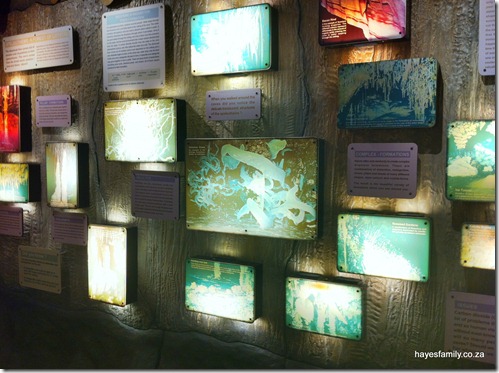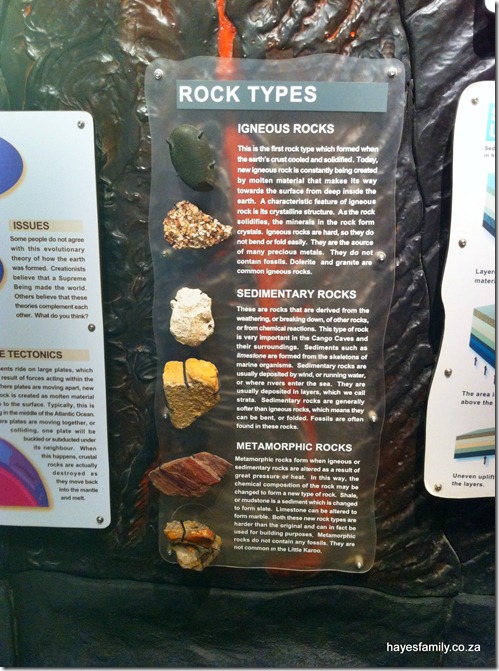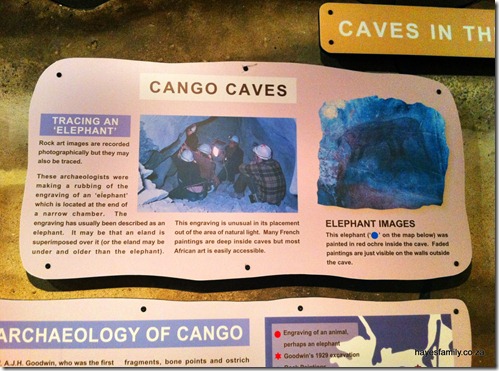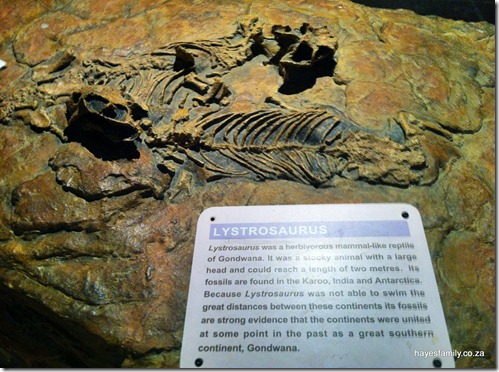 Eventually, Kiera and Craig came out from the depths of the caves, red faced, sweaty and sore – but delighted with their accomplishment!  They'd made it through the tunnel of love, the chimney and the letterbox, plus a few other tight spots.
They shared their pics with me – both Kiera and Craig took a few of the tight little spots and tunnels.  This is caving adventuring for us amateurs, for sure!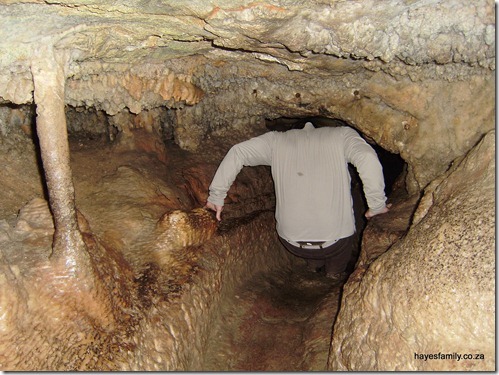 The "letterbox"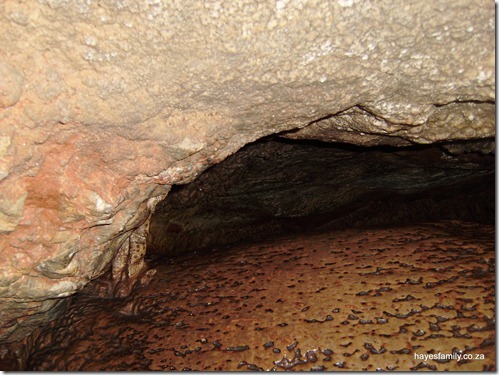 Adventurer Kiera!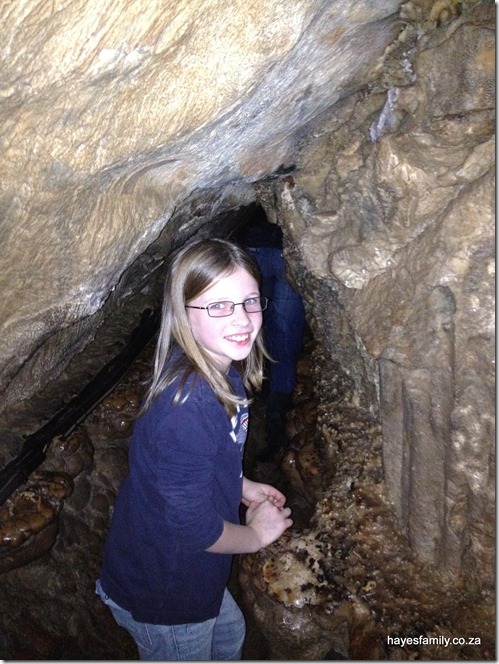 Kiera the queen – sitting on the throne.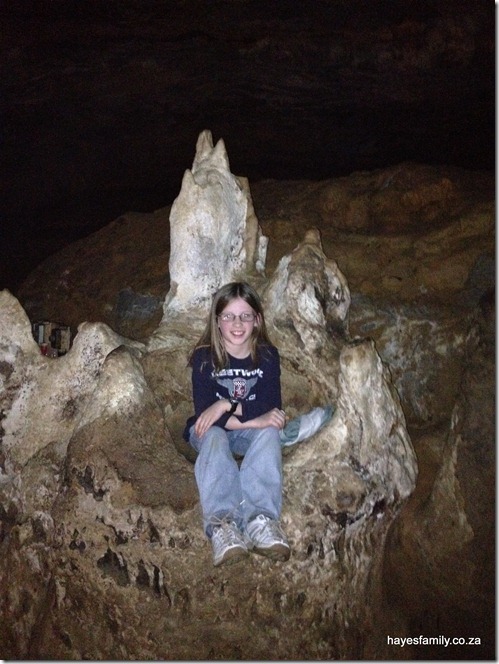 Eventually, it was home time.  How are these for happy faces?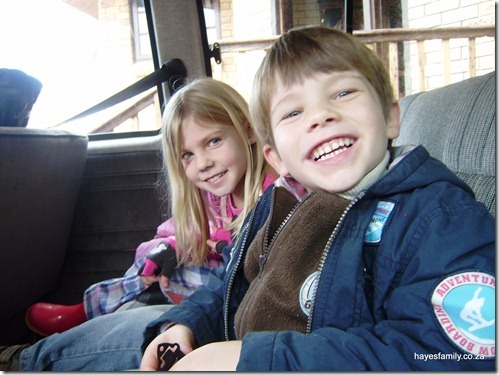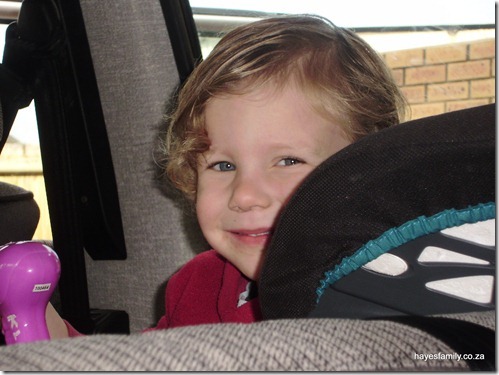 And these faces?  Exhausted after a long day of fun adventuring.  But with the baby boks winning the game on TV, you'd think they'd all look a little more cheerful?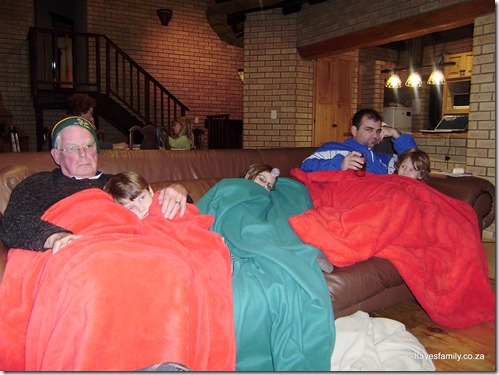 Links to all posts in our Oudtshoorn Holiday series