A morning walk and an afternoon gymnastics contest…
We expected the holiday to be freezing – it is the middle of winter in the Klein Karoo after all.  But with the rain and the cloud cover, temperatures were similar to Cape Town and walking in the mornings was a pleasure.
This is us – setting off on our first morning together.  You'd think it was super cold the way we were bundled up!  It was cold.  But not below 10.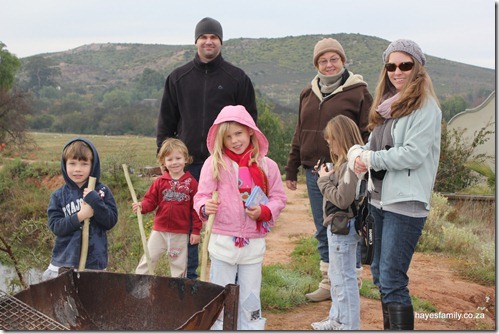 The cold cloudy morning meant less exciting photographic conditions.  But with great scenery, it's hard to mess it up.  Even the girls, who recently were gifted with my old point-and-shoot digital camera, got some beautiful shots…

We visited cows nearby…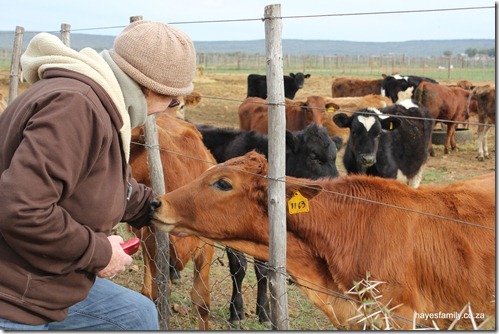 And a nursery selling granny Sally's bush …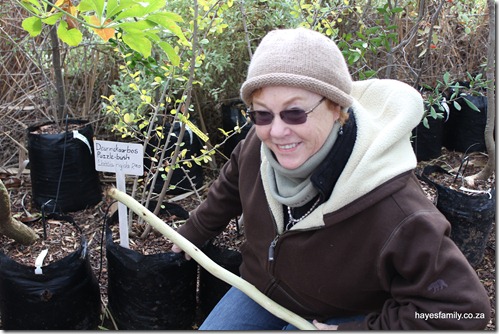 In case you can't read the label in the photo above, here is the zoomed in version…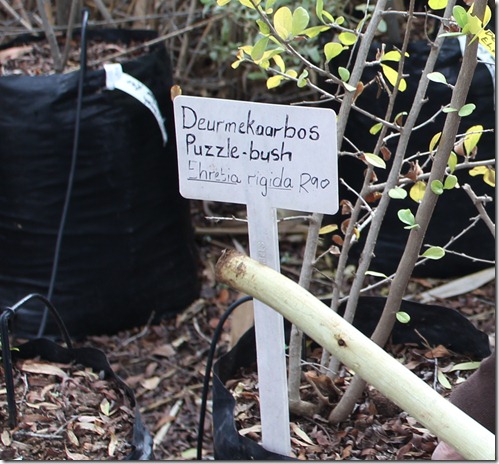 For all my non-Safrican friends, "Deurmekaarbos" is "Deurmekaar" bush.  And "deurmekaar" is one of those beautiful Afrikaans words that is just about untranslatable.  Literally it translates as "through together" but it means confused.  A good English equivalent is "discombobulated".
We enjoyed the beautiful photo opps of farm life …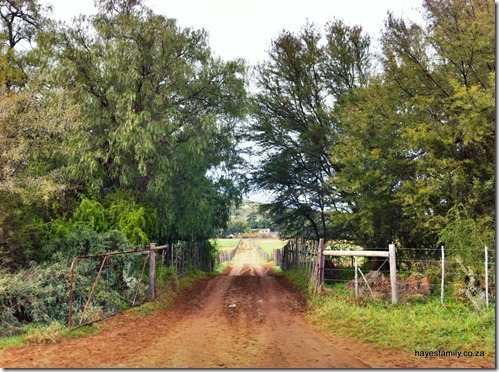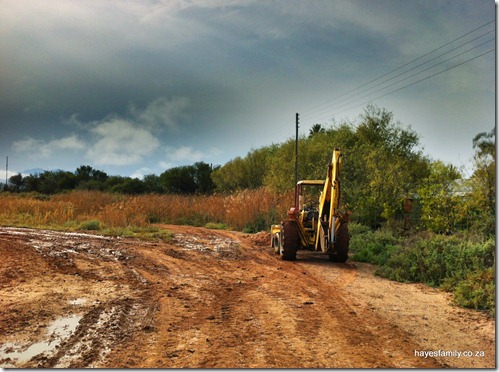 I love this photo – so typical of so many farms – the rusting castaway machinery of yesteryear and yesterday.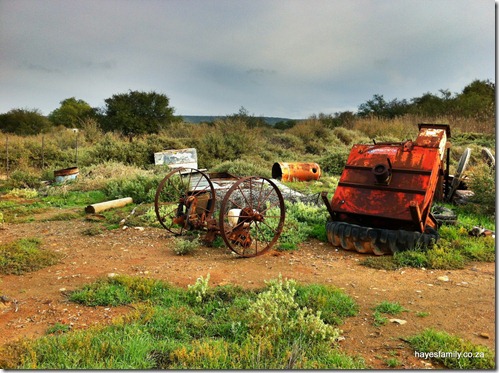 The sensible shoe wear…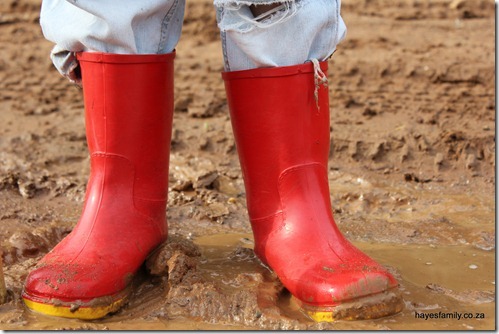 Home again, home again…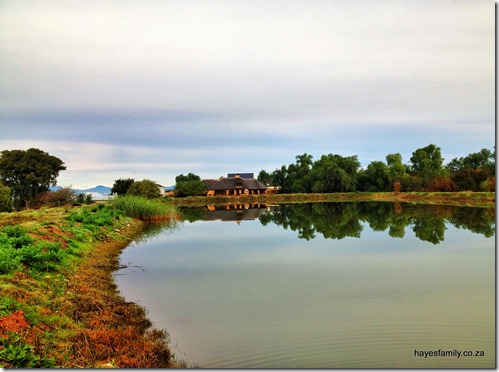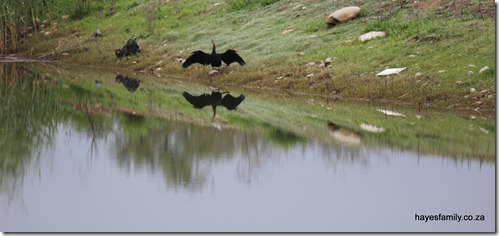 to have some tea and biscuits – and a bit of schoolwork. We've been working on some fun books that we will complete next week – the reveal will have to wait until then!  Biscuits and tea was accompanied with a change of clothes and some fire-side warming up….
Granny Sally kept us well fed with yummy bits and pieces to eat…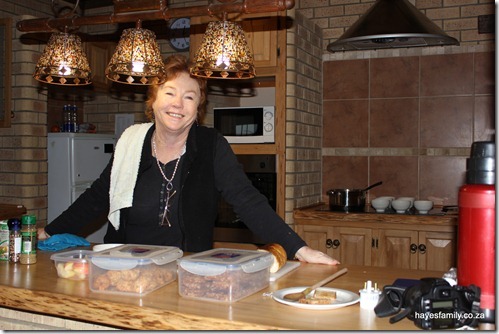 Including a delicious pea and bacon soup for lunch.  Yum yum!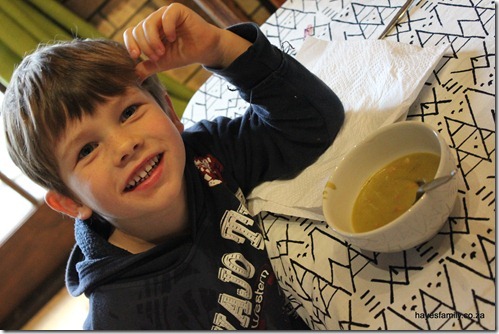 And then – it was time for a gym contest.  Level 1 girls under 10s was due to begin at 3pm.  So, we dutifully arrived, in the pouring rain, at 2:30pm.  And then everyone, besides Kiera and I, dutifully left, in the pouring rain, at about 2:40pm and returned home.  The hall was packed and the competition was running late by two hours.  Kiera's portion of the contest would begin by 4:30pm only and she would have to stay and wait, in case they were called earlier.  Ah!  Fantastic.
So, Kiera and I chatted away with Rachel and her parents, while the others returned home for some TV time on the coach and an early supper.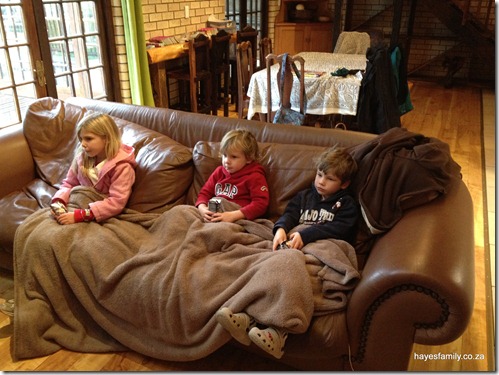 Eventually, the judges were ready and it was time for the Brawns U10 girls – all two of them, Kiera and Rachel – to do their thing.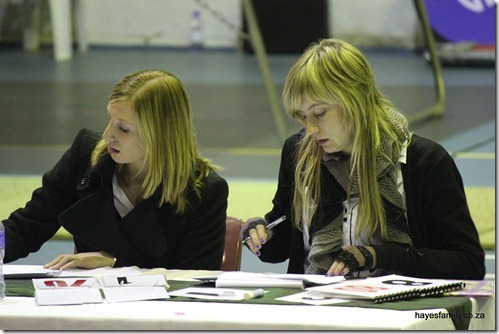 Every rotation starts with a practise round on the apparatus.  Here Rachel shows her stuff – she's really good, especially since she's only been doing gym for a year, according to Kiera.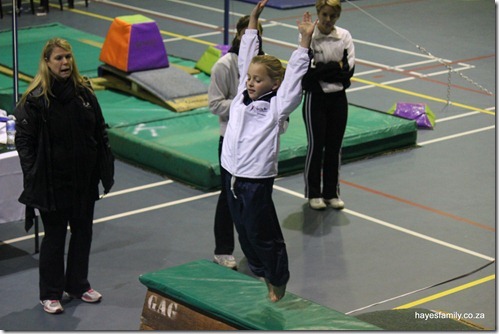 The lighting in the hall was really bad and no flash photography is allowed – hence the below average photos.  But, at least we caught some of the moments.  Like this pensive moment just before her vault performance.  She scored an 8.65 – the same as her previous contest.  Some extra work needed, but not a bad score.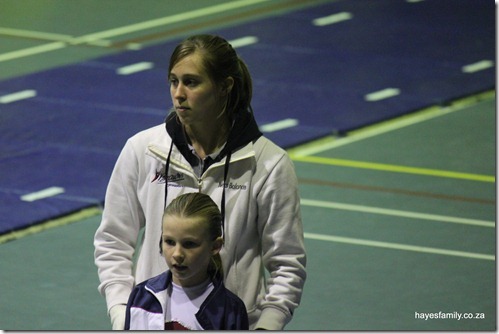 Grandpa Peter and the rest of the family missed her first exercise – the floor routine.  But I did manage to capture almost all her performances on video.  While Grandpa caught most of the photo moments – like these great practice shots on the beam.  She was as steady as a rock and did herself and us proud.  A 9.05 on the beam, up from 8.5 last contest.
Look at that joyful face when she heard her score!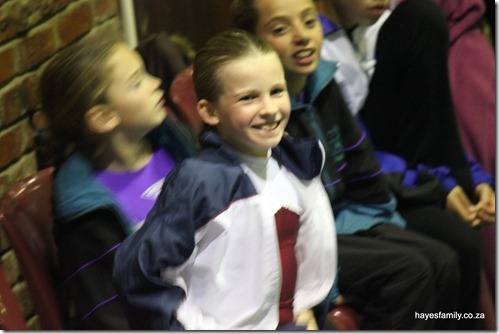 Her strongest apparatus is bar.  It was also her last one for this contest.  But the poor girl had a false start, losing her point 8 (0.8) off her total score.  She would have scored a high score of 9.2 had she not fluffed it up in the beginning and probably would've placed in the top three as a result.  But, we live and learn.  She will probably slow down now!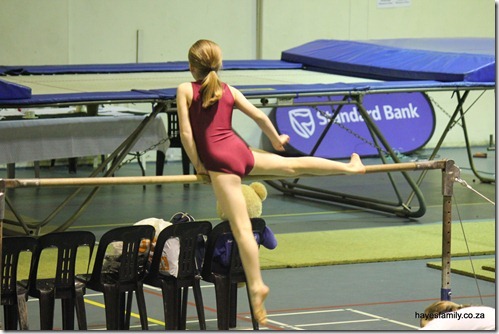 Such concentration!
Despite her bar bomb, she kept positive and was really excited to hear her name being called for Beam – second place!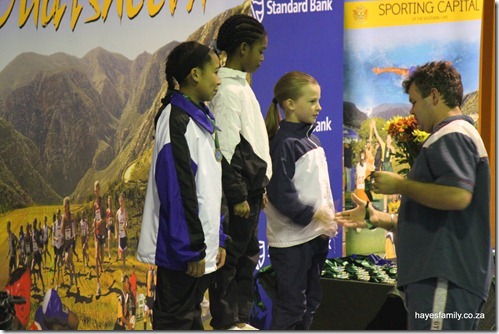 Congratulations Kiera!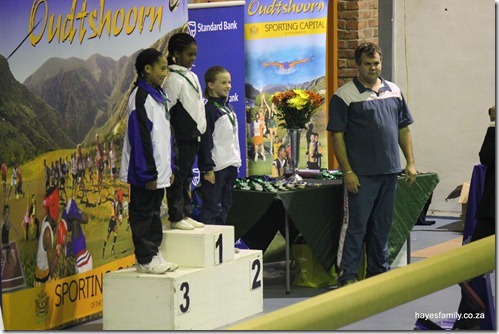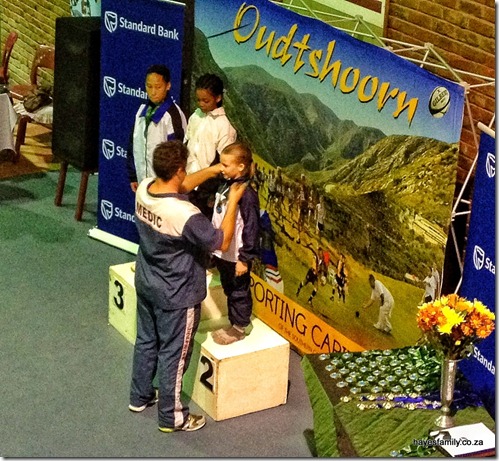 Rachel came third for her beautiful floor routine.  Great work, girls!  Here Ashley, co-owner and coach at Brawns, congratulates the girls.
Grandpa, mom, dad and sister take lots of photos of our girl and her medal…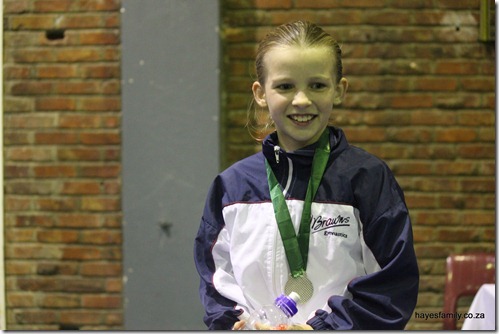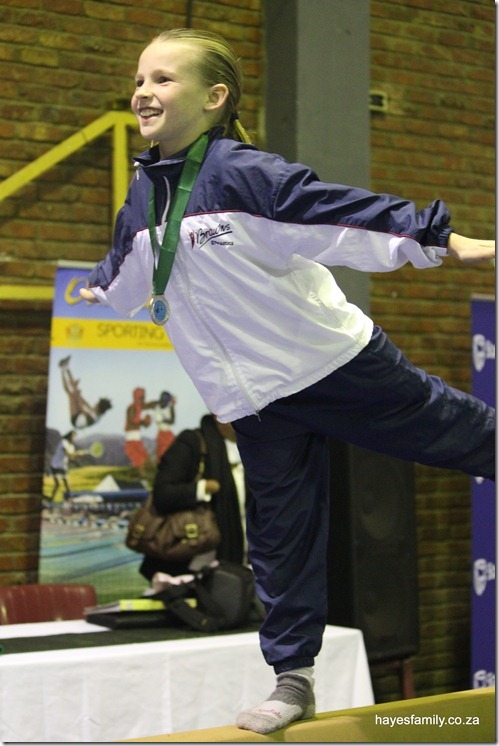 We headed home for a supper of sausage hot pot and an early night.  I was doubly grateful that mom and I had precooked all our supper meals, for supper was ready in a jiffy and tired young bodies headed to bed, ready for another day of fun!
For the family and anyone interested – here's a short 2 minute video of some of Kiera's gymnastics…
Links to all posts in our Oudtshoorn Holiday series