Planning for this holiday began about a month ago when Kiera was selected to represent her club at the Kaaplands Gymnastics competition in Oudtshoorn.  Ah!  We don't have a "holiday" budget. Which meant that travelling to Oudtshoorn, as a family, to attend a gym contest would have to be a super cheap experience, or we couldn't go.  We had space in our budget for excursions once there, but food, accommodation, petrol?  Ouch!  We could afford to camp – but Oudtshoorn in June is freezing and we're not seasoned campers!
But, the Lord is good and the Internet helps me to be more resourceful than my natural skills allow.  Long story short?  We ended up hooking up with the owners of Backpacker's Paradise who generously agreed to letting us stay at Amaranth, their beautiful self-catering house on a dam, for half price, in exchange for an honest blog review.
Amaranth is a recent acquisition for Backpacker's Paradise, so the blog review is some welcome advertising for them and a pleasure for me – what a beautiful place!  We were sold from the minute we walked in.
With this house…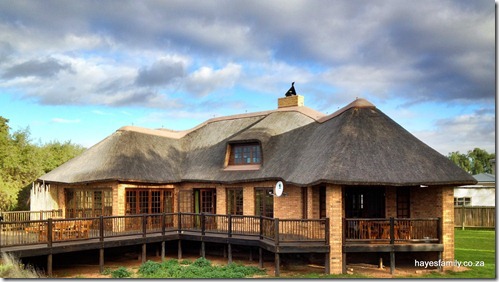 And this view…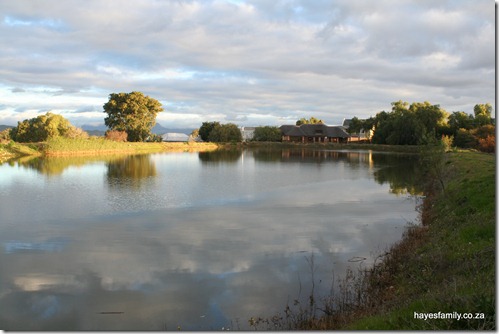 We were very very happy!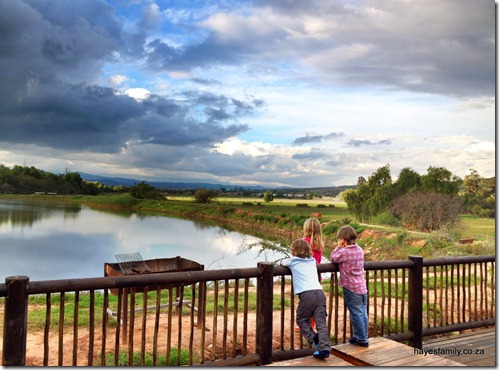 But, I am getting ahead of myself.  First – getting there!  Originally, Craig's folks and mine were all going to head to Oudtshoorn to support Kiera.  But Bev and Chris had to stay home unfortunately, due to work clashes.  By this time, my folks had arranged to stay with us and so we all went up together in their Kombi.  Shared petrol is a wonderful budget-blessing!
And the Kombi is spacious!  It's an old 1991 Caravelle, but runs beautifully and was amply comfortable for our 4 1/2 hour trip from Hermanus to Oudtshoorn.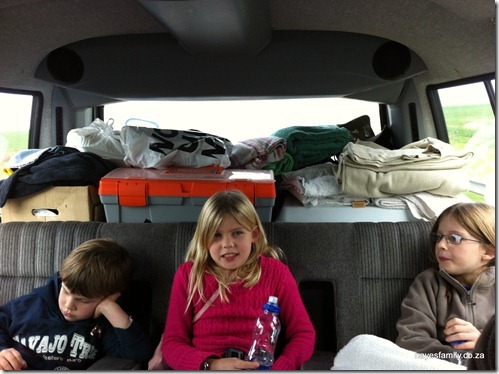 We stopped off halfway for padkos I had made the night before, and were entertained by the menagerie at the Langeberg BP garage.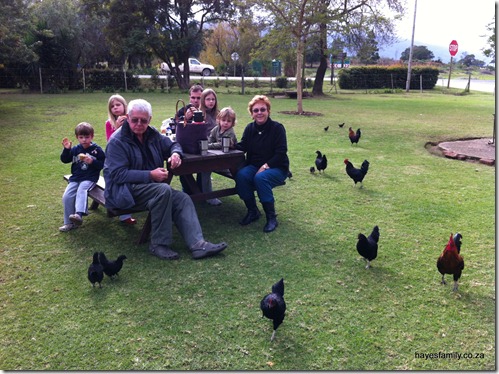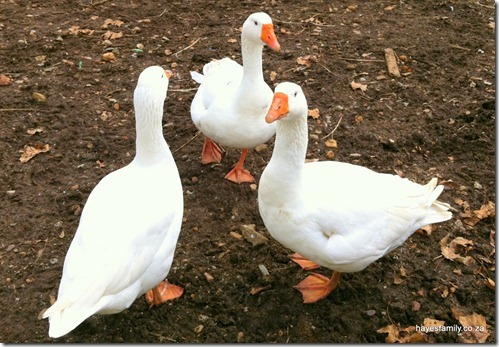 And impressed with the sweet, loving touches the ladies' room was treated to … fresh flowers lining the basins!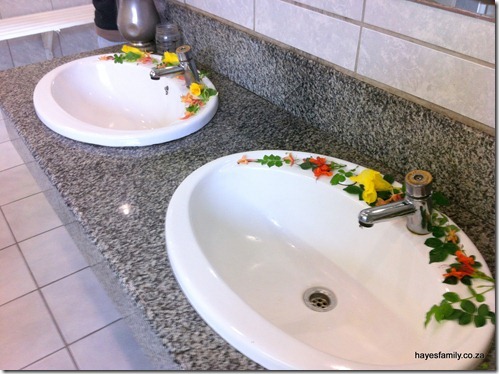 Arriving in Oudtshoorn, we found Backpacker's Paradise really easily.  And – wow.  Backpackers' accommodation facilities have changed quite a bit in the last 20 years or so.  While I never stayed in one, I only remember tales of grungy dodgy places where your stuff was likely to "walk" and finding a hot, clean shower was a bit of luck.  This backpackers' is literally a four star facility.  We were quite amazed with all that was on offer, from wireless internet; entertainment; restaurant and more.  They offer all sorts of tour packages and rent out bicycles for really cheap – R50 for half a day and R100 for a full day.  If we had stayed here longer, we would have definitely have taken them up on that!
Marius, owner of Backpacker's Paradise, lives right next door to Amaranth.  He took us through the house and made sure that we were comfortable.  He hauled our huge R25/bag of wood and set that up for us too.  A friendly, helpful host, indeed!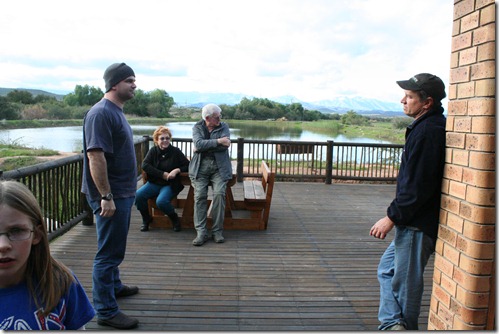 We spent our first afternoon exploring the farm a bit.  We were followed by three friendly black-and-white cats, two of the manx variety.  "Friendly" may be an understatement.  I've never known cats to follow along on an outdoors walk like farm dogs.  They darted playfully back and forth, up and down the embankment of the dam, in and out the grasses, in and out our legs.  So sweet!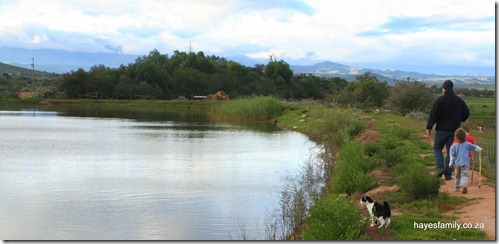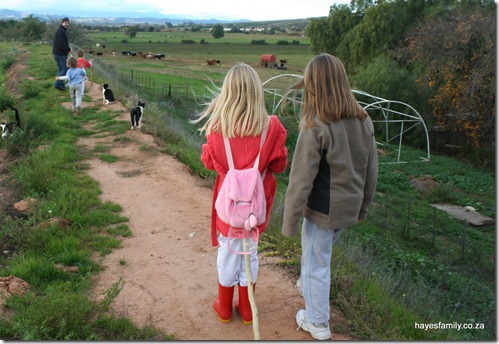 And we had fun exploring.  Acacia trees are everywhere in Oudtshoorn.  Baby versions spring up along the pathways in a rather barefoot unfriendly manner.  But that didn't deter Sam.  He declared after the first day that, "When I grow up I am going to move to Oudtshoorn forever and discover thorn trees!"  Ah, that's my boy!  Such ambition!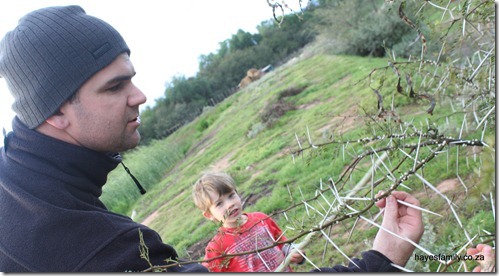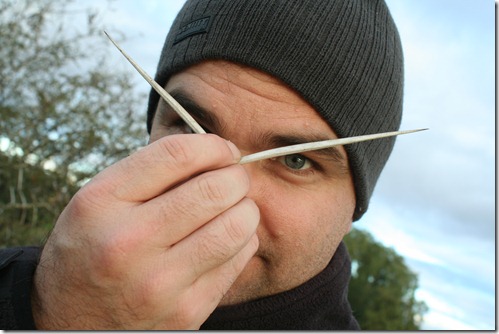 Craig enjoyed playing around with his iPhone and the Pro HDR app that takes awesome HDR photos (simply – it takes two photos – one underexposed and the other overexposed and then layers them to get the best of both for a more accurate picture.  Which means we get photos where the foreground is clear and bright and the sky is as blue as our naked eye can see.  Or in more professional terms: you get the right exposure range across the whole depth of field.)  No matter how you tell it, it's … beautiful!
This photo is an example – titled, "Hey Hay!" by photographer C Hayes.  Ahem.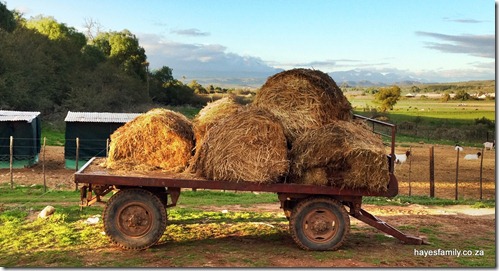 The kids got thoroughly muddied from just about head-to-toe.  Only 1 of the four came with wellies (mommy fail!) and so a bath was definitely in order.  The huge jacuzzi bath was a big hit with the kids.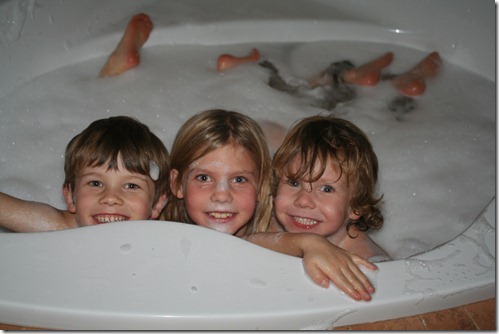 As was the roaring fire where little bodies changed into toasty jammies.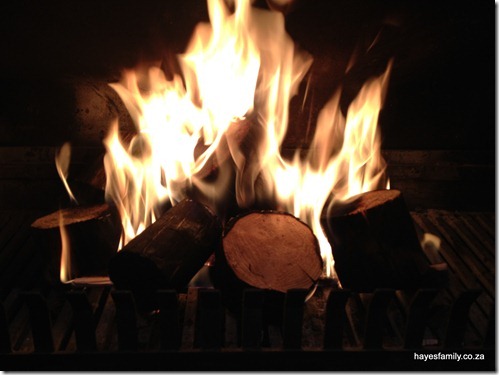 Our first night – happy, warm family meal of yummy chicken pie (we toasted to Kai Kai Chicken Pie) and salad.  Thanks Mom!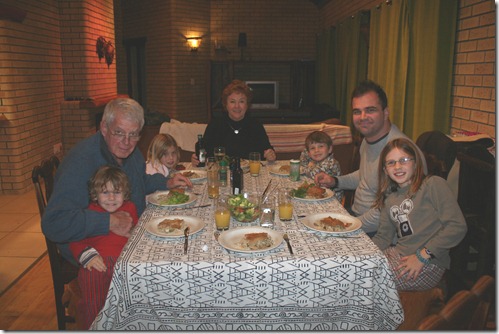 Tired little bodies climbed into toasty warm beds, thanks to the electric blankets provided on every bed.  Seriously, does it get better than this?
Links to all posts in our Oudtshoorn Holiday series