This year with Sonlight we are learning all about Ancient and Early America.  We spent the first quarter of the year focusing on South America, particularly the time of the Incas and the Aztecs.  We've read the most amazing books detailing the lives of real people, interwoven into the lives of fictional characters.  Walk the World's Rim brought tears to our eyes, as did The Secret of the Andes.  Living stories, written about true events, through the eyes of real people.  Just beautiful!
As a result of our learning, we all know quite a bit more about the life and times of Ancient America.  And, a thing or two about Llamas.  The Secret of the Andes is a story that focuses on the wealth that was the Llamas for the people of Peru.  It was impossible to finish that book without knowing that Llamas are generally gentle easy creatures that hum when they're happy.
Shortly after we finished our section on South America and the dear llamas, we had an opportunity to go to an alpaca farm here in the Western Cape.  Not quite the mountains of Peru, but certainly cousins of the Llama and relevant to our studies.  We jumped at the chance and had a ball.
Thanks to the excellent organisation of fellow homeschool mom, Simone, we got to head out to Helderstroom Alpacas – a beautiful farm on the outskirts of Villiersdorp – deep in a beautiful valley.   There we were greeted by about 15 other homeschooling families and our generous hosts, Christopher and Alison Notley.  The Notleys hail from Zimbabwe and have only been farming Alpacas since the mid 2000s.  But, even in that short space of time, they've managed to create a thriving business: from farm to final product.  And we were privileged enough to have a guided tour through the entire experience.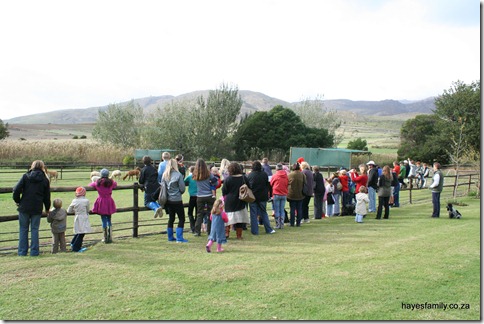 Things began with Christopher explaining to us all about the history and origins of alpacas, along with quite a few interesting facts.  With the cocker spaniels running about and the brisk weather, Christopher's beautiful English accent added to that farm-in-England feel.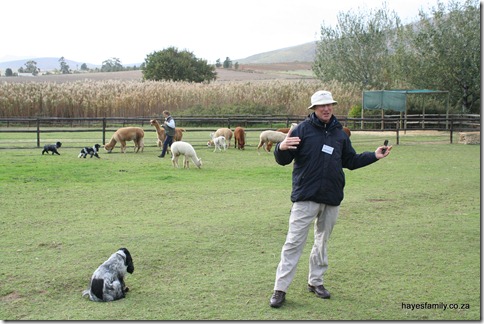 Alison introduced us to Olé, their friendliest little gal.  And she told us a little more about their twins, Salt and Pepper.  Twins are very rare in Alpaca world, and in the wild, the weaker twin does not survive for lack of care from its mother.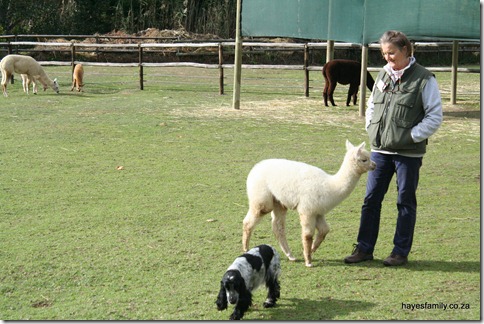 After a brief but superbly interesting introduction that was just perfect for a bunch of families ranging in ages from 2 to 72, we all got a chance to touch and cuddle the alpacas.  We were well instructed on the dos and don'ts around alpacas, including stroking them on the head.  That one is a no-no, as they find it very irritating and may just kick or spit in retaliation!
My eldest was the bravest to begin…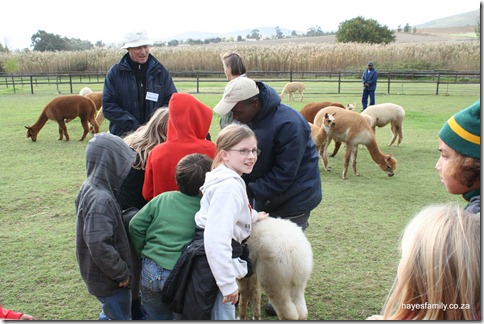 But soon they all joined and the kids loved feeling the soft hollow fibres of the alpacas. 
From the fields, we moved into the spinning room and shop.  There we were introduced to Brenda, who won a regional contest for the best skein of spun fibre.  I wish I had taken a picture of it – it was just beautiful!  All three spinners from Helderstroom, including Alison herself, placed first, second and third in the contest!  Quite impressive given that they have only been running for less than 10 years!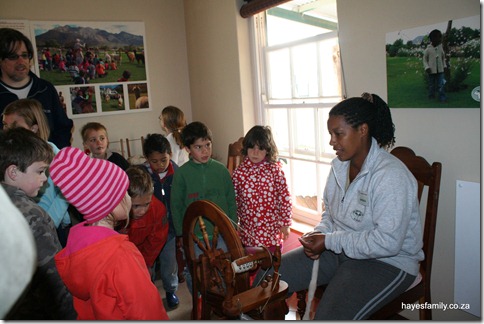 Next, Alison explained to us all about the process of fibre to final product.  We learnt about shearing, carding, spinning, and more.  It was interesting listening to her talk about terms that we have just been reading about in our most recent read-aloud, The Witch of Blackbird Pond.  Set in the time of the early Puritans, there is much talk about spinning and carding of wool to make garments by hand.  It was delightful to see how little the modern day process has changed from hundreds of years ago!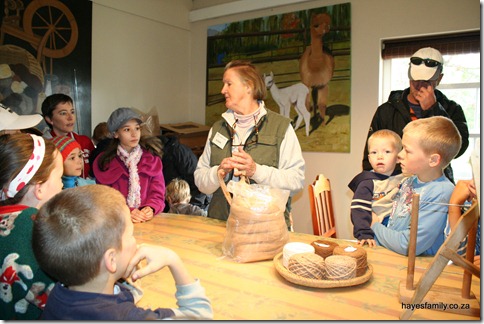 These handspun balls of fibre are all undyed.  There are 22 shades of natural alpaca and nothing in the Helderstroom Alpacas store is dyed.
Machine spun yarn is for sale, but the handspun yarn is for Helderstroom's use only.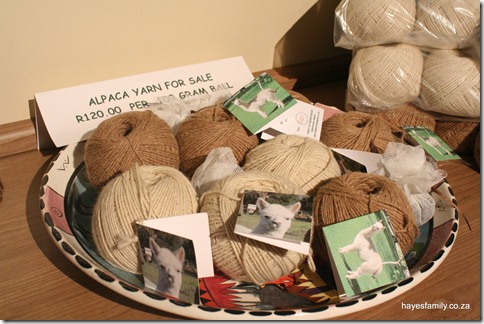 They use local people to hand knit and weave the most beautiful garments.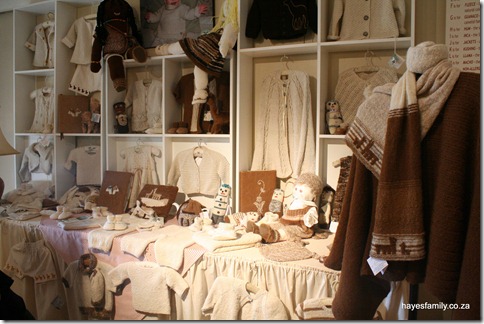 But, due to the fact that alpacas only birth one baby (cria) every year, the final product is quite expensive!  It's considered one of the most superior fibres of all for many reasons.  It's one of the lightest fibres and is warmer than wool of the same weight as the fibres are hollow.  It doesn't pill, shrink or stretch.  And it's soft, non-itchy and simply beautiful.  I had a hard time not wanting every single item in the entire shop!  I did splurge on this pair of wrist warmers.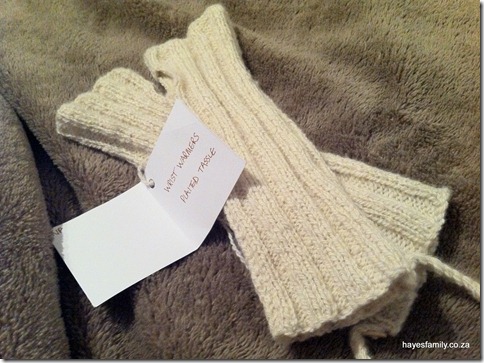 A guilt-free splurge, as I remembered I hadn't spent my "pocket money" that Craig and I have budgeted for each other each month.  I spent my entire month's allowance purchasing a R200 pair of wrist warmers!  But, it was worth it as I've already worn them half to death and they still look and feel absolutely wonderful.  It's perfect for our winter.  I've had my eye out for ones like these or fingerless gloves, but just cannot find them anywhere, so this really was a great buy!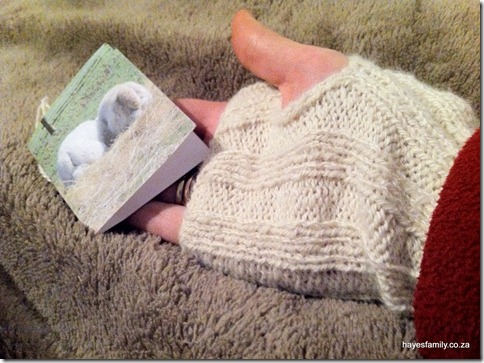 We all had a good look around the store.  The kids bought some momentos too – Kiera a little alpaca knitted bag she plans to use as a small change purse, and Katie and Sam a keyring each.  Kiera signed the visitors' book on our behalf.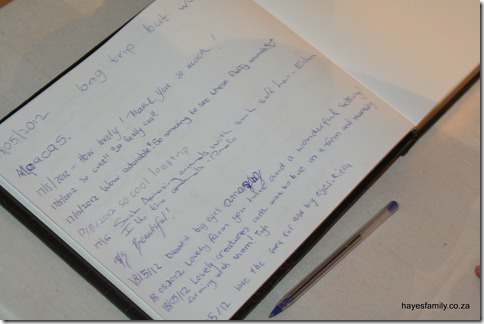 I loved the natural feeling of the farm.  On the same line as the drying clothes, a few skeins of yarn hung waving in the wind.  By the time I got this shot, the clothing had been removed, but still, the beautiful picture was preserved.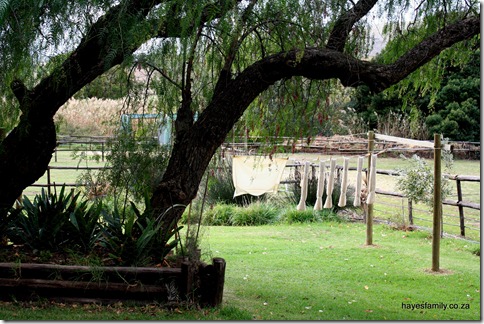 The farm itself is just beautiful.  The Notleys have turned a decrepit old building into a beautiful home, and piece of land into a thriving picturesque farm.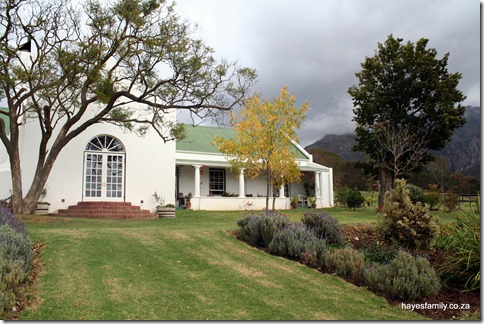 Granny Bev joined us on this outing.  Despite the near cancellation due to dubious weather, we still all bundled up and braved the drive to Villliersdorp.  Granny had a lovely time with her grandkids and we thoroughly enjoyed having her too!  She was very tolerant of the Afrikaans' Vrolike Liedjies album that was on repeat in the car, at the insistence of all four kids.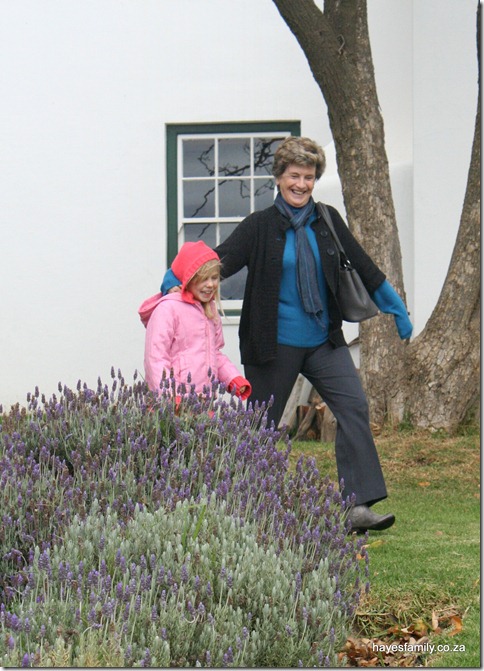 I love these pics of granny and Katie – such joy and love!  A true reflection of a great relationship!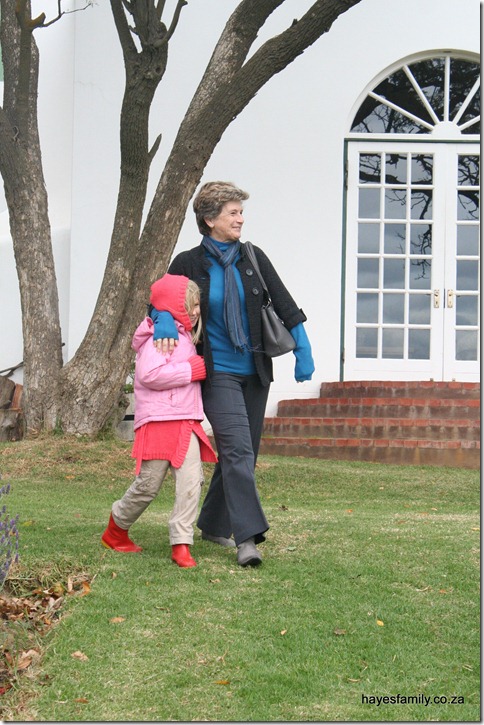 Just before the rains came, it was time to say goodbye to the farm.  What a wonderful experience it was!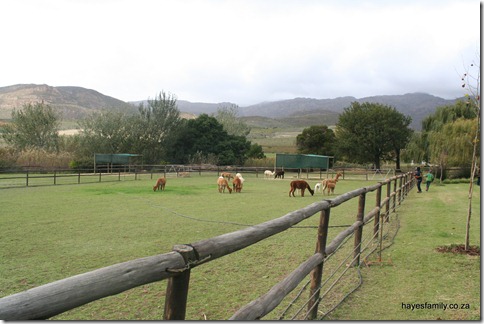 Simone, our mom-co-ordinator, had arranged for us to picnic on a nearby farm, but with the looming clouds and spits of rain, she wisely relocated us to the church hall across the road from her home.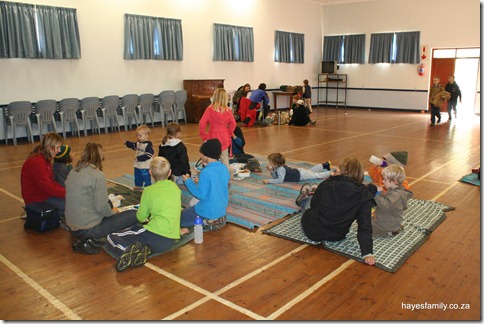 About half the families stayed for the picnic.  It was a lovely time to reconnect and meet families too.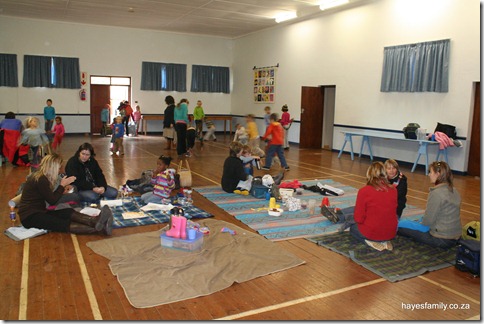 We headed home in the driving rain, over Sir Lowry's and back to Cape Town.  It wasn't my most fun drive, by any means!  But we survived and lived to tell the tale.  Or blog it, should I say!
This past week, we spent some time working on a little "lapbook" project related to the alpacas.  The kids were given a snippet of alpaca fibre and yarn to take home, along with a little fact sheet.  This was the spark for my idea to put together a bit of a keepsake project.  That idea evolved into a full blown lapbook.  A first for me!
For the uninitiated – a lapbook is simply a set of exercises around a similar theme that are then compiled together to form a presentation on the topic. The exercises are really a thinly disguised way to relay the information they have learned or discovered. The "book" part is simply that the project can be folded to form a book-like opening. Sometimes they really do resemble books as the project is done on pages and bound together like a book.
To be totally honest, I've never really taken to lapbooks.  The idea of a glorified project brings back some unpleasant memories from school.  I never really enjoyed the paste-your-info-on-a-big-piece-of-cardboard-to-show-your-learning thing.  And lapbooks are really just a slight twist on an old theme.  But, since the girls have never done something like that, and since doing a few visual projects like these does teach some important skills in presentation of material, I thought that it wouldn't be a bad thing to introduce the skills in the friendlier format of a lapbook.
So, last Friday I spent a couple hours putting together exercises for the girls to do around the theme of Alpacas.  In all my enthusiasm, I totally forgot about including their fibre and yarn!  Quite ironic, considering that was the impetus for the entire project!
But, even without the yarn, the projects turned out well.
Kiera worked diligently on hers and completed it yesterday…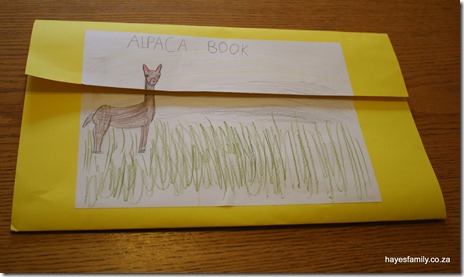 The top piece entitled From baby alpaca to baby booties is a flap up showing the process of farm to final product.  The girls had to cut out the individual pictures and paste them in their correct order.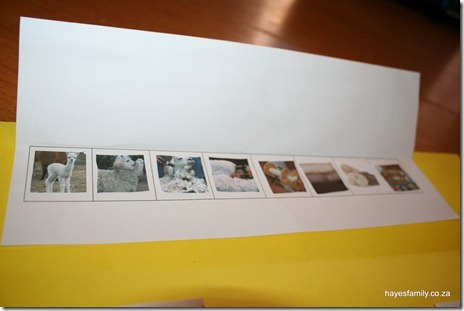 Katie and I collected some paint sample chips from our local hardware store that loosely represented the various colours of alpaca.  This went into a pocket especially allocated for the 22 colours of alpaca.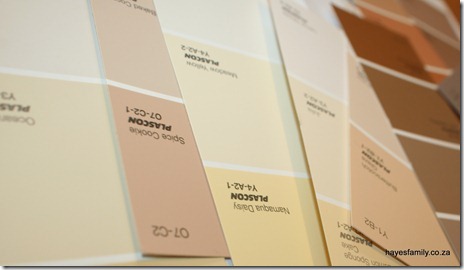 Kiera was quite proud of her project!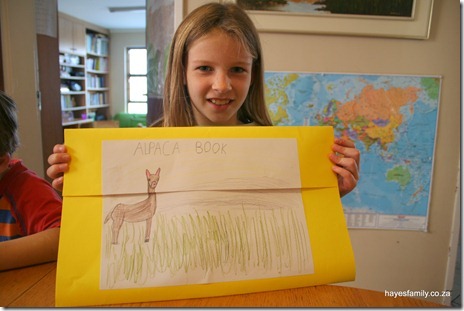 Katie was not nearly as enthusiastic about the whole thing – another reminder to me of how our children's strengths and preferences are sometimes poles apart.  She balked at the writing required, even though we did each bit day by day.  She was not at all happy with having to do her heading over and over again until mom was happy that she had done it neatly enough.  But she did feel quite proud of herself when she eventually produced something neat and presentable. 
Even after all the moaning and groaning, she managed to complete the tasks and felt very proud of herself.  She couldn't wait to show it to her dad, just as Kiera had shown him hers the night before.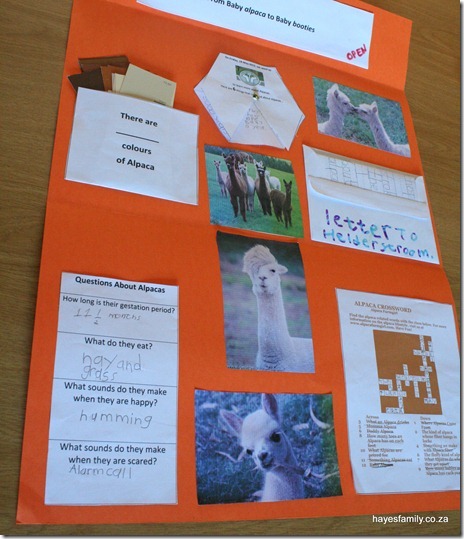 What I do like about lapbooks is that we can work on a number of different disciplines under the umbrella of one theme.  This project saw the girls learning more about computer work – learning to search for, find, save and print images.  They also had an opportunity to collate information and write it down in their own words.  Language Arts came into play with a letter they wrote to the owners thanking them for their visit.  Katie's letter was a bit like pulling teeth – she hates writing so!  But, she did a great job in the end.  I had to laugh at her insistence of writing the first line as "thank you so much for your kind hospitality"!  What 7 year old speaks like that?  I had a quiet chuckle and then let her figure out how to spell such a big word all on her own.  I love how it came out in the end!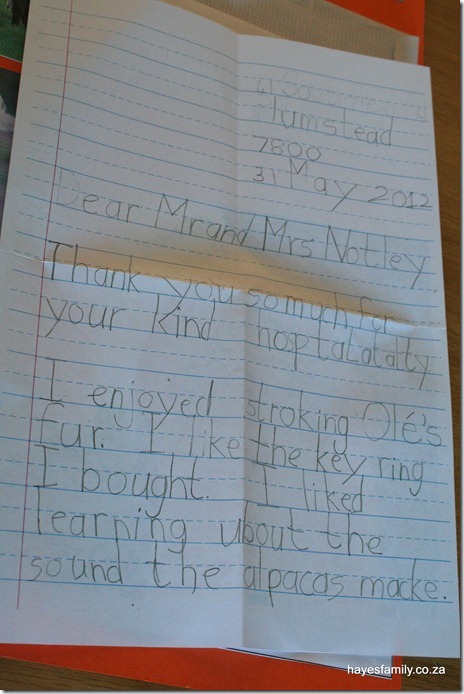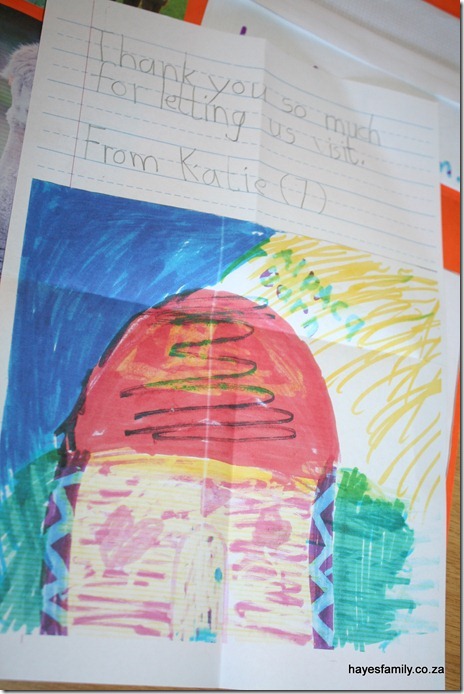 Kiera's letter was also quite sweet, despite not being her neatest presentation.  She usually slips under the neatness radar as she is quite diligent about getting her work done.  Often, her morning's work is completed before I have finished working with her siblings.  And she has three times the workload that they do!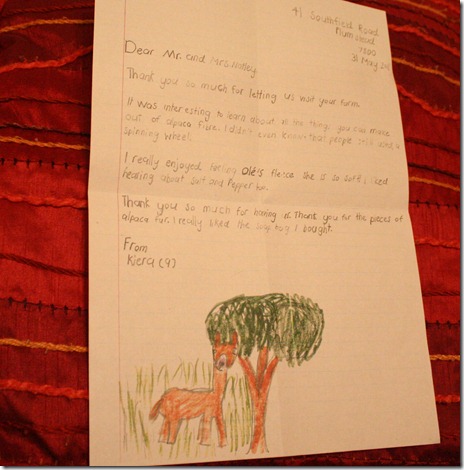 All in all, our Alpaca experience was fun and informative.  Next time I will have to include some games for Katie who responds best when she is playing or creating learning games!