In 2010, Kiera and Katie joined the Brawn's Gymnastics Club in Bergvliet.  I'd heard wonderful things about the club and with the girls begging me to let them do gymnastics, I was thrilled to find something close to home.  I figured they'd have fun.  Plus it's great exercise and promotes strength building. 
Fast forward three years, and the girls are still loving gymnastics.  Considering how Katie is easily bored by repetitive tasks, it's a wonder she still loves it!  But, the exercise, the friends, the fun and the tasks have kept her attention and her love.  Kiera, however, was a different kettle of fish.  Early 2011 she decided she was done with gymnastics.  Desperate to be able to ride horses all day long, she hoped somehow to swap sports.  But, we were not allowing chopping and changing (ballet lasted all of one year after two years of begging to do it!) and, besides, horse riding was just wa-ay too cost prohibitive.
Within another month, Kiera's love for gymnastics returned.  And then something happened.  She started getting better and better.  Eventually she was invited to the Level 1 competition training group.  And after a few months' training made it to her first contest – a fun preparation contest between Brawns and Giants. 
She did just great.  A few wobbles here, a toe needing pointing there, a leg not quite straight enough and a routine or two that was a little too rushed – but for the most part, she did superbly. 
The best part? Her attitude. In the past, she has struggled with her fiercely competitive nature and the disappointment of losing has been overwhelming. We've talked it through so many times, and soon Kiera began taking on board all we had talked about. What a transformation – how wonderful to see a little girl cheer her teammates, be happy for the winners, and enjoy the competitions despite not winning a much coveted medal or spot on the podium.
But, she did win a place in the next competition amongst all the clubs in Cape Town.  And that was exciting enough!
Then the poor girl got Severs Disease in her left ankle.  Yes, I also took a double at that term.  Turns out that it's not a disease so much as a syndrome that effects kids of her age due to their growth plates closing up in the heel, faster than their calf muscle is growing.  This places strain on the Achilles tendon and can cause a lot of pain.  By Thursday she was limping around and in great pain.  Thankfully, our trusty neighbour and relative, Kathy, is a physio and she diagnosed Kiera's problem between mouthfuls of french toast for her two year old.  Heat, massage, stretching and rest required.  Thankfully, by Saturday morning her ankle was much better and we were A for Away.
I never imagined that I'd be the sporting mom – you know, getting up with the birds, packing cooler bags of goodies, and spending hours on the sidelines cheering for my child.  Actually, I don't know what I did imagine, but here we are.  And here I was this morning.  Waking up my kids, bundling them into the car after breakfast, heading off before the sun showed its face for a morning of listening to the same floor routine tune over and over for 6 hours solid!
We arrived at the venue by 7:45am – just after 8 we found out that Kiera's age group was only starting at 10am.  Well, by 11am her group started.  Between a running supply of snacks from the cooler, some library books, puzzles and plenty of iPad action, the three other kids were kept entertained and happy.  But by the time it was Kiera's turn, the novelty was wearing thin.  But they managed to keep going, despite boredom and the wriggles kicking in.  Thanks to a generous supply of jelly babies from Granny Bev, the kids weren't too antsy.
Kiera started off on beam – a beautiful performance with an 8.5
Then it was floor – ouch!  She started off with an impressive high bunny jump/kick – and promptly wobbled and fell, taking a bunch of points off her score!  The rest of her routine was near perfect, so she scored a 8.2 in the end. 
Vault next – with an 8.65 and a 3.3 (out of 5).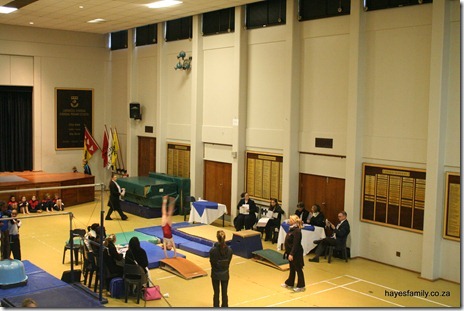 And finally her strongest – bar.  Not quite as good as last time, but still a decent score of 8.95.
Finally, with 3 very antsy younger siblings with us on the balcony, we waited for the results.  Kiera was hoping against hope that she would make the top 15 in her age group.  It means that she can go on to the regional competition in Oudtshoorn.  The top kids in that contest get to represent Western Province at Nationals.  It's her dream to wear a WP leotard. 
But, while her heart's desire is to stand on stage and eventually make it to Nationals, her mouth was encouraging her teammates.  She told them that they should all not expect to be a part of the top 15 – then, if they're not, they won't be too disappointed, but if they are, then it'll be extra special.
Well, she made it!  #13 – but in the team! 
One ecstatically happy young girl jumped into her daddy's arms, clutching the "golden ticket" to her first regional contest ever.  Such joy!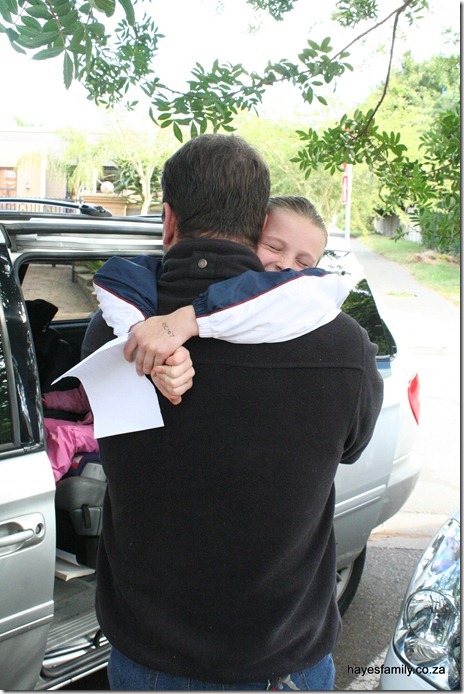 Now we have to figure out how to get us to Oudtshoorn!  And, in the meantime, we've got to keep that calf muscle well stretched, while Kiera puts in some diligent training so that she can work on beating her own scores recorded above.   
Well done, Kiera!