Sometimes the most unplanned outings turn out to be our best ones!  A mail in my inbox inviting a few families to a homeschool outing arrived during a busy time.  I shot off a reply – Victorian School Re-enactment experience?  Sounds great, count us in!  And promptly forgot about it.  I was reminded a few times by a friend whose daughter was also attending.  But, to be honest, I didn't do much thinking and planning about it until the day before.  Life has been busy!
The day arrived quickly though, and off the girls and I went to the Centre for Conservation Education in Wynberg.  The same organisation that does loads of outings and focus groups on various conservation issues also happens to be the Cape Education Museum in Cape Town.  It started in 1902 as the Lady D'Urban School of Industry for Girls.  Later it became the Aliwal Road Primary School.  When that closed in 1988, it made way for the opening of the museum in 1989, as well as the Centre for Conservation Education.  But, we were primarily interested in a true Victorian classroom experience.
The kids had been encouraged to get into character by arriving wearing collared shirts (boys) and dresses (girls), bringing a morning tea typical for that era: brown paper bags, glass bottles, sandwiches on home baked breads perhaps.  I missed the memo on that one completely, however.  And in my lack of preparedness, I had managed only to throw together a quick snack of corn style rice cakes, water, almonds and fruit.  Turns out our 21st Century snack was quite appropriate for our early 20th Century re-enactment!  Kiera jokingly referred to it as "cornbread and water" a la Little House on the Prairie! 
We arrived there at 9am and soon the kids were settled in a modern day classroom – bright posters, table desks and plastic chairs, even an OHP (over head projector) and the distinct smell of classroom.  There was an air of nervous anticipation as the kids listened to their "teacher'" explain a little about the centre and its purposes.  With a little chuckle to myself, I watched my non-traditional classroom child's eyes glaze over within seconds, while my would-thrive-in-the-classroom child listened with great attention, despite a rather disjointed delivery from up front.  I even managed to capture it on camera.  No guesses who is who!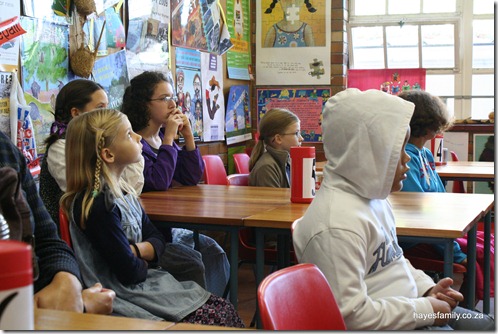 Then, Mr Fontein got to the business of explaining What to Expect in the Victorian Classroom.  He prepped the kids, dished out some specific roles to play to the hesitant group of kids and then led the way out of the 2012 and towards 1902…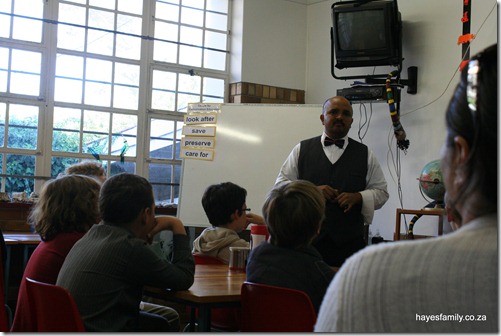 Here you have – 1902, in film-grained sepia for that 'genuine' effect …
The hallway in the museum building was lined with old school bells from schools that had closed down or had changed their names.  According to our guide, there was a Mr Van Rensburg, who formerly worked at the centre, who personally collected many of these bells from the far corners of South Africa.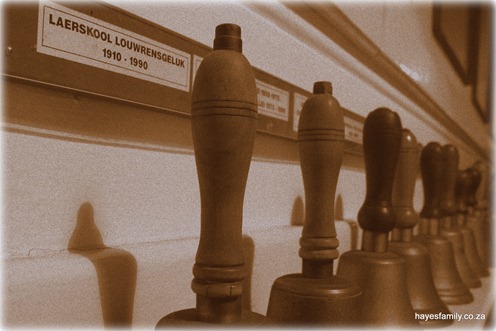 We got to enjoy displays and artefacts from a bygone era, including these model kids who depicted the kinds of clothing the kids would wear.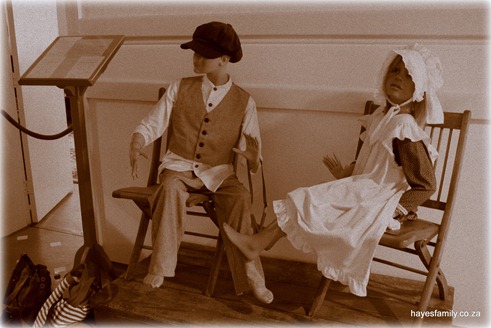 Then it was time to "suit up".  Over their own clothes, the girls wore pinafores and the boys, caps, waist coat and neck tie.  As expected, the "girls wear a long dress/skirt" mandate did not go down well with Kiera.  I left it, figuring that it was not a battle worth fighting.  Interestingly, that morning she decided to give a skirt a try since it would be "in character" and all.  I was quite proud that she did that all on her own, without the usual heavy mom-persuasion / aka guilt-trip.  But, it didn't last!  She got as far as putting a leg into her skirt before her sister burst out laughing at the shock of seeing Kiera in a skirt (!) after a solid two years.  That was that.  She was NOT wearing a skirt.  Katie, however, was more than happy to play the role and had me plait her hair just so and chose clothing that closely resembled a Little House on the Prairie scene.  The added white pinafore made her day…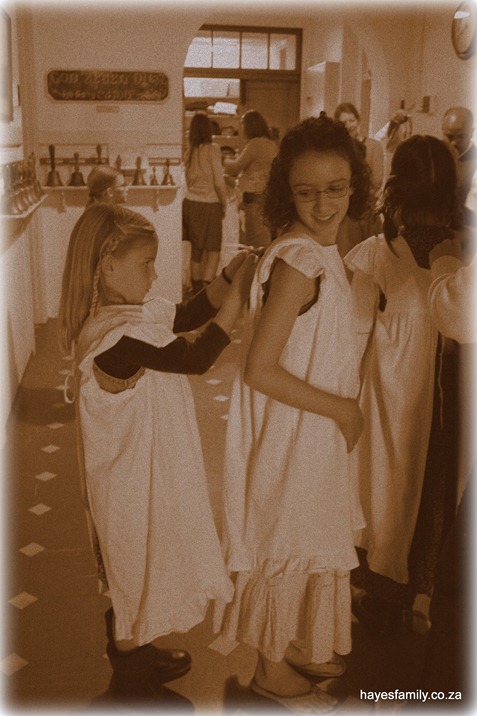 Here we have four young demure Victorian girls ready to enter class…
And Kiera?  Well, she's not too shy to make things happen for her.  She requested a chance to roleplay being a 1902 boy and so she was.  She looked pretty authentic, methinks?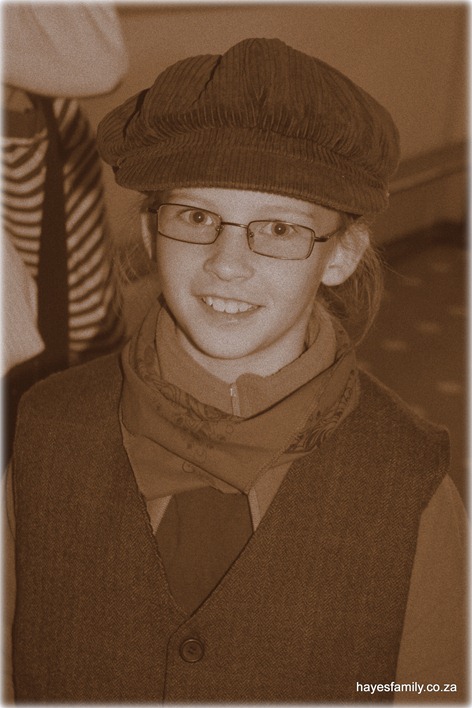 Although, Marc takes the cake for authenticity and cuteness!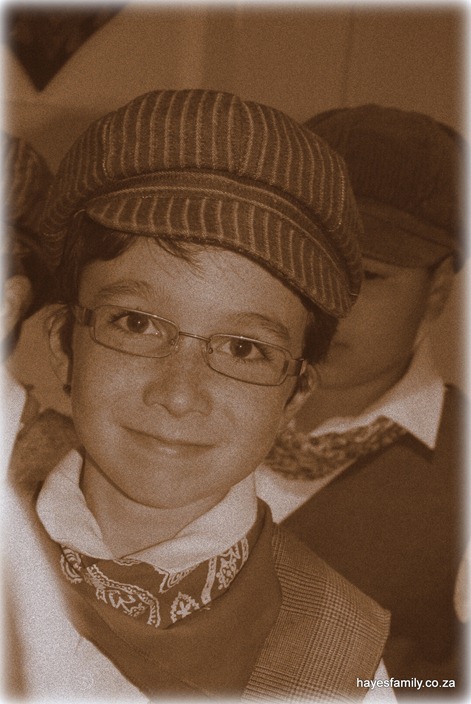 Look at this line of "boys"!  Don't they look like a cast from Oliver?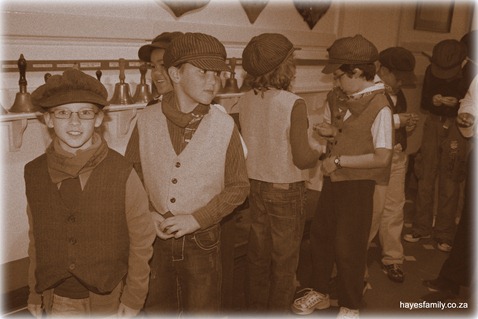 The bell rang, the kids lined up, and two lines crossed the threshold from 2012 to 1902 and discovered to their shock that things really were very different.  The kind jovial Mr Fontein turned into a strict disciplinarian.  Nails and hands were checked.  Orders were barked.  Kids who didn't stand next to their desks, hands behind their backs and address the teacher as Sir were verbally reprimanded.  The "poor boy" was told off for not paying his weekly penny for school fees.  The other boys were reprimanded for their wild marbles games on the way to school.  No one could forget the reminder that throwing stones on the road was not tolerated, nor was making a noise on the way to school, because "speech is silver but silence is golden!". 
The material monitors, of which Kiera was one, were required to hand out the reading books.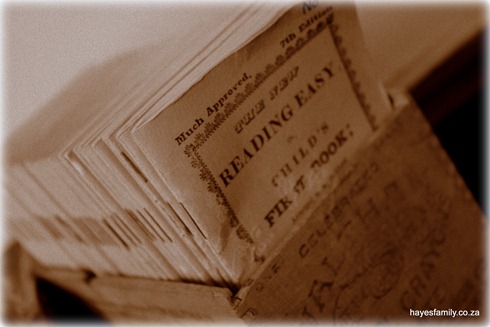 The poor monitors did a miscount and had to endure a lecture and a story.  A great story, mind you, of 6 brothers that went out one day and didn't return until long after they were expected. Turns out that they were missing a brother and wouldn't return until he was found.  They would've still been away if a stranger hadn't happened to find them and discover their dilemma.  Every time they counted each other, they only tallied 5.  The stranger solved their problem by counting them himself.  Of course he tallied 6 as each brother forgot to include himself.  Much like the material monitors! 
Throughout the morning, I had to restrain myself from laughing out loud!  The kids' faces were priceless.  My heart went out to these kids who all looked a little shell shocked and horrified at the whole experience.  But at the same time I wanted to giggle like a naughty school girl.  Mr Fontein made the lefties write with their right hands, as lefties weren't tolerated in those days, as sneakily evidenced here when Kiera went up to the board to complete a maths sum.  (Sneakily because we weren't really allowed to spoil the authenticity of the morning by taking bunches of photos during the experience – but I snuck just this silent and surreptitious one from my cell phone.)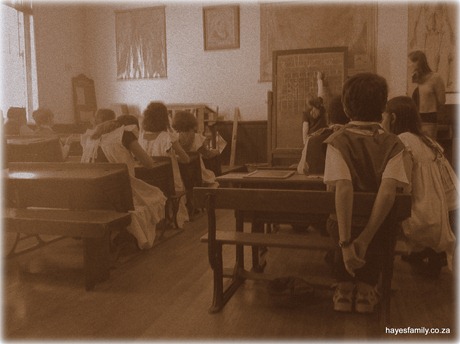 After reading aloud and repeating endless proverbs "speech is silver but silence is golden!" "cleanliness is next to godliness!" it was time for tea break.  Wendy Y's daughter, Sarah, had made a delicious Victorian tea cake for everyone to share.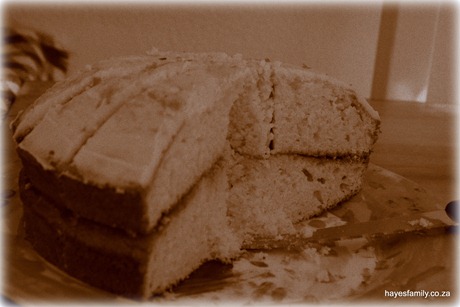 And the kids got to enjoy playing with some toys from 1902…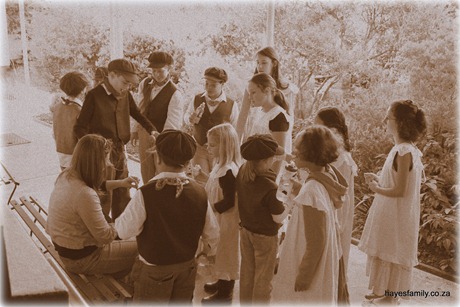 (no that is not Sam to the right in the picture below, although I now know what Sam is going to look like when he is about 10!) Front and centre in this pic is Wendy M's son, Zach, who did a great job with this gadget.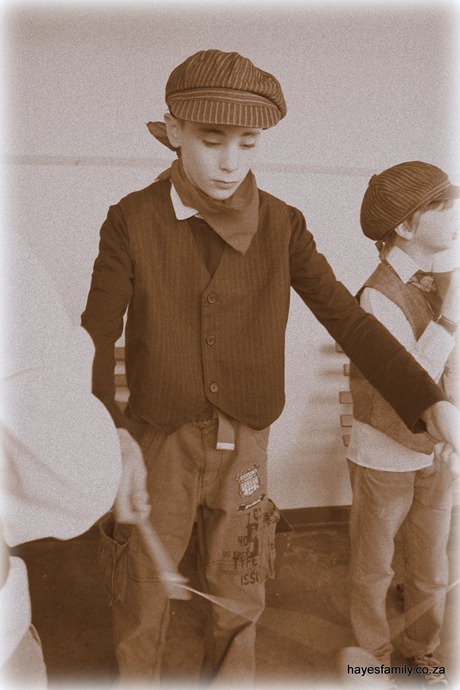 And Katie loved the tin stilts!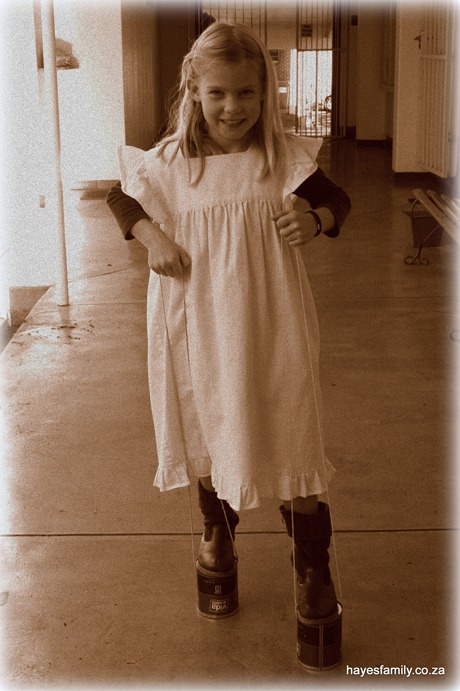 Soon it was back to class time, where handwriting and maths was attempted.  This time the kids got slates, slate pencils and lappies (cloths) to complete the authentic picture.  Even then, the lefties had to practice fancy cursive Fs with their right hands.  Katie, who has never done cursive, did quite well considering.  As did Kiera, with her handicapped right hand.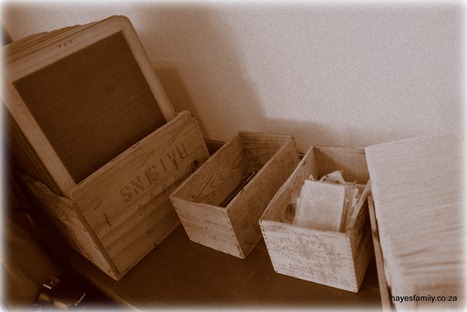 The children responded really well.  I don't think I've ever taught or observed a class quite as diligent, quiet and obedient as that class.  Mr '1902′ Fontein had these non-traditionally schooled kids – who are not well versed in the customs of classrooms like standing, 'sir'ring and silence – shipshape in no time.  Most surprisingly of all was how much Katie loved it.  My system-bucking child who is bored in a matter of minutes revelled in the entire experience.  Perhaps it is not so surprising after all, since she is almost always in her element when she is playacting!  But, honestly, butter wouldn't melt in the mouth of this teacher's pet!  Sitting up front, all 'little' and blonde and angelic, she was the picture of the perfect little school girl!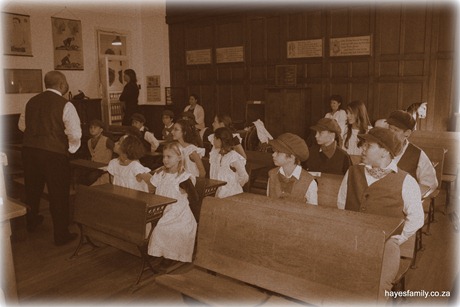 The last lesson of the day was a nature lesson on the Cape Robin.  Facts were learned and repeated.  A test was warned of that Friday.  And I'm pretty sure another proverb or two was repeated somewhere in the process.  Just before close, Wendy Y, the "visiting teacher" (aka the homeschool mommy who arranged the outing) was called to hand out certificates to the kids for "attendance", "best handwriting" and "most well behaved".  Kiera scored herself "most well behaved", Marc "best handwriting" (to which his mother had a good chuckle, but I get to see his Xhosa books and that boy does write neatly!) and Zach, who role played the "new" boy in the class, got "best attendance"!
At the end of it all, Mr Fontein called the kids back to 2012 and let them debrief from their experience then and there.  He also allowed us to take photos from then on out, which accounts for the photo above and below. The kids told him what they thought, which was mostly that he was a strict and scary teacher!  Again, my Katie surprised me – all eager to answer the questions he posed them with angelic sweetness.  She was loving every minute of her morning!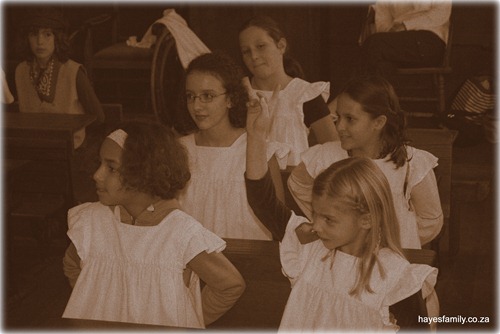 I wasn't surprised that Kiera was enjoying herself, as I was fully expecting her to.  Of course, role playing a typical boy from the period was a double bonus for this little tomboy.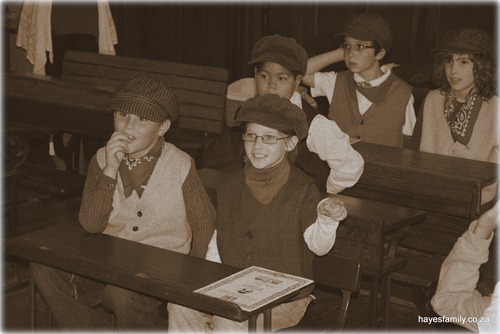 Despite the crazily strict school rules, like the ones below, the kids absolutely loved the entire experience.  No ways would they want to go to a school like that every day, but to pretend was simply priceless!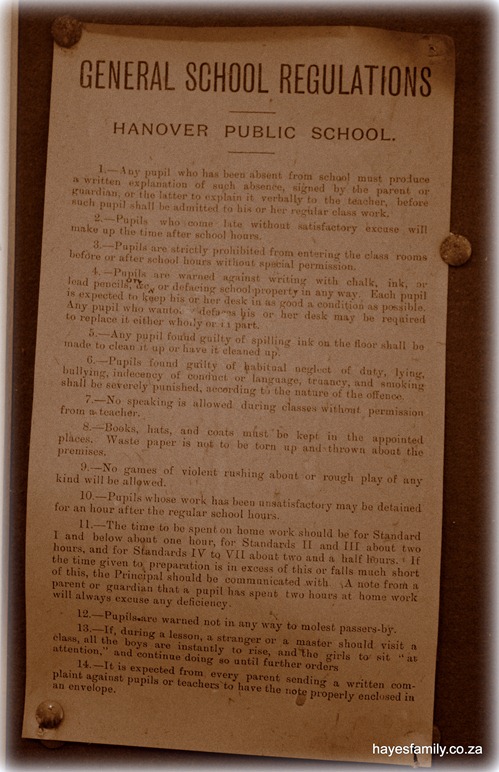 What was also priceless was my seating arrangements. The moms observed from the various chairs that lined the back wall.  By the time I arrived, the only chair available was this one …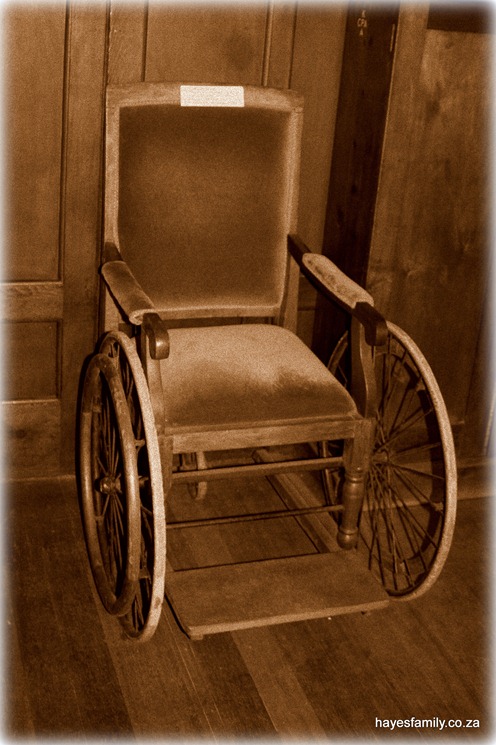 The priceless part came when I tried to get out of it by stepping on the footrest and just about somersaulted out of the thing.  I didn't take into account physics in that moment, and so I almost destroyed a museum artefact.  Lovely!  Fortunately Mr Fontein had a good sense of humour and fortunately the chair remained intact!
We headed home after 3 hours of living learning.  I could write an entirely separate and equally wordy blog post on the virtues of role play in learning!  Instead, I'll just say that like living books, role play learning manages to ignite a passion for the subject at hand and deeper understanding of it.  We could've studied this era by doing worksheets or reading textbooks.  Instead, the kids got to experience it first hand, writing on the same slates from that era, sitting in the same desks in the same classrooms.  I doubt they will ever forget what they learned that day.  And, testimony confirms this – when I shared about the kids' experience on Facebook and our homeschool group, numerous people came back reporting that they too had gone to the museum, some 20+ years ago, and experienced that same classroom, with vivid memories of what they learned. 
It's no wonder the girls want to return.  And return we will, when the boys are old enough to enjoy the experience too. 
_______________________________________
For more information from the Centre for Conservation Education (Cape Education Museum)…contact the programme co-ordinator at:
Sigi Howse (the programme co-ordinator)
Centre For Conservation Education
9 Aliwal Road, Wynberg, 7800
Tel: 021 762 1622
Fax: 021 762 8690
Email: post…@cce.wcape.school.za
Currently the cost is R8 per student to attend the morning experience.
(source: http://www.rsa-overseas.com/explore-sa/centre-conservation-education-cape-education-museum.htm)
Big thanks to Wendy Y for organising this!