The Homeschool Western Cape Facebook Group is growing and growing and the activity there is buzzing.  I really can't keep up with all the outings, meet ups, information exchanges and project opportunities!  But we did manage to slip this one in – a chance to hook into a penpal exchange with a class of 5 and 6 year olds in Illinois.  Fellow mom and OT specialist (check out her excellent tips for parents on all things OT website here) Tracey set it all up.
Just as receiving their moved-to-Nelspruit-to-do-his-intership-babysitter, Luke's postcard in the mail was a huge hit, so finding a padded envelope addressed to the three older kids caused all sorts of intrigue and interest.  After ripping it open, we found that the penpal was really for Sam.  Well!  Just imagine one young little chest swelling with pride and self-importance! 
Finally!  Mr Sam has A Very Important Experience all to himself.  A task that neither of his big sisters have had.  The paper and pencil couldn't make its way to the coffee table soon enough!
And to my utter surprise, my sweet little guy sat down and wrote the first letter he has ever written right there and then.  I was amazed.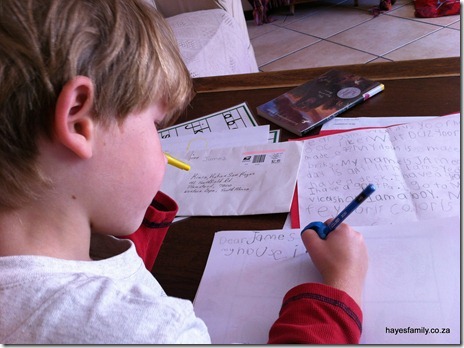 Yes, I am his teacher.  I should know where his capabilities lie.  But, you've got to know that this guy is mostly self-taught.  I've not put the mom-hours into him as I did back when I was a green and over-keen homeschooler.  Kiera got mom in panic mode trying to tick the boxes and ensure she was at least grade level (or, truth be told, a step ahead, in keeping with my defensive desire to squash the naysayers with my child prodigy who could actually socialise!)  Katie got a slightly less intense version, but still plenty of "gotto get this right" attention in the early years.  Sam?  Sam got mellow-mom.  I've realised that kids learn whether you want them to or not.  My plan was always to gradually introduce him to the three R's closer to Grade 1, but to be open to his lead.  Well, aside from starting Teach Your Child to Read in 100 Easy Lessons with him last year, I did little else.  Turns out that Sam was going to learn whether I taught him or not.  He wrote his first words without my direction.  Next he started sounding out everything within sight.  By the end of last year, I tagged the first three Explode the Code phonics workbooks on to our Sonlight order as a last minute thought: perhaps I could start with Sam midway through the next year.  Well, Sam went ahead without me.  He's 1/3 of the way into the first book.  It's a strange experience having my 5 year old boy happily plugging away at workbooks of language, maths and handwriting, and insisting on reading his Sonlight readers aloud to me, while my 7 year old girl needs to be dragged off her bike and back to the table regularly throughout the morning.  
In no time at all, Mr Sam had written his first ever letter.  Bear in mind, he is mostly self taught, so we've got some work to do on handwriting, letter case etc, but that aside – this mom was bursting with pride in her little guy's learning.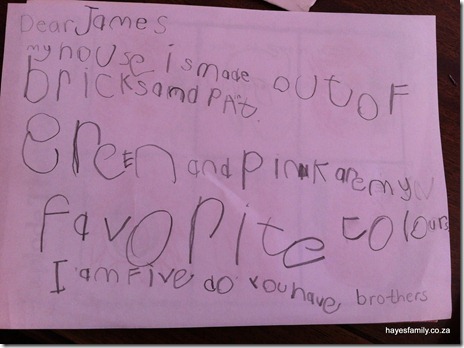 He ran out of steam after the first page, so I finished scribing his letter while he dictated.  It reads …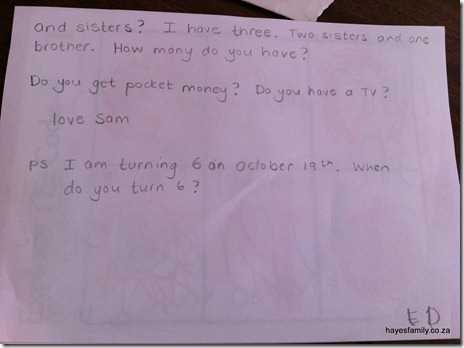 Dear James
my house is made out oF bricks and pAt (paint). GreEn and pink are my favorite (favourite) colours. I am Five do you have brothers and sisters?  I have three.  Two sisters and one brother.  How many do you have?  Do you get pocket money?  Do you have a TV?
Love Sam
PS I am turning 6 on October 19th.  When do you turn 6?
His letter answered James's two questions – what is your house made of? and what are your favorite colours?  Sam had about a gazillion questions back, but he finally settled on just four (okay, five!).  A few days later, he tackled the drawing he planned for James.  He drew two robots and wrote his signature attribution at the top "Sam to James" (he always places his name before the person he is addressing – I could wallpaper our lounge with mini masterpieces signed "SamtoMom").  We added some photos of the family and a picture of him at Lunch Bunch.  Mr Sam proudly displays his package contents for his new penpal – James in Illinois!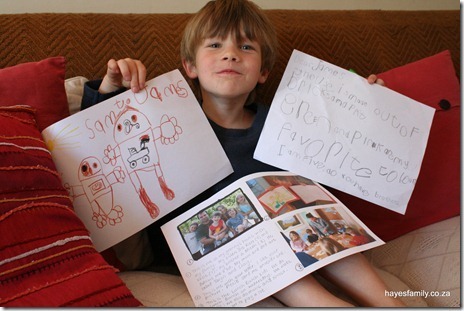 After swimming lessons that day we headed to the post office to have the letter weighed and stamped.  Sam's sense of Great Importance was clearly still quite strong when he marched confidently up to the counter and said, "good afternoon, ma'am.  Please may I get a stamp for this?"  The lady was delighted and so was Sam.  A huge grin was plastered all over this guy's face as he paid for the stamp, stuck it down and jumped down from the counter to post it in the box.
Of course, I had to complete the experience with more photographic evidence!  And of course, two of his siblings had to get in on the picture!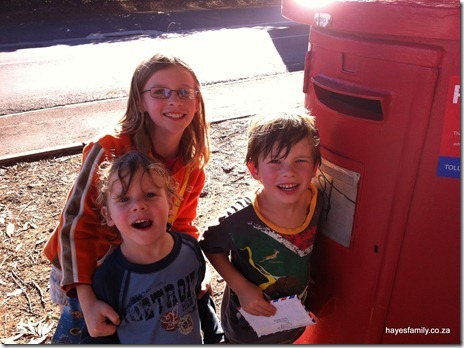 Tada!  Letter going in!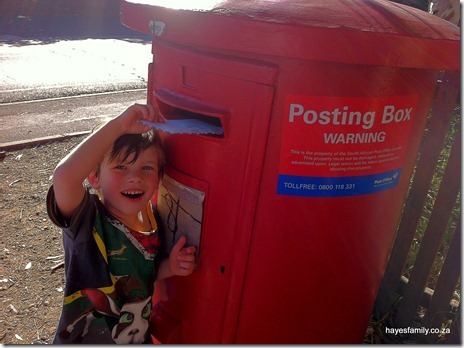 And gone!  So now we wait to hear if James gets his letter.  We hope he does soon!