Oh the rain!  The rain!  It has poured and poured here.  But we've had fun none the less.  Low key, but thoroughly enjoyable.  Our CT neighbours came to visit since they're in Hermanus now too.  Lovely to spend time with them in the afternoon and the boys got to watch rugby, which is always a plus for them!
After supper, we enjoyed our resurrection egg making session.  This time we used silver balls.  BIG FAIL.  I wanted to stay away from nuts because all the oil in the nuts can cause the meringues to flop – plus the kids aren't too fond of the nutty/meringue mix.  But the silver balls WOULD NOT break!

  I have a year to come up with an alternative plan.  Although I may consider making tomb buns aka resurrection rolls.  I'd make a home made dough, methinks.  Or use shortcrust pasty, ready made. 
I really enjoyed doing the resurrection cookies this year as each child was thoroughly involved and engaged.  It's exciting watching each child "get" the gospel at the level of their own understanding. 
Here is the photo evidence…
The balls that wouldn't break!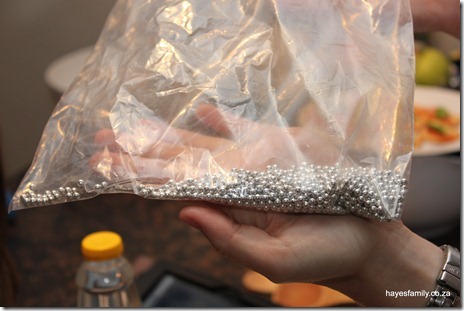 Some rapt attention – not consistent, I'm afraid!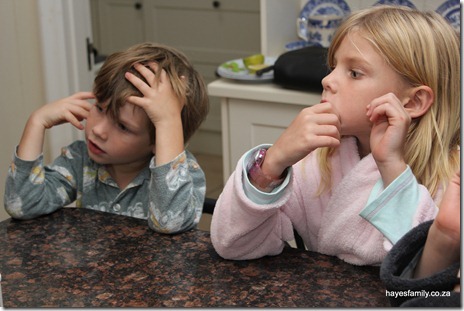 Dad reads, while mom tries to get the recipe right.  After 5 years of doing the same thing every year, you'd think I'd know it off by heart!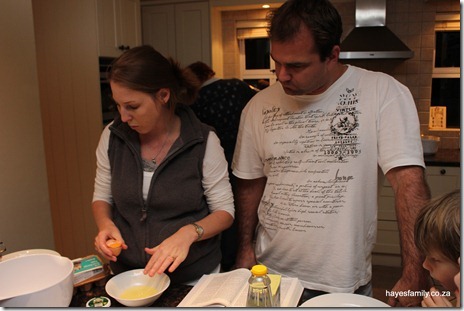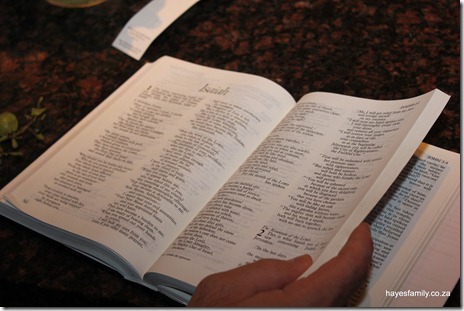 My turn!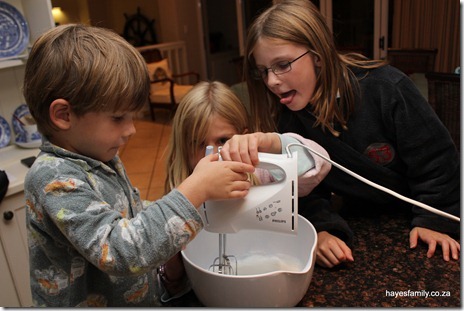 Talking about Jesus' followers' salty tears…  Such serious little faces!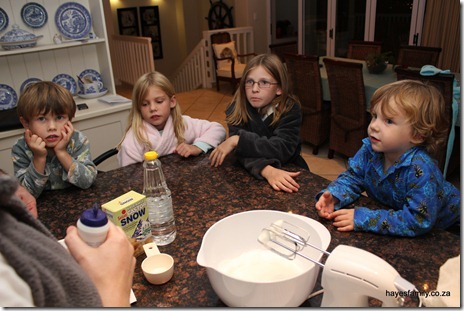 A not so serious moment – daddy Craig attacking mommy with tickles.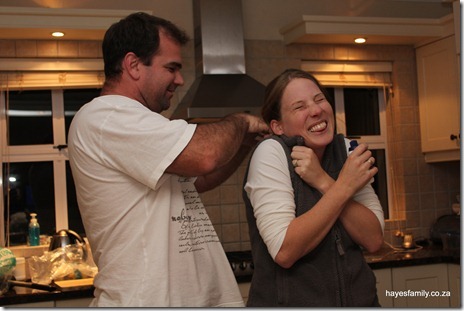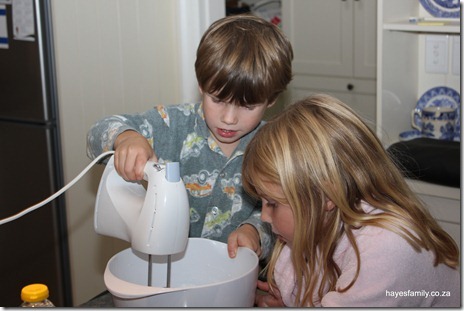 Dad helps Micah with his meringue drop.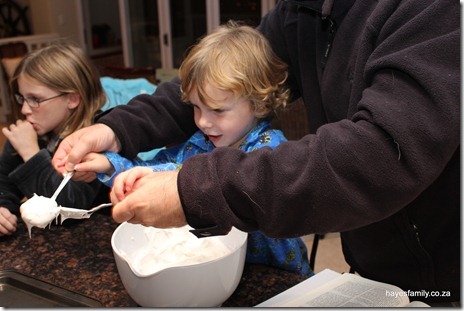 Sam shows off his muscles for grandpa Peter.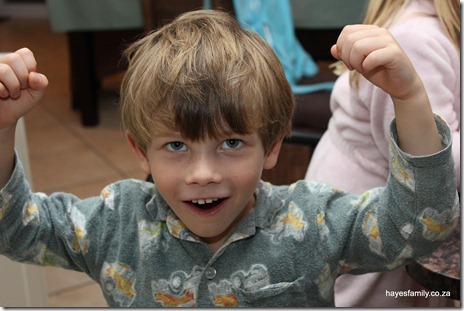 The next morning!  Time to open the oven to reveal the empty tombs.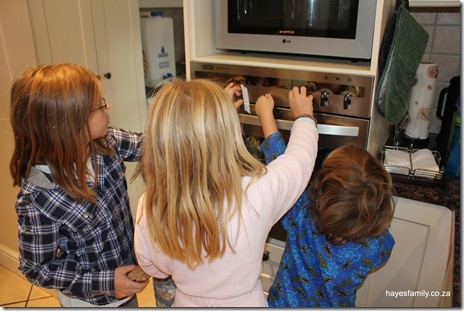 Oh, the sweet anticipation.  The kids were so excited.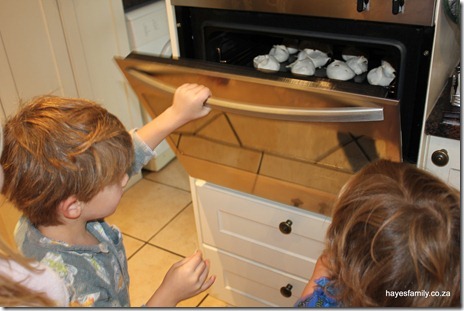 Lovely hollow meringues.  The first time we did them they came out flat.  There are lots of things that can cause meringues to flop.  Mostly – not beating enough between adding sugar; too much moisture in the air; ANY grease or oil in the mix, including the bit of residue left on a plastic bowl from a previous project.  That's why it's better to use a glass or ceramic bowl and utensils. Sometimes the oil from the nuts causes it to flop.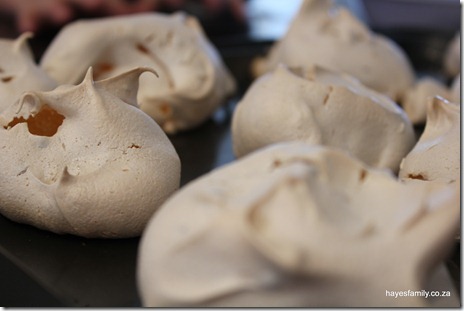 After reading about how Jesus rose again and shouting, "He is RISEN!" the kids stuffed crumbly meringue into their mouths and enjoyed every minute of it!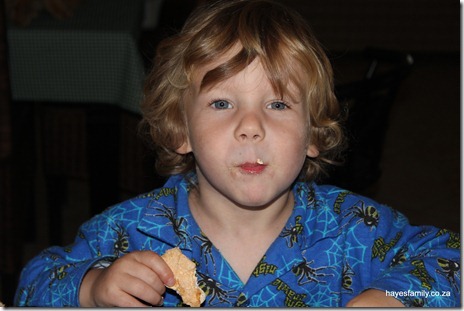 We also got to see our resurrection garden – resurrected!  I forgot to take a picture of it all dead and limp after two days of no water.  A quick dash between downpours yielded these beautiful flowers to show a resurrected garden and an empty tomb (aka potato!).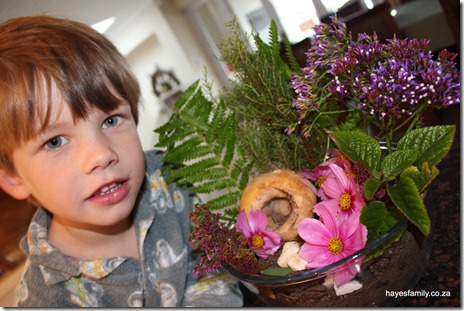 The rain did not let up for Resurrection Sunday – but it did not dampen the spirit of the day. We enjoyed an inspiring sermon at Christ Church, Hermanus. Despite some hungry and thirsty kids at the end of morning who whined a fair bit in my ear, I did manage to chat to Tracey who also homeschools and has just taken permanent foster care of a sweet little four year old girl from Hawston. That moved my heart – what a wonderful picture of God's adoption of us into His family, and on this Easter weekend making it doubly poignant.
We got home and had a delicious brunch prepared by my man.  I prolonged the kids' anticipation rather cruelly! Enforced rest time before the rest of our Resurrection Sunday fun. 
First – hunting for our Resurrection Eggs…  Let the search begin.  Kids ready in anticipation (but not before exchanging that dummy in Micah's mouth for a chance to search).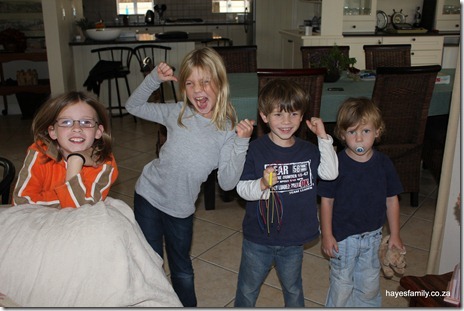 Exciting finds!
Then: the great discussion!  Each egg holds a different symbol of the story leading up to Jesus' death and including his resurrection.  We bought these from Karmal Books in Bergvliet some years ago, and they've been a HUGE hit.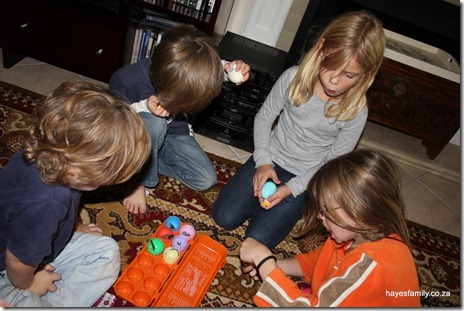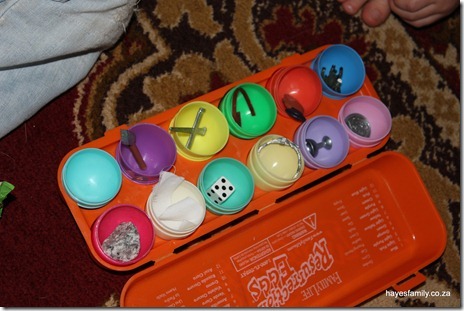 Then stage two of the hunt – this time for sweeties and goodies for the kids.  And our Wordless Book craft.  Such anticipation as the kids run down the stairs to start the downstairs hunt – our first year hunting INSIDE the house.  Yes, the rain really was relentless!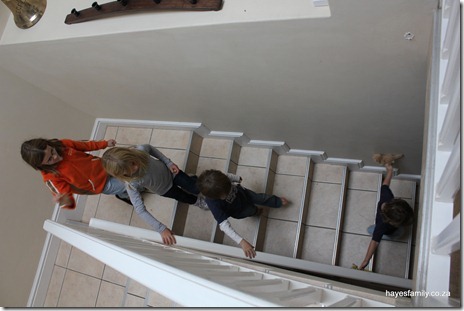 Their goodies still in the packet – pre-hiding.  Granny hid these while the kids were busy hunting for their resurrection eggs, upstairs.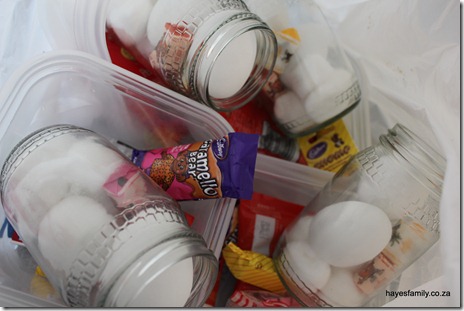 Oh the delight!  Tigger was guarding this cache!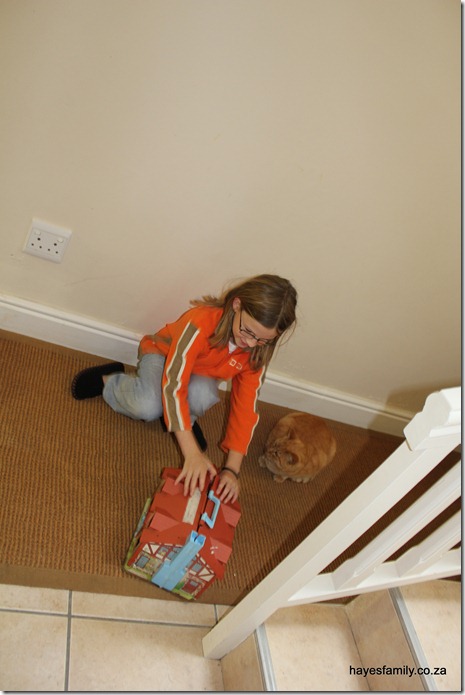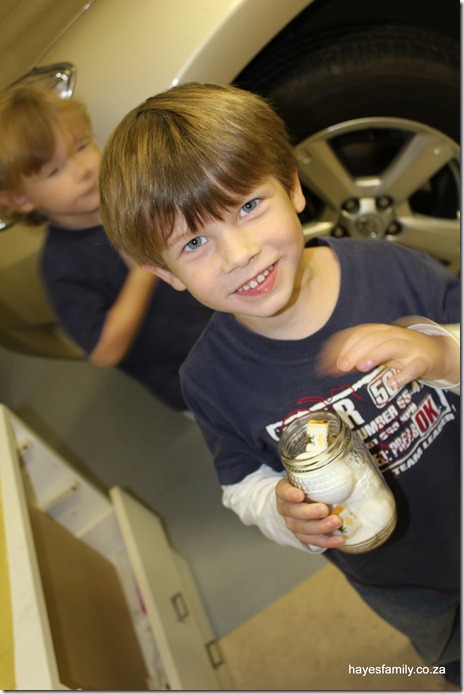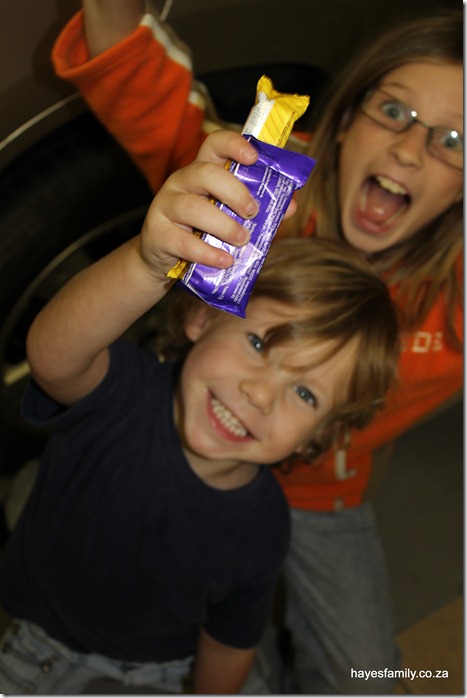 The funniest was this find.  Granny gave Micah a hint as to where some more of the stash was … "Go make a wee, Mikey," she said.  While, Micah took her literally, totally missing the loot on TOP of the loo.  The look of sheepish delight when he realised was too precious!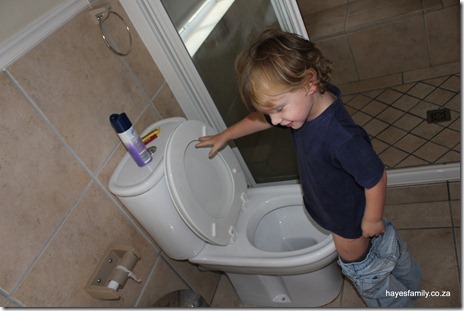 Craft time!  We've been doing crafty variations of the Wordless Book theme each year.  We've made bracelets, keyrings, books and more.  This year we glass painted honey jars with the hopes that they will dry beautifully and shine the light of a candle as they shine the light of the gospel.
First things first – a retelling of the gospel story using the Wordless Book and the poem I adapted a few years ago: Wordless Book poem.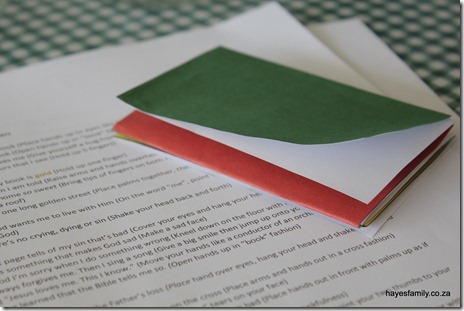 Granny Sally got hold of the camera while I explained to the kids and captured all my goofy expressions.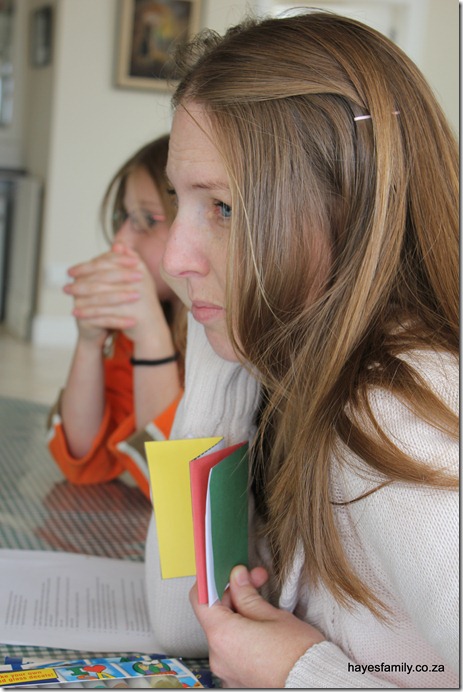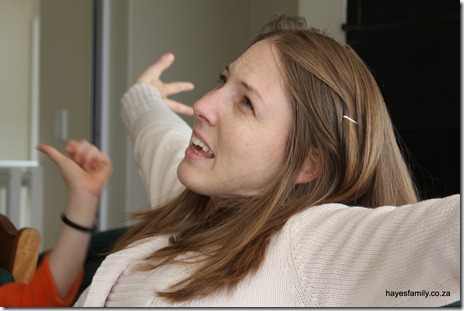 And their sweet expressions.  It's not easy to keep their attention without some serious interaction!  But, between the wriggles and giggles, some sweet and sincere answers pop out.  I love seeing these little faces so earnestly reply…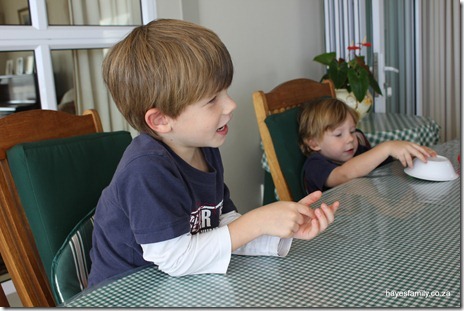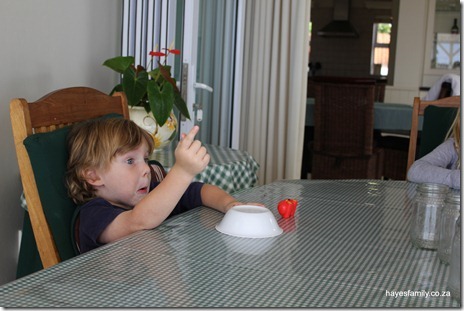 And my little-big girl so serious as she reads the poem.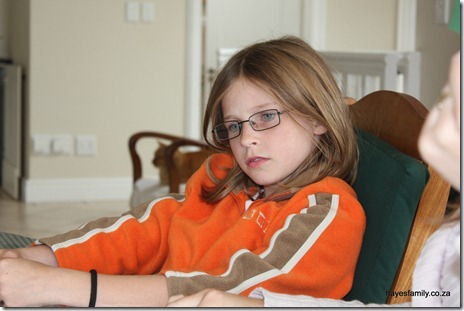 Finally – the craft.  The idea is to use the colours of the wordless book to decorate the jar. 
Here's a mid-post mini tutorial…

You need:
honey jars, cleaned of all labels etc
glass deco pens, specifically the yellow, black, red, white and green colours
tea light or short stubby candles
Method:
explain the story of the wordless book using the poem here: Wordless Book. and you can print out a version of the book here: Printed Wordless Book.
decorate jars with shapes, patterns, pictures in the wordless book colours to tell the story of the gospel.
I struggled to get the sticky labels off back home.  I googled some ideas, trying a few I thought would work, like nail polish remover and the like.  Turns out that the most effective solution was also the cheapest, quickest and most natural.  What got off the sticky labels quickest?   Well, after a good softening session in a basin of hot water, a rub down with COOKING OIL did the trick!  How's that?  Gotto love Google!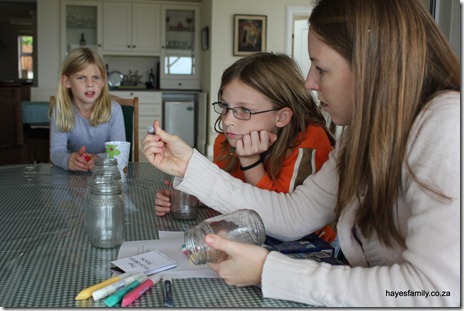 Micah needed some help – after a few false starts where his decorations were wiped off with great enthusiasm by Mr Micah – so we simply created lines of zigzags down his jar.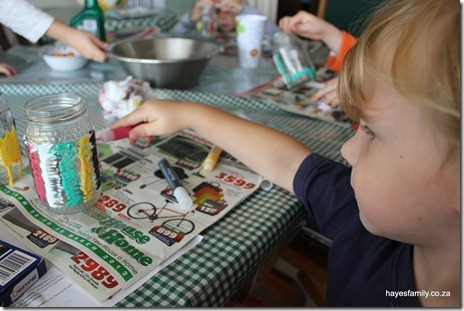 Kiera did stripes down one side and, of course, a horse on the other side…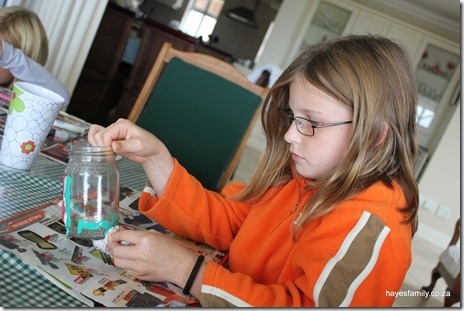 Sam made squiggles all over…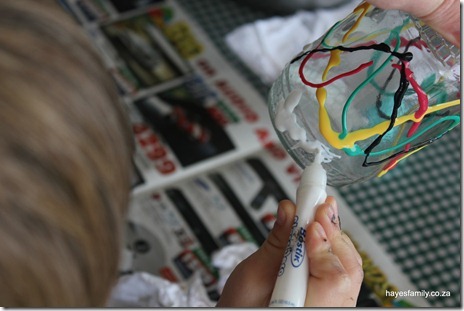 Even granny got into the rhythm and created a beautiful jar…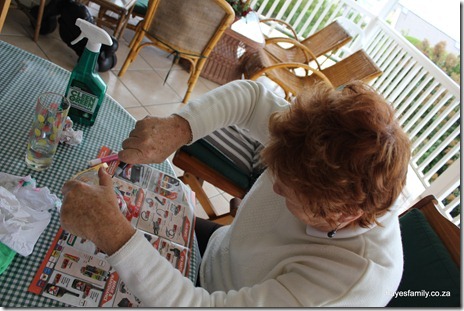 Granny's masterpiece.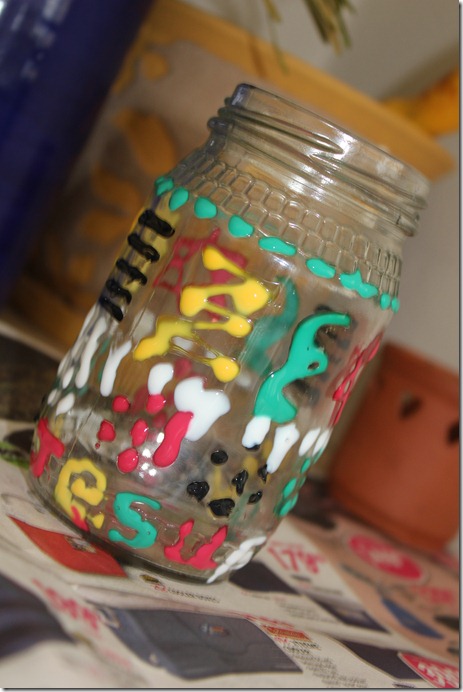 Katie's has an intricate story that I've still got to figure out!
Our finished products – drying.  Or, at least attempting to dry on this cold wet rainy day!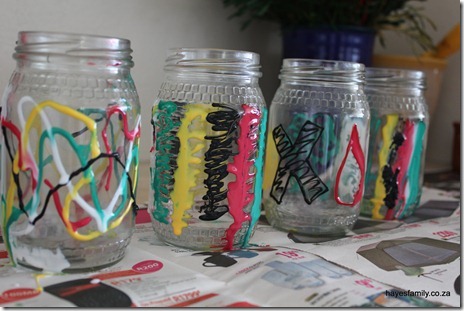 A lovely celebration of Jesus and his resurrection!