This year our Core studies are focused on American History – particularly the pre-1900's.  Aztec, Inca, and Mayan facts, stories and folklore have permeated our home in ways unexpected, such as when we discovered Quinoa (pronounced Keen-Wa) in our local grocery store and ate some of this nutty grain-like seed with our stew, just as the Incas of old.  Or when we went on our chocolate outing to Rococoa and got to learn again how important the cacao beans were to the people of the era we are studying.
And, as always, they've also permeated our hearts.  We've read the most amazing stories of adventure – Cusi, the Llama boy who guards the ancient Inca secrets; Esteban, the Moorish slave who becomes revered and respected by South American Indians and Spanish alike; and others like them who made ancient, incomprehensible history alive and exciting for this family.  Oh how I love Sonlight and the wonderful living books they prescribe for us to read!  It is always a wonderful privilege and moment of excitement for me to watch my girls' faces.  They alight with delight on discovering, through more "factual" text readings, that the character they grew to love in the work of fiction we had just read was indeed a true living person!  And seeing how one book complements another or one snippet of information is repeated in another and so cements a concept or idea in our heads – ahhh, priceless!  After 6 formal years with Sonlight, I am still loving it!  And so are the girls.
With everything being all about Aztecs and Incas, it's not surprising that this book from the library was a huge hit.  Well, until Katie discovered the picture of the shrivelled human sacrifice mummy that had been unearthed by archaeologists that is.  It's now not her favourite book!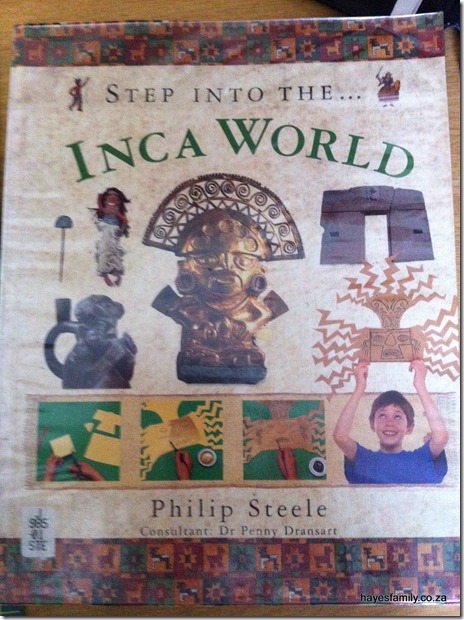 But the first reading of it whetted our appetite for crafting fun.  And since the girls need bags for the violin books, I figured an adapted version of this craft would be a great idea.  Of course, ours aren't medicine bags and don't contain ancient magics!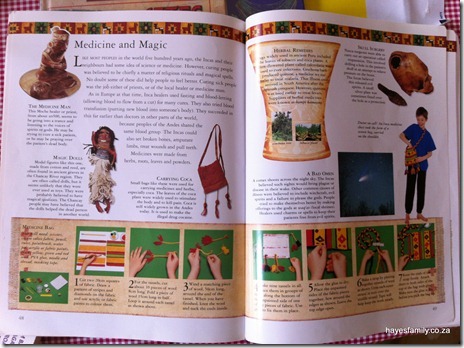 Because I suspected that this would be a fun process, I tried to remember to take pics throughout.  Here are some of the process – minus the tutorial!

  First – I got the kids to design how they might want to do their patterns.  Koki and white scrap paper did the trick.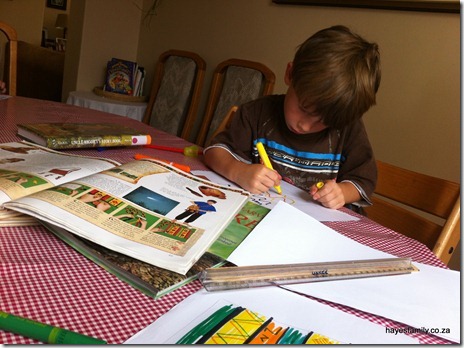 Then, it was time to paint their stripes.  In lieu of masking tape, I used electrical tape to try keep lines straight and uniform…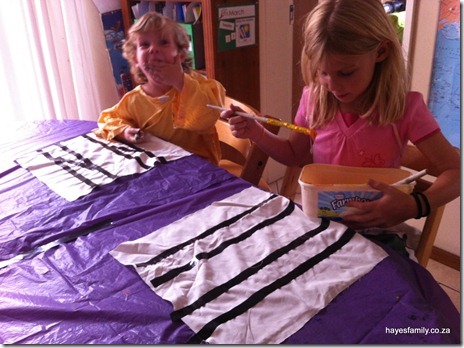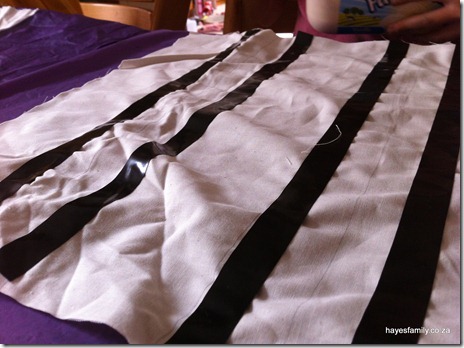 While each stripe had its turn to dry, the kids worked on the other side of their design – a more freehand pattern.  Micah managed to do his patterns between painting self-tattoos all over his arms.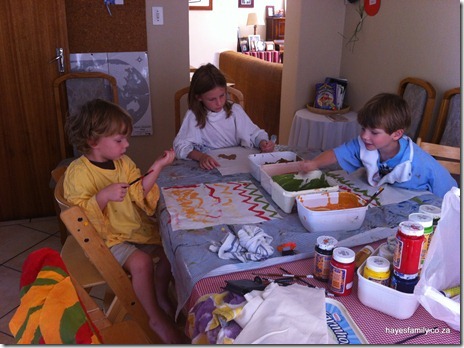 The girls took the painting a tad more seriously…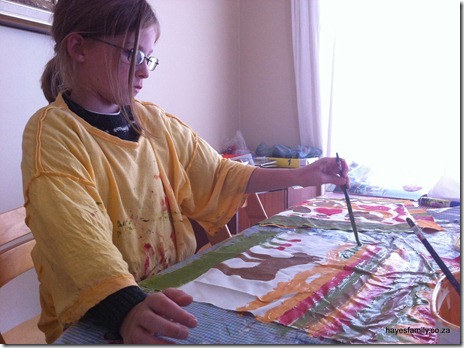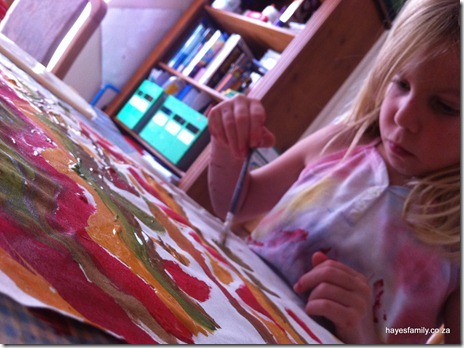 I let the boys off of the rest of the activities – at 3 and 5, they weren't going to cope with plaiting wool nearly tight enough to make a decent handle of their bag.  They were quite happy to spend time outside playing fun and games instead.  Meanwhile, the girls diligently plaited their chosen three colours of their handles…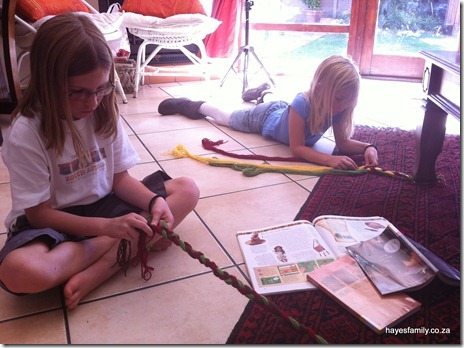 After ironing the fabric paint to fix it, it was time to sew together.  I sewed each side to a blank piece of calico –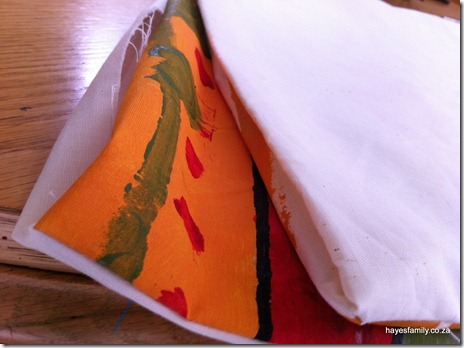 And then sewed both "pockets" together
.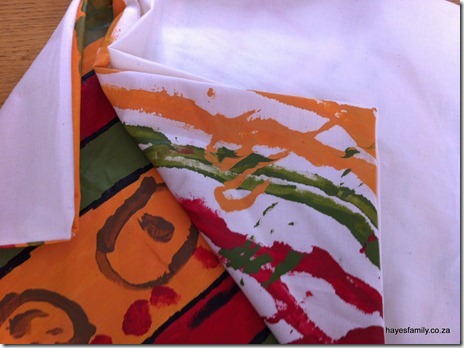 Meanwhile, the girls worked at making tassels for their bags…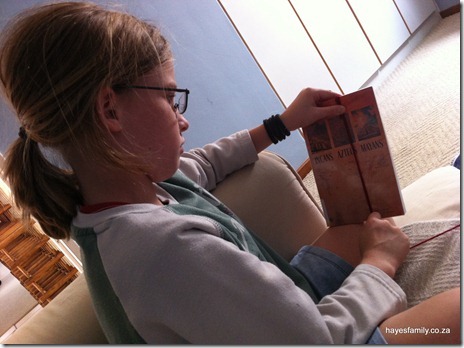 Such diligence!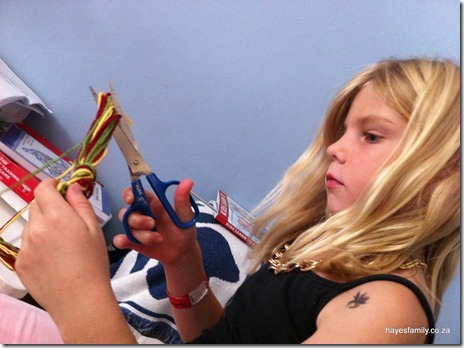 Finished tassel!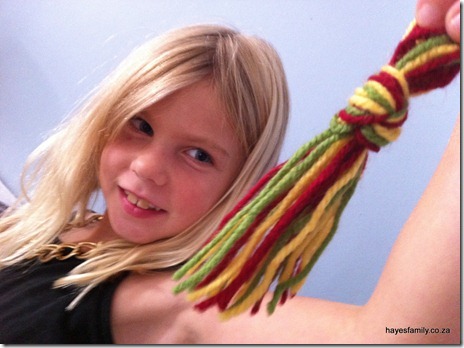 Finished product!  This little dude is proud of his bag, despite the fact that mommy did 95% of it!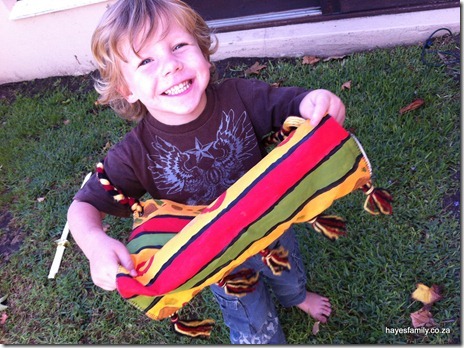 And the finished products … side 1…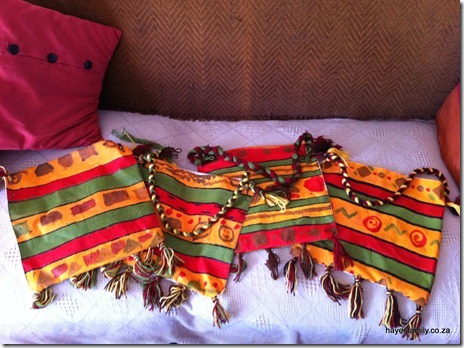 … and Side 2 …. free hand
!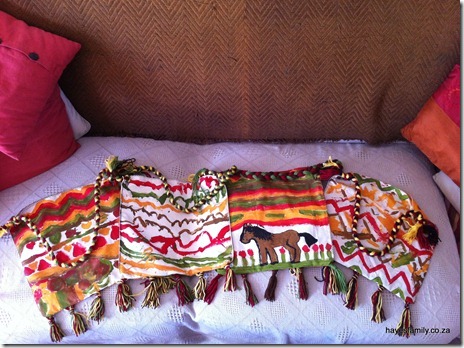 A thoroughly satisfying project indeed!