In the spirit of catching up, here is a whirlwind spin through March and the Hayeses…
Fun with Family
We went hiking / aka nature walks / aka fun with family…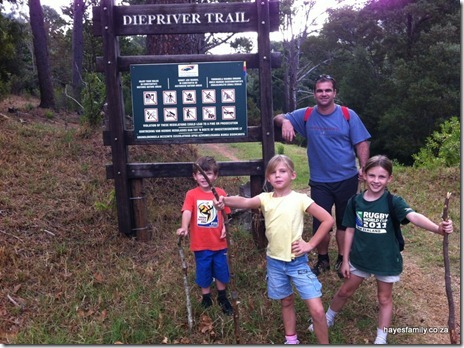 Like discovering the green belt (above) and heading to the annual Simonstown Navy Festival for the first time ever.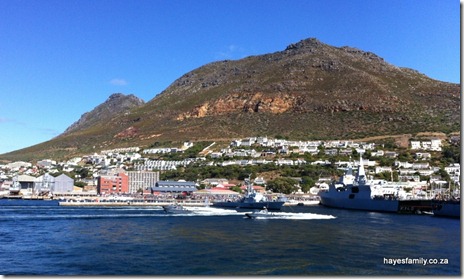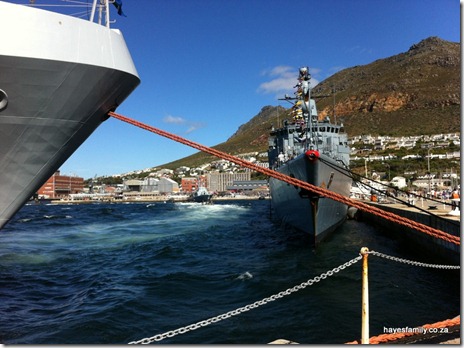 And Craig took us all out for a mid-week treat in the beginning of March – gelato ice cream at the Waterfront!  Yum yum!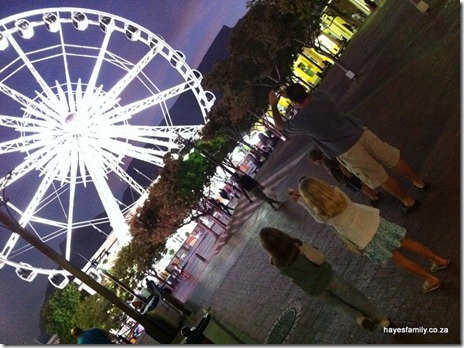 And we discovered Geocaching!  What a brilliant lot of fun.  We've done two now.  Our first was a well hidden find on the Alphen Trail…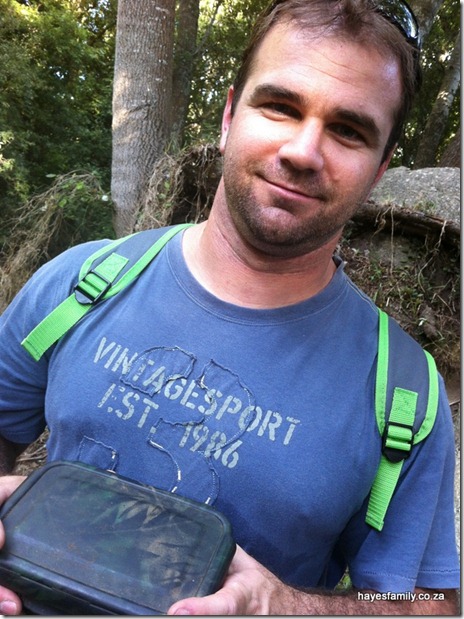 And the second, a teeny tiny cache in the Greenpoint Biodiversity Garden.  Also, well hidden.  We found that one today, the last day of March.  After bike riding, soccer playing and white candy egg eating, we headed to find the cache in the near vicinity.  This time it was this mommy who found it!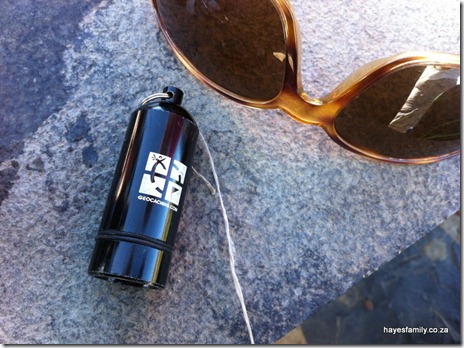 Unfortunately we didn't have a pen, so we couldn't sign the log, but next time we will.  Fun!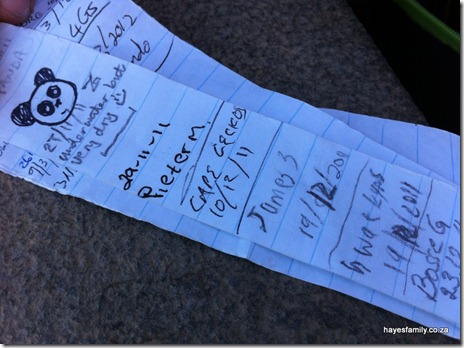 Midweek fun and learning
The kids enjoyed lots of Maths World Day fun, competing in the actual event at the beginning of March.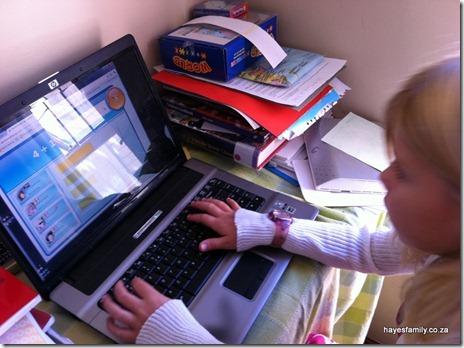 And we enjoyed more Minichef fun – this time to Rococoa.  Talk about amazing chocolate experiences!  First, willing participants had their faces painted in cocoa. 
Then we all got to taste real chocolate from the chocolate fountain.  Hot and runny and simply delicious!  Then the enthusiastic and fun Kaylee took us through the history of chocolate.  We left knowing that the most important thing about chocolate is that its entire history and life is about Love and Care!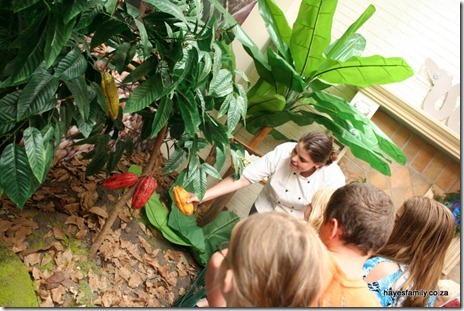 Finally, we were let loose on our own little mound of moulding chocolate.  The kids spent the better part of an hour creating their own little masterpieces…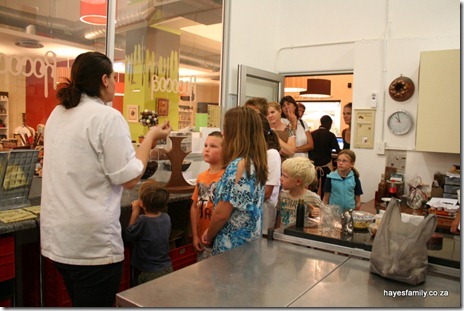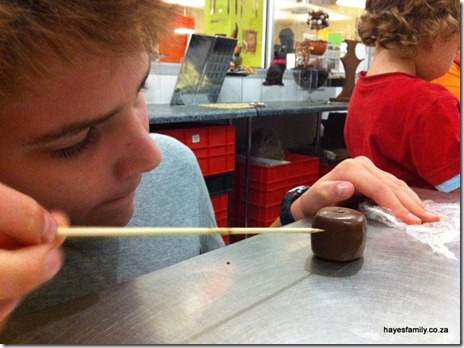 While us moms peppered the owners with questions and admired their amazing original creations…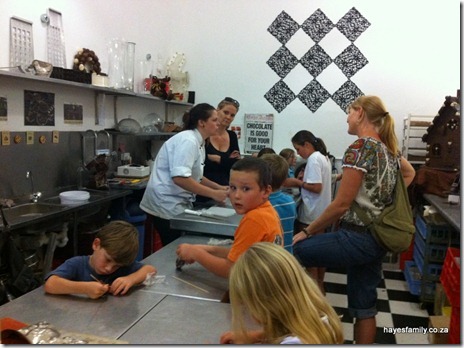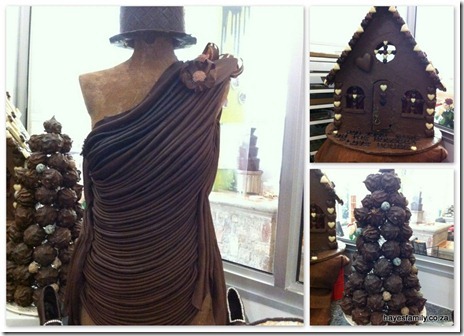 Our focus in our Core studies this term has been on the ancient Americas.  We've learned a lot about the Aztecs and the Incas – a period in history that I never felt much interest for, despite having spent an entire semester studying Latin American history at UCT.  But, thanks to Sonlight and their amazing selection of real living books of great stories, the world of the Incas and the Aztecs is one that holds greater significance for me now.  And the kids have thoroughly enjoyed it too.  Best of all is finding out that many of the beloved characters of the living books we've been reading were in fact real people who left their fingerprint on history.  One such person is Esteban, the black slave who survived the Narvaez expedition and came to great fame, even in his death at the hands of an Indian tribe.  Cities like Cuzco and Mexico City have new meaning to us now.  And customs such as human sacrifice and praying to the Sun brought about many interesting conversations and interesting comparisons to our world today.  And we got creative – making ourselves some Inca medicine bags from a tutorial in a lovely book we found in the library…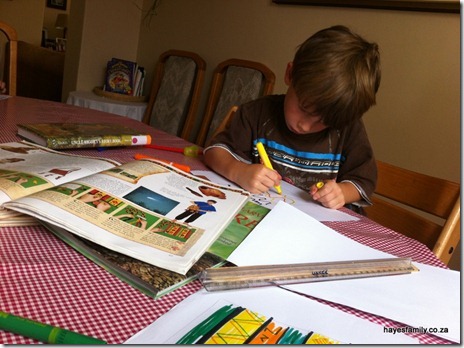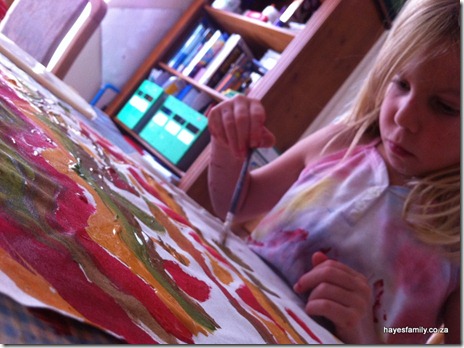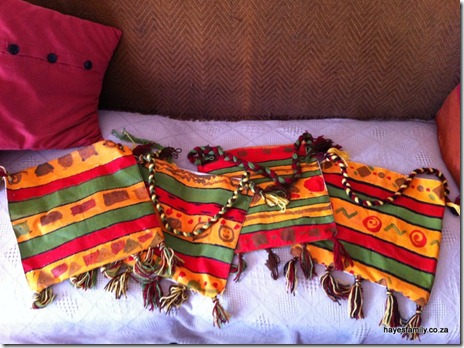 We hung onto our Inca book for a bit too long, racking up our first fine of the year.  But R7 is a small price to pay to make those bags above happen.  And a small price to pay for the library-book-deprivation my children suffered, so much so that when we eventually did get to restock our books at the library, the kids dove straight into them.  I was greeted with sight when leaving the library the other day.  While sorting out our missing books and fine situation, these four monkeys snuck out to wait for me on the bench.  Usually that involves a fair bit of messing around.  This time around the books grabbed them…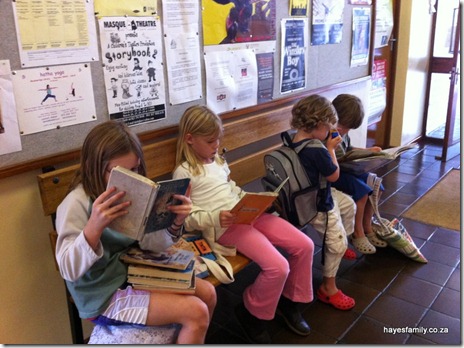 Of course, not all school-type work is fun and games, and not all fun and games is school-related.  Below are two images of the typical fun and games my kids like to have before school starts.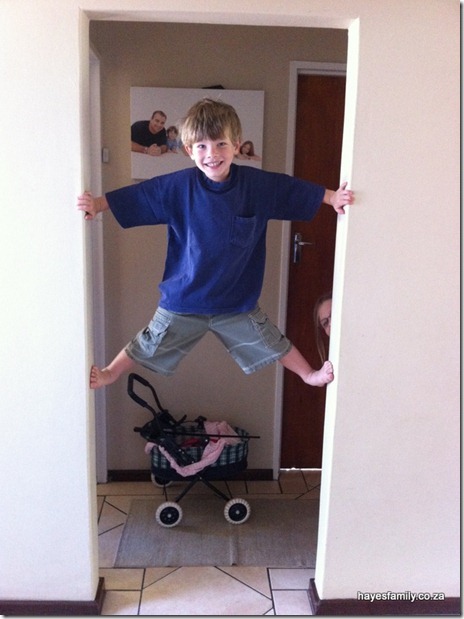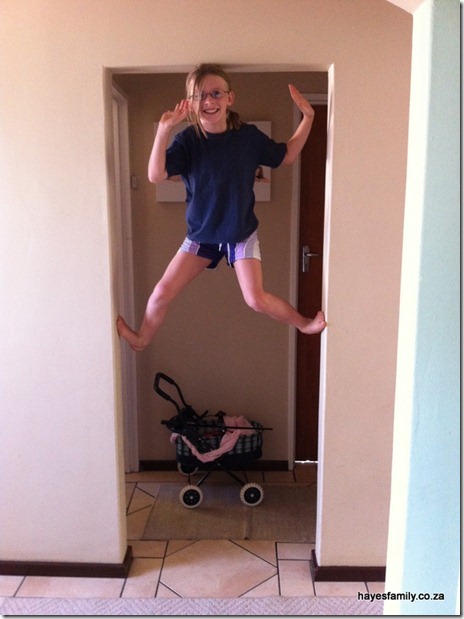 Thankfully, they do have other climbing outlets – our jungle gym outside does the trick.  And parks are a big plus, like this one where we met up with some other Homeschool Western Cape mommies for a get-together at Parish Road Park.  Thanks to Catherine W for organising.  Looking forward to more!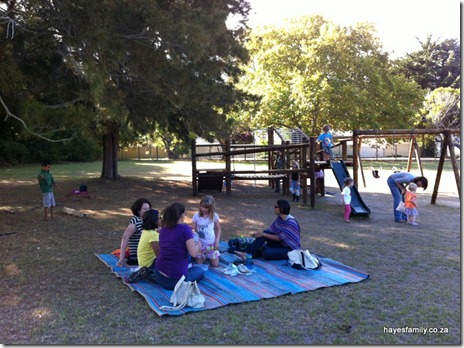 My horse-mad eldest child spends many hours of her spare time churning out pictures and drawings of horses, as well as stories where a horse features at some point or another.  This is her bedroom wall currently.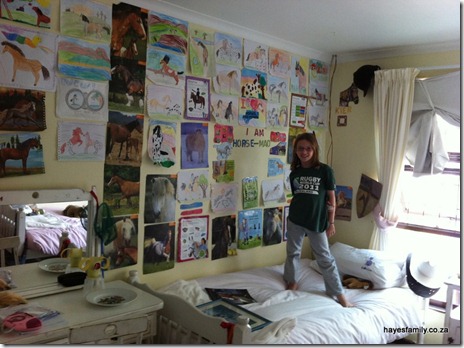 As mentioned in a previous post, she loves writing stories and recently entered the Chaeli Campaign's 2012 Short Story contest, despite it being aimed at high schoolers.  I hope to write more about this first experience in writing for a contest, but in the meantime, here is a screen shot of her first few paragraphs.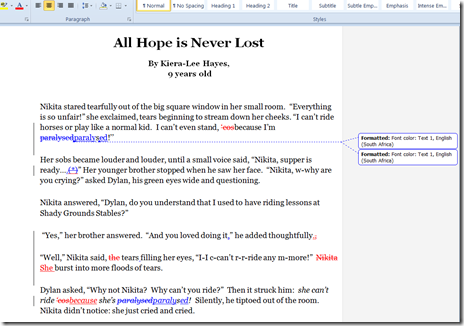 I helped her out with the editing process (as evidenced above! This was one of the final drafts) and she worked hard to edit and correct her own work, all the while keeping her story intact. It's a lovely, heart warming story of a young girl who is paralysed and wishes only to be able to ride horses again. Watching my daughter work hard, persevere and make this experience her own – even sending the final story and entry form off via her own email address on her own – has made me feel deeply proud and completely in awe: awe of the talent the Lord has blessed her with. Awe of His maturing of her. Awe that my little girl is not so little any more! Which, in turn, makes me a tad bit nostalgic and tearful. My baby's growing up!
Out and About
Hanging out with other mommies, friends and family is always fun and we got to do a fair bit of that in March.  Below are some pics from our monthly Mamas and Munchkins meetings at our church.  Aimed at new mommies with "older" mommies coming along to support and care, this venture has started out so well.  Thanks to Kirsty Ronne and her team, the meetings have been wonderfully helpful and new moms are made to feel welcome.  Each month a short talk on a relevant topic is given and the kiddies get to enjoy a craft of some sort with their mommies.  This month the focus was on holiday and play destinations…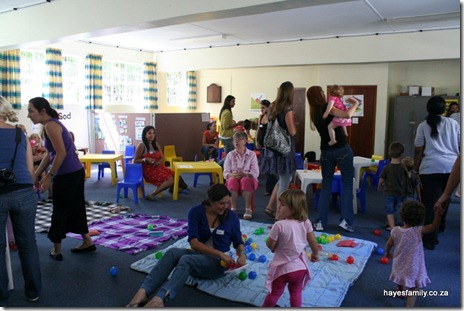 And the kids got to paint with edible paints…
We had a blast at the Maynardville Community Chest Carnival at the beginning of March.  Micah didn't stop laughing throughout our fun on the bumper cars.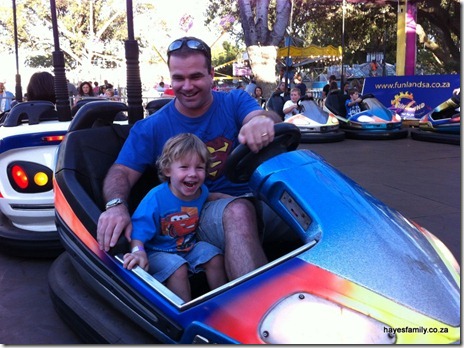 We "bumped" into the Tubbies and managed to catch this awesome pic.  Jemma is another little fearless wonder!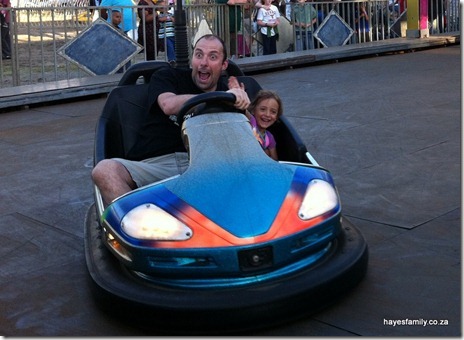 Kiera is game for just about any ride – here she is on some spinning contraption with Craig.  I love rollercoasters, but I don't enjoy spinning rides – or more to the point, I don't enjoy the churning stomach effects thereafter!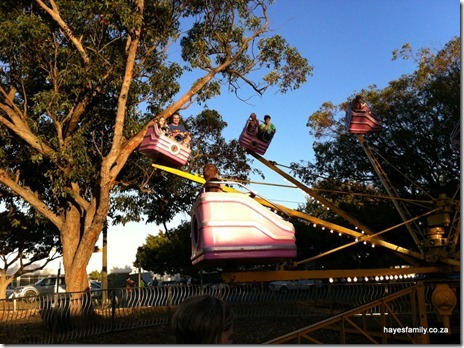 Micah was too young for most of the rides, but he got his fill on these cute plane/transformer dudes…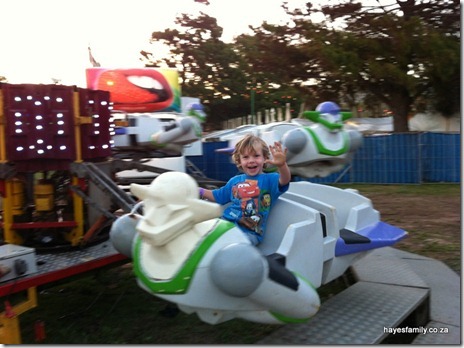 While I had to accompany certain young children on the Octopus – yes, another stomach-churning affair.  Thankfully my stomach coped and aside from being convinced that Jemma and Sam would've shot out of the little compartment if it wasn't for my arms wrapped tightly around their waists, I quite enjoyed the experience!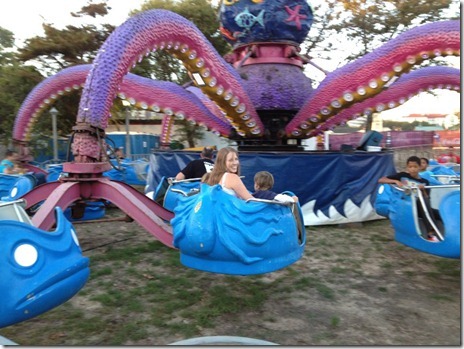 We spent a fair bit of time in and out doctors' offices this month.  I started down an investigation path as to why I get trigeminal neuralgia, lump in throat syndrome, double vision (4 times in 3 months) and other minor aches and pains plus increased PMS and unexplained episodes of depression(yay).  It meant that I ended up having an MRI to check for MS, as my symptoms are on the early MS symptoms list.  Thankfully that came back clear for anything sinister on the brain.  It was a torrid time facing these symptoms head on and admitting to myself that it could be more dangerous than I had once thought.  I'm still waiting for some other results from saliva tests that measure hormone levels more accurately than bloods, and am checking out the osteopath with the hopes of having something of a clearer picture as to what is causing all these weird things.  But I am not nearly as worried about it all as I was.  I've read over and over about similar situations where the main problems were deficiencies in certain minerals and/or vitamins.  Since I am investigating that, I figure that I should hopefully get to the bottom of it soon.  In some ways, I'm almost excited to make some eating and managing changes in the hopes to see some overall health changes.  But the turmoil this all caused for me and those around me was not fun.  In this process I've realised that a few things about myself – 1) I hate burdening others with news that burdens their hearts.  Especially close family and friends.  Yet, once things comes to the surface, I need to talk about them.  But that perpetuates the cycle of concern for my loved ones and the burdens they feel.  2)  I felt strangely calm in the face of what could've been a horrible diagnosis.  I hated the idea that I could have something that could end my life prematurely, or effect it in such a horrible way that I would not be able to properly care for my children in their most needy years, but I also felt a sense of peace that the Lord is in control.  3)  I process things in my life in a really weird way – most of my concerns about my health have been lurking just below the surface for months and months, only to suddenly pop out in an orderly fashion like I had spent months analysing it all, when instead I had been hardly conscience of them at all!  I realise that I do this a lot when it comes to troubling things in my life.  I'm undecided as to whether that's a good thing or a bad thing or just a me thing.  One thing is for sure – when it's about me, I don't remember to take photos!

  But when it's my kids, I do …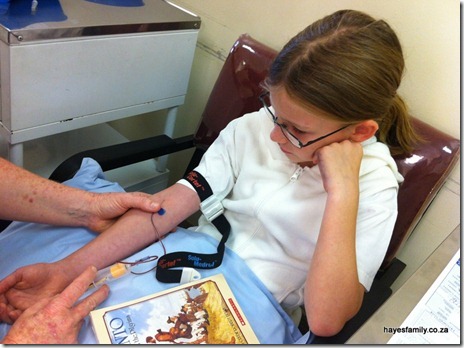 Kiera has also been in and out with a suspected broken finger (turned out to be a ligament strain) and some blood tests to get to the bottom of her feeling tired (growth spurt perhaps?).  She was a trooper and coped just fine with having her blood sucked out of her through a super-thick needle.  She hoped to keep reading Squanto but it turned out that watching her blood ooze was much more fascinating.    
After this rather hectic month of dealing with the health questions and concerns, I was really grateful to get away and enjoy some time out with friends at Jeanine's birthday celebration.  She put on a spread which we all got to enjoy at the Clay Café, while enjoying the awesome therapy of painting pottery to the gentle chatter of people around us and absolutely no whining or demands of any kind.  What a blessed couple of hours that was!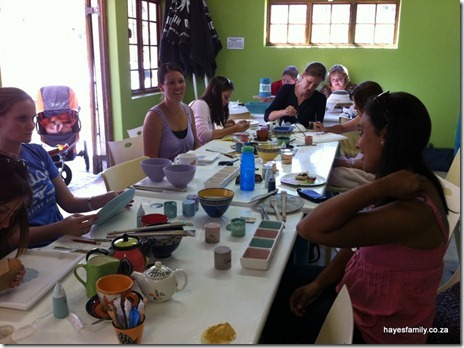 I painted a little mezzé plate of four compartments.  Nothing exciting and terribly artistic, but I wasn't going for that – I was simply after therapeutic!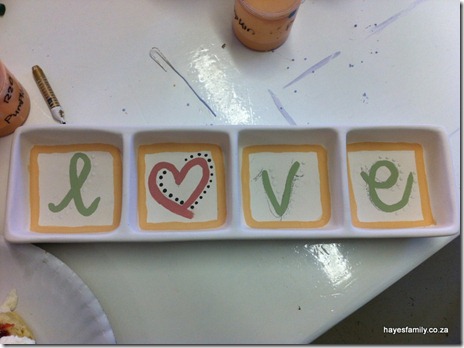 Absolutely loved these serviettes (napkins) that Jeanine had with all the yummy goodies.  I can so identify!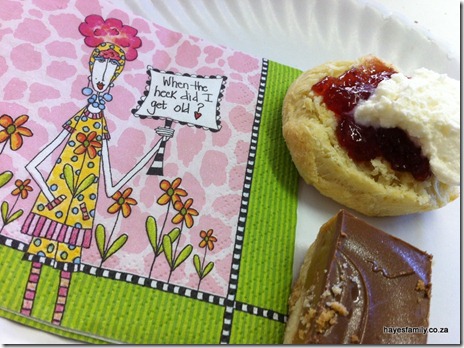 Last week, we went off to Willow Bridge Mall near Tygervalley to have a look at the kids' artwork.  Kiera, Katie and Leanna VB entered an Easter art contest at the last minute.  Since their work was being displayed at the mall, it was worth the trip out there.  Well, what a lovely mall!  I was expecting a bit of a strip mall that needed some attention, given that the megamall, Tygervalley was just around the corner.  But this place beats Tygervalley Mall hands down.  Such lovely open areas and a cosmopolitan feel.  I could enjoy shopping there!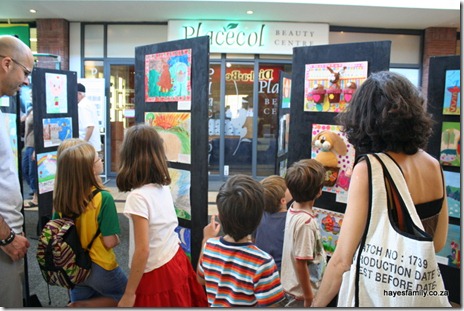 It took us a while to find their pictures, as they weren't with the first display we saw.  But eventually we did.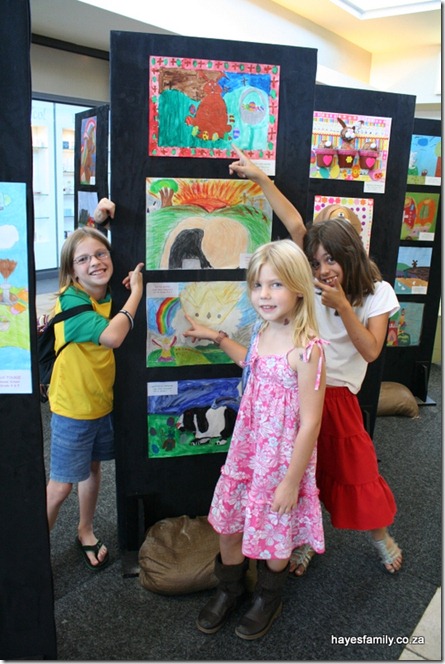 And we spotted some other Homeschool Western Cape families' artwork too …
After our browse around, Craig suggested we eat lunch at a restaurant nearby.  A 10 minute drive turned out to be more of a 25 minute drive.  But, despite the roadside café feel of the place, it turned out to be quite nice.  The food was great and the kids dove straight into the free craft table happening right next to our table.  I've never seen my non-crafty son so determined to generate a mountain of craft in one sitting.  He kept going back for more and more.  I now have a towering stash of crafts that bear my name, usually in this format: "SamtoMoM" – he prides himself in doing curly bottomed "t"s the way I like them and so each craft was presented to me with great flourish and a "look Mom!  Do you like my "t"?  I did a curly one like you like!"  Too cute…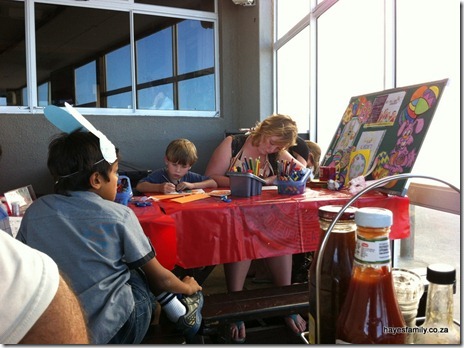 While the rest of the schools are on holiday at the moment, we've continued with our school work.  We'll take time off around Easter and the week that follows.  But, we can always be flexible, and so, on Wednesday last week we jumped at the chance to head off to Ratanga Junction with cousin Holly, Cam, Bron and Granny and Gaa.  I don't know who was more excited – the kids, or Craig and I!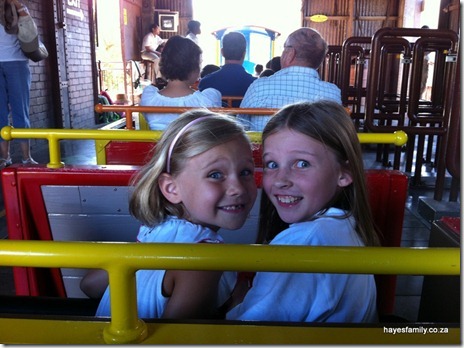 It's been years (and years) since Craig and I went to Ratanga.  I think the last time I went on the rollercoasters was when I was in my twenties – so that's at least 6 years ago.  But, it's like riding a bike

  We got back on the Cobra and rode it three or four times.  We enjoyed whipping around the various other rollercoasters.  Despite poor Sam's tears at the end of the Monkey Falls ride, he says that he wasn't terrified.  "I wasn't terrified mom.  I was just scared."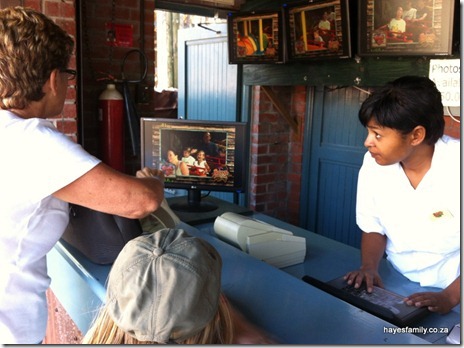 Katie and Sam preferred the more gentle rides like these ones…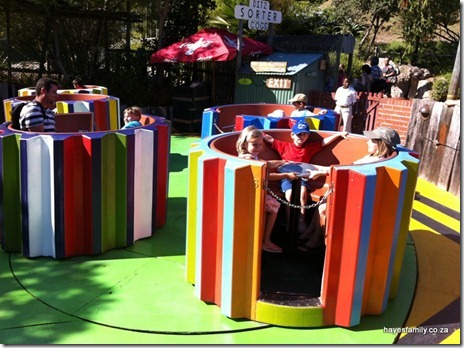 And even this one!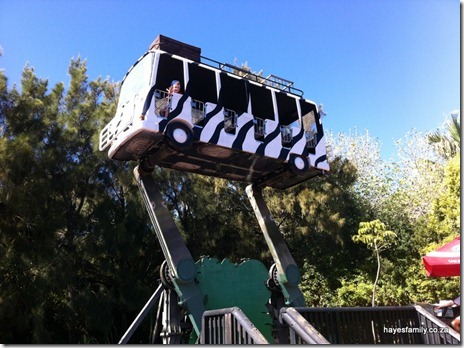 Kiera and Holly, our two adrenalin junkies, were really bummed that they're not quite tall enough for the Cobra yet.  I promised Kiera that she could go as soon as she's tall enough.  On condition that I go with her.  I think that ride will be my scariest Cobra experience ever!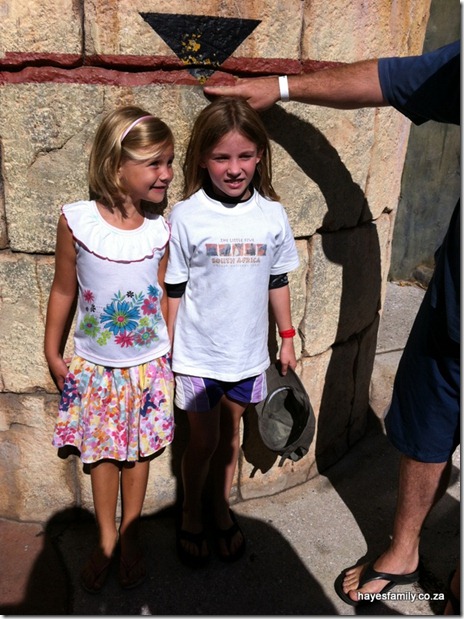 We finished off our day with ice-cream treats from granny and gaa.  Delish!  What a fun day!  Thanks Bev and Chris!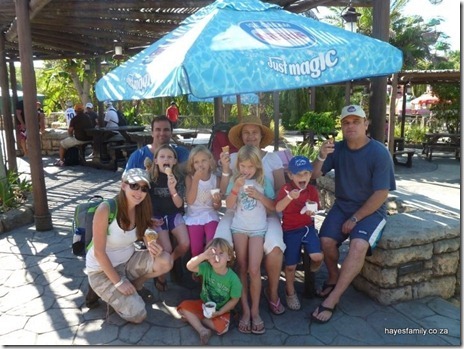 In and amongst the usual term times activities and sports, we also got up to a gazillion other things not included in this post.  But, time, space and lack of photos dictates – for this post on our March Madness, it's a wrap!  (And I breath a sigh of relief that my laptop battery lasted the entire of Earth Hour!)