2012 is not getting off on a good blogging foot at all! But here is a serious attempt at "catch up" of the Happenings in the Hayes home.  Starting with … February!
With family here til mid-Jan and the weather breathing glorious hot rays of sunshine all day long, "back to school" was not on our agenda at all.  Thankfully, it didn't have to be.  At least, that is what my brain told my conscience which has some trouble with bending the rules.  The "rules", in this case, being the government term timetable.  The reality?  We homeschool, so the "rules" don't apply to us.  But I still manage to feel like I need to catch up or stick to some absurd schedule that doesn't make sense to our situation, never mind the millions of school-going kids.  I've said it aplenty here, and I'll say it again – what is with the government's idea of making the summer holidays so short?  5 weeks, I believe it was this year.  And the reality is that the "relax and destress" part of the holiday only happens in the last 10 days, after the Christmas and New Year frenzy.   No one has time to let out a sigh of relief that the previous year has ended before the next one begins full force with timetables, books to cover, extra murals to organise and lunches to pack.  And that's just the parents!  I feel sorry for the kiddies stuck in hot classrooms in socks and new, uncomfortable shoes, when the best summer weather beckons outside.  Nope, if I had any say in school timetables, I'd end school December 20th or so and start the new year in the first week of Feb – if only to give all school kids a decent summer break.  And, give myself a little less guilt about starting "late" ourselves!
Late felt late when all our extra murals had already started and my inbox was filling up rapidly with invites to homeschool events and other school related experiences.  But, knowing that the year would not get off on a good foot without a) a good break for the kids and b) a much more organised and ready for the new school year mom, I stuck to my original planned "first full week in February plan".  Despite my own silly feelings of guilt.  Despite the questioning "oh!" we received from others asking us if we'd started yet.
But, we did have lots of other fun things to keep us busy, like – practicing for World Maths Day 2012 as Sam is doing here…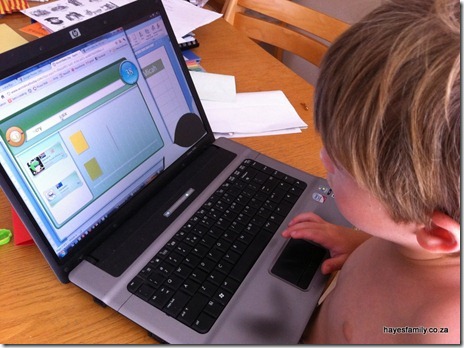 Having fun at the annual Homeschool Sports Day – here Katie throws the turbo javelin.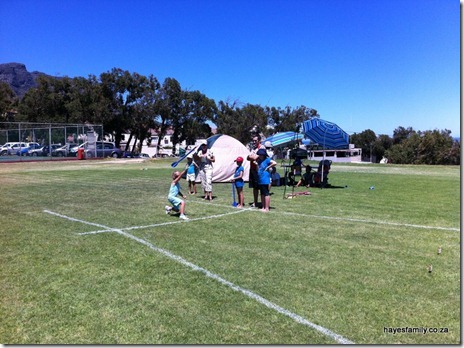 While Kiera takes second place at high jump.  Her first time ever and her technique was pretty good!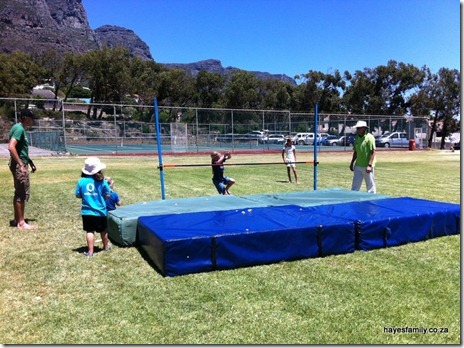 Certain boys played the fool between races…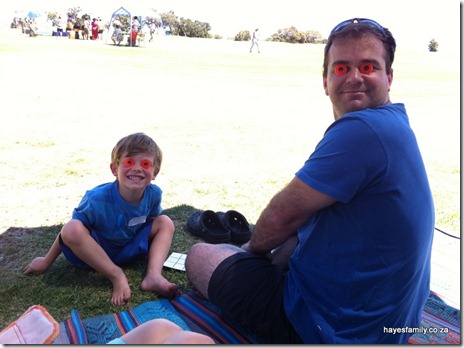 That night we headed out to the rugby with friends – in celebration of Craig's 37th birthday.  And then on to a restaurant to feast, not only your tummies, but your eyes on too.  Zapata is one of the best restaurants I've been to for the decor and ambiance AND the food.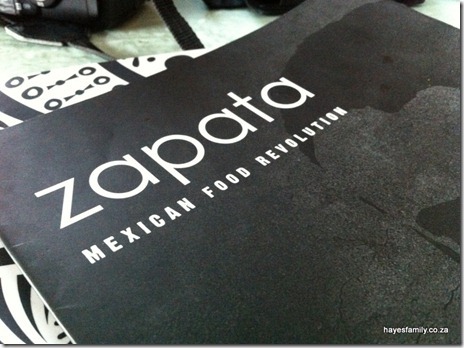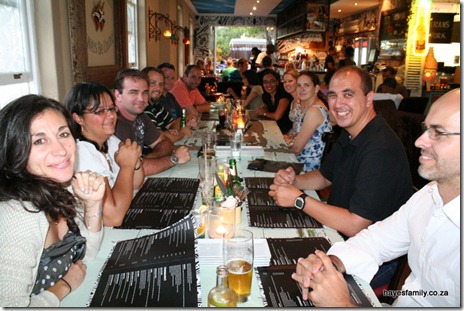 Thanks to Phillip and Gerald's combined forces of peer pressure, Craig suffered the tearful experience of hot hot HOT chilli peppers.  P and G just eat these things like candy sticks.  Craig?  Not so much.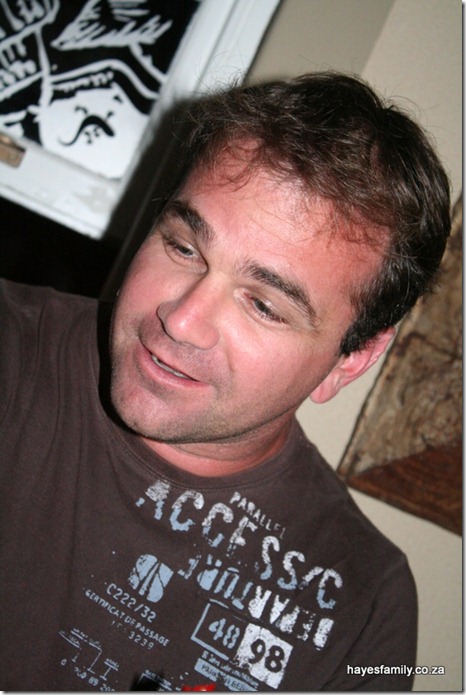 When we finally got to starting school we celebrated with the wonderful unhealthy affair of pancakes and bacon… with a delicious mango, strawberry and nectarine smoothie to balance out the health factor…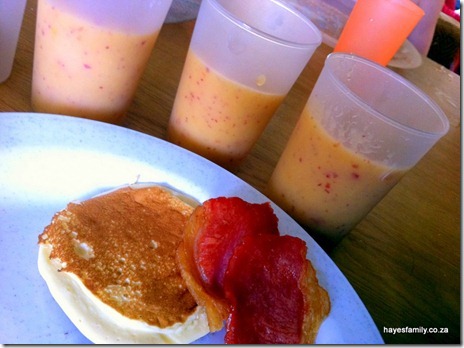 mmm!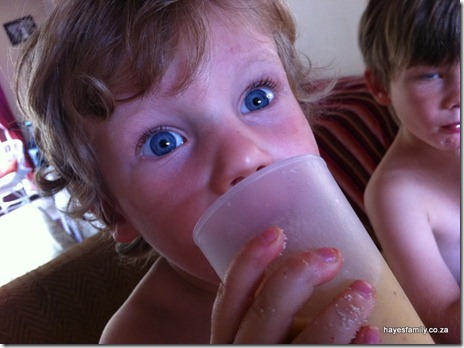 Part of our new school routine involves Katie spending time reading to the boys.  She has taken on this initiative with great gusto, even creating fun craft activities for the boys to coincide with the book she just read.  I loved this one especially …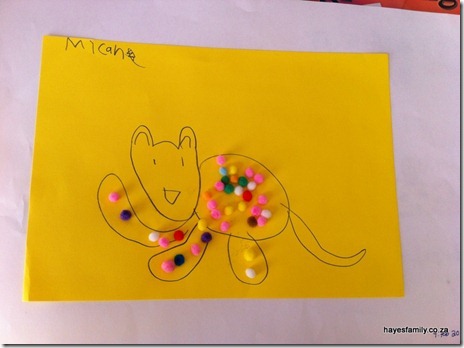 Valentine's Day brought another opportunity to "share the love"
  The kids got treated to this funny lunch.  My attempt at being more creative with food.  Hmmm.  Methinks I have a ways to go….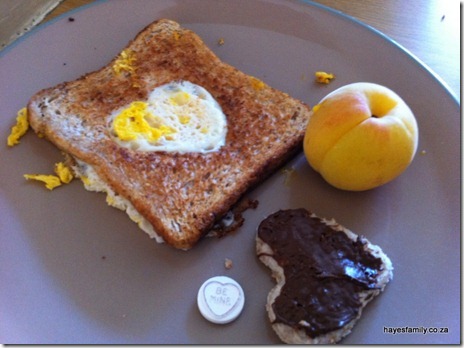 Jeanine did a much better job of it at Lunch Bunch, getting the kids to create all sorts of heart-shaped goodies, including these amazing biscuits!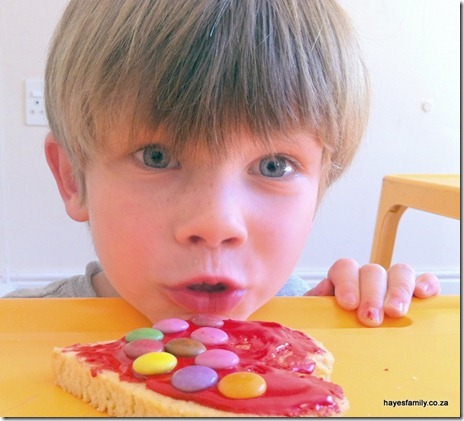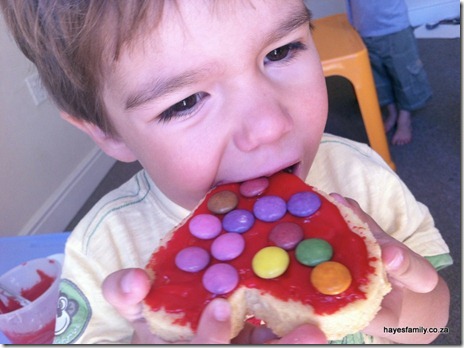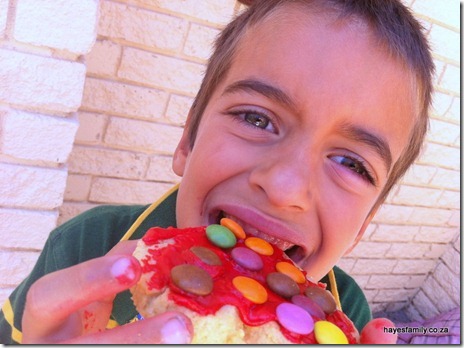 These biscuits were the cutest tho – thanks to my hubby and Netflorist.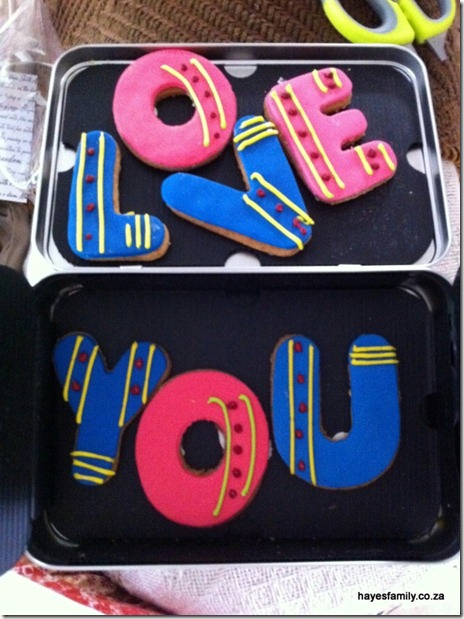 Hanging out with friends, evening braais and long, leisurely lunches were part of the fun.  This particular night was a braai-extraordinaire experience thanks to Jan's spontaneous face painting fun with the kids.  She even allowed Katie free range on her own cheek with a lovely sweet result!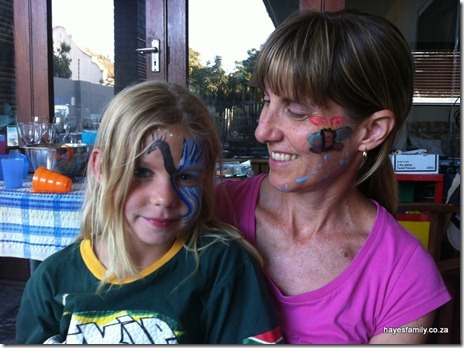 And, then of course, it was the Day of the Hair Cuts …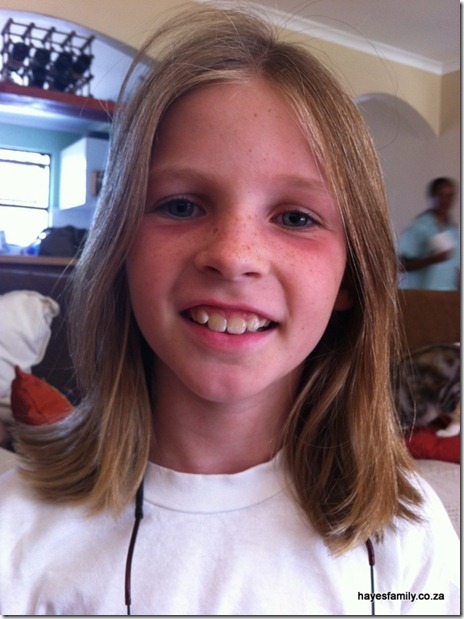 Shorter and neater.  for a time anyway…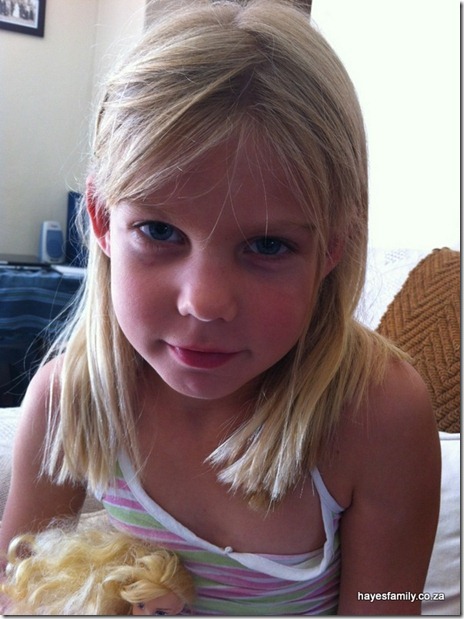 This school term has been interrupted left right and centre with fun outings and learning experiences that have contributed to a well-rounded experience. Thanks to my sweet friend Debbie of Minichefs fame, we get to enjoy some amazing adventures, including this one at Hillcrest Berry Farm. These two shots were taken from my phone …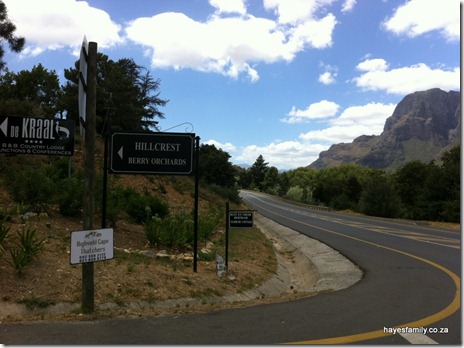 Our first nature club took us to the East Fort on Chappies near Hout Bay.  There Caroline talked us through some of the history of Hout Bay, including why Chapman's Peak is called Chapman's Peak!  Did you know?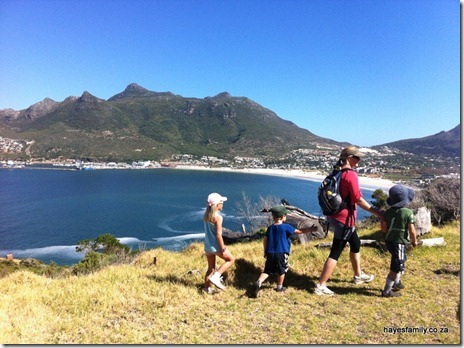 Caroline is a home school mom extraordinaire!  She loves to research and knows more about Cape Town after living here for just a few years, than I do having lived here for 31 years!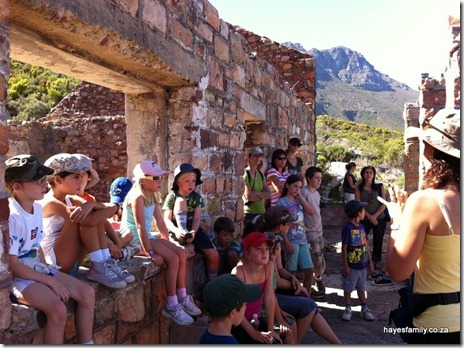 Our adventure included a lovely picnic and opportunity for the kids to catch tadpoles in a nearby river.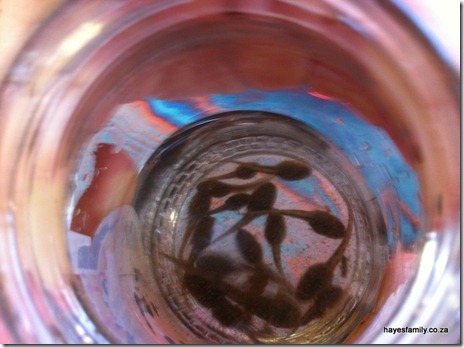 Lunch Bunch this year is getting off to a fine start with the Palacio family back in our midst!  We missed them last year.  We are now officially bursting at the seams with 3 of the 6 families adding their youngest to the numbers.  15 kids makes for a really chaotic experience!  But we love it, none-the-less.  And these kids are becoming fast friends.   Muddy limbs and all!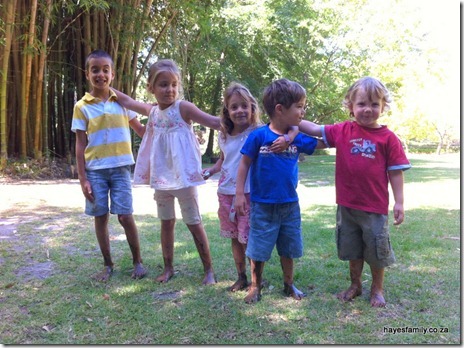 The mischief makers managed to keep their mischief to mud only, while us mommies enjoyed a lovely time hanging out on our first relaxed outing of the year.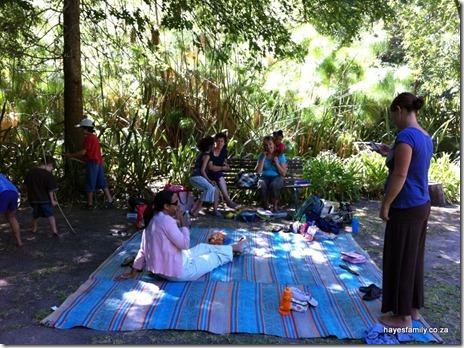 We've enjoyed a few mornings of Bible Reenactment during our bible reading time.  Here the kids had a grand old time re-enacting Jesus calming the storm.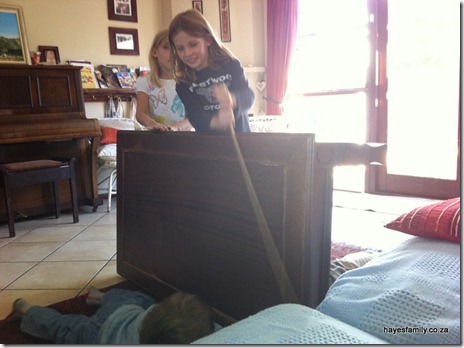 And that day we also revisited an old science experiment we did years ago (August 2008 to be precise!)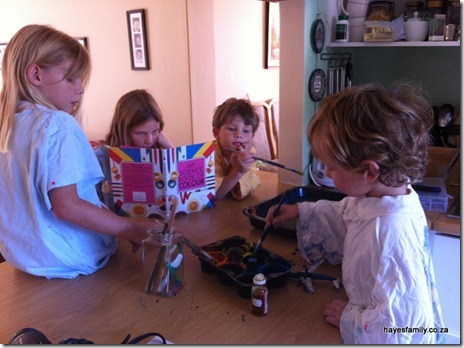 A little bit of linseed oil, some paint and water and we made these colourful frames.  The plan is to make a Leap Year Time Capsule over the next few months, to be opened next Leap Year.  We plan to fill these frames with current photos of each of us.  Plan (read: "hope") because great ideas don't always take off and fly around here!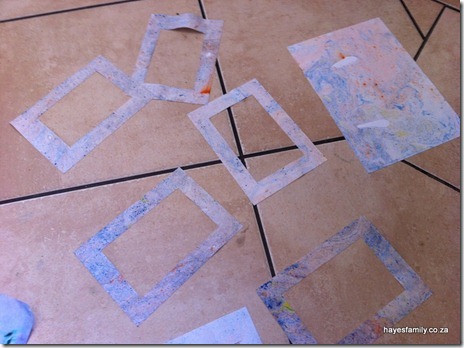 And that is a wrap!  I hope you enjoyed the whirlwind tour through our February Fun.  Keep posted for some March Madness…