"So, where is your school room?"
It's a common question and it always elicits a little chuckle from me.  In fact, ask just about any home schooling mommy that same question and you'll most likely get a similar response.  Why?  Because our school room is … on the couch, in the playroom, at the dining table, at the kitchen counter, in the garden, on the bed, next to the fire place, outside at the park… and even in the car.  And it's the same for most families.  Even families with dedicated "school rooms" agree that their homeschooling experiences tend to spill over into other rooms and places.   
In keeping with this month's SACHS Blog Carnival Theme of our Homeschooling Spaces and Places, here is a Peak-inside Post – a little peak of some of the places and spaces where we do school. 
The Playroom
This is where it all began.  In 2007 we renovated, turning our old musty unused garage into The School Room.  I remember the project manager looking at me rather skew when I insisted that I was not going to be putting desks into the room.  The kids would work at the dining table and we would use The School Room for all the other things.  Well, even those rather "liberal" ideas now look entirely conservative today!  Because, while the idea of an official school room totally appeals to my ideals of order, routine and structure, my personality disagrees.  And it is just as well, because today The School Room is officially called The Play Room.  And we use it every now and again for official "school".  But mostly it's for creative play and all that wonderful unofficial learning that takes place when kids are allowed to explore on their own.  (Or that wonderful learning that happens when kids have to clean up after themselves – oh the woes!)  We store most of our old Sonlight cores here as well as all our other books.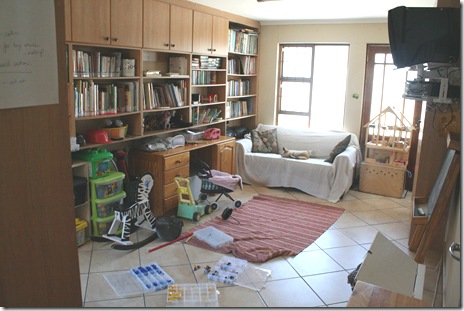 We are going to run out of shelf space soon, especially when our new core goes up there. And, come to mention it, when all the actual books are retrieved from the various corners of the house and find their way back to their proper place.  Oh the dichotomy!  Should I be mad that I constantly find Sonlight books scattered over the house?  Or should I be glad that my kids love these books so much that they hunt them down, take them to their favourite spots and read them over and over?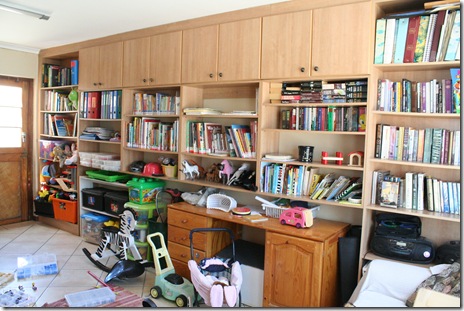 Those boxes on the floor (see pic above) are lego containers.  I had a mad fit of organising all our lego the other day – one tray per colour.  But, I can see that as our collection continues to grow I may have to lump all the common bricks together and keep these trays for those specialised pieces that have a habit of finding their way under couches and in vacuum bags!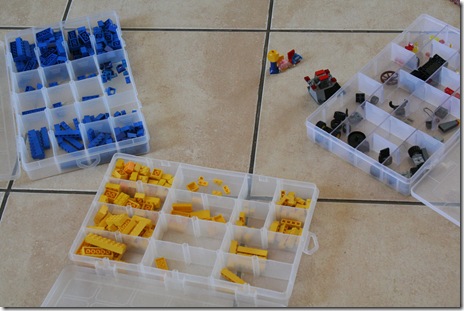 In the meantime – they live here…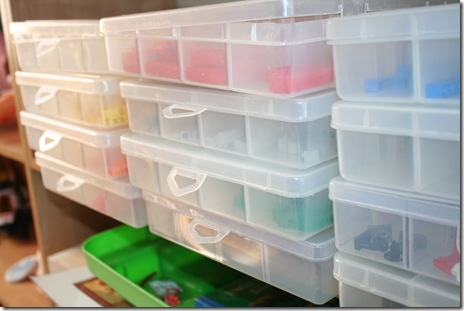 And most of our games and educational toys live here…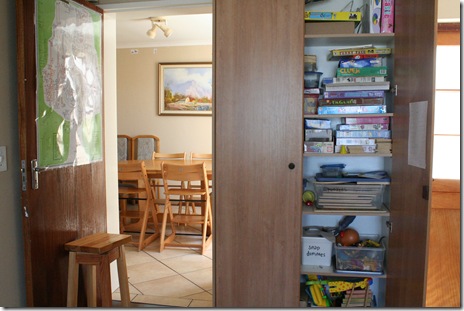 And our school books live here…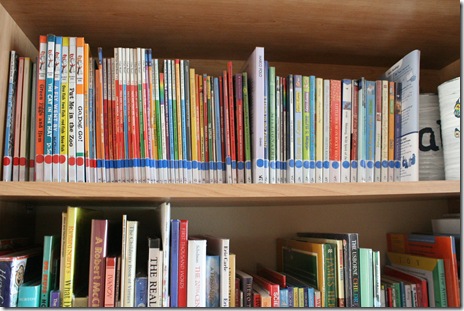 and here…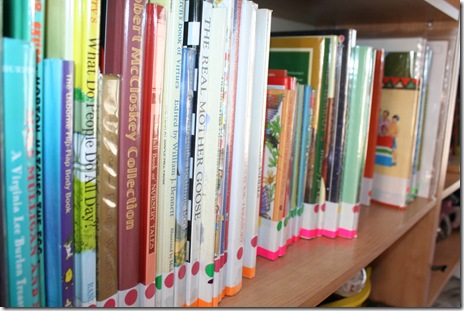 The Dining Room
Aka "where all things sit-on-your-bum-and-do-work  tends to happen" …
Because most of our seat work happens at the dining table just off the playroom, I keep a bookshelf for all our current readers, read-alouds, workbooks etc in the dining room itself.  Alas, our dinner guests are treated to a decor of "school stuff" when they come over to visit.  I'm okay with that – it's a small price to pay when the dining room is mostly utilised for family.  So, bookshelves and school supplies in the dining room it is! Last year I shared our first day for 2011 including this image of our ready-to-do-school-shelves.  Of course, our Sonlight Core hadn't arrived yet, so the shelf was devoid of all the exciting books you see in the previous image…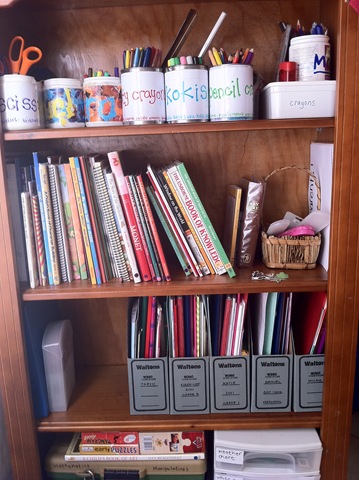 This year we've kept things mostly the same, although I have exchanged our cardboard filing boxes for plastic ones (also from Waltons).  I love having one box per child as it keeps things a little more organised.  But the cardboard ones started falling apart halfway through the year.  I hope these plastic ones will endure the year a little better!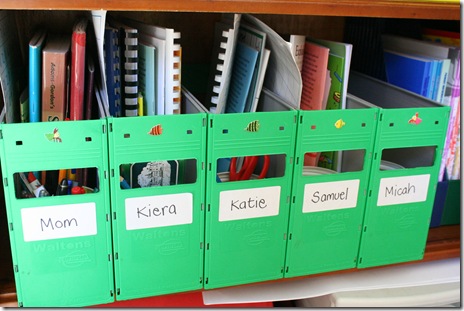 The added bonus of these beauties is that there is space in each one to store their own stationery pots.  Here's a peak into my box…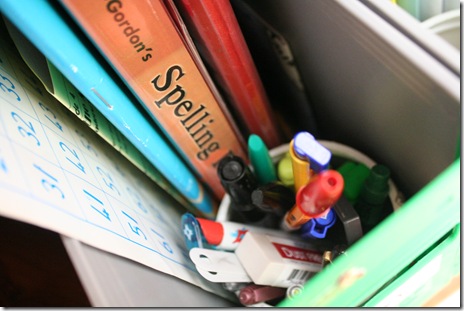 which means more space on the shelves for all the other stationery…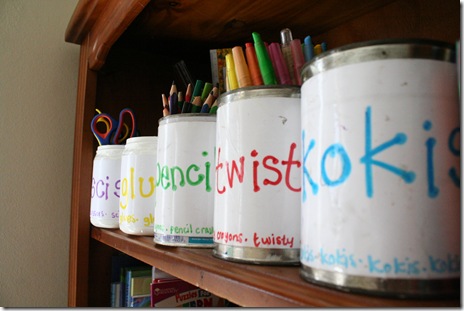 We've still got to get more creative with our walls and things, but our ever ready, but not always updated (!), weather chart is still sticking around… (as you can see, it's been a while!)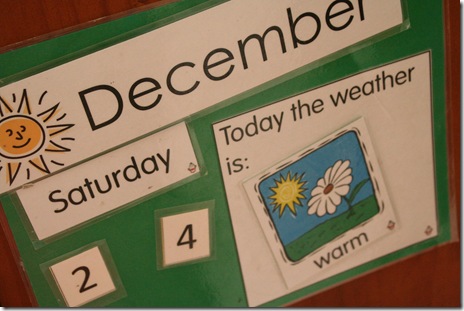 And our pin board will need some attention in the new year, but for an idea – here is the board shortly after we made it last winter, with Kiera posing for me.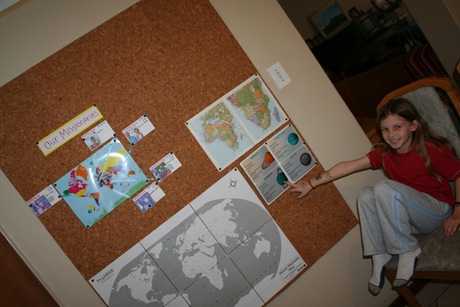 All sorts of things happen at the dining table from art work …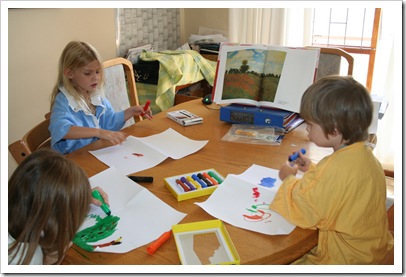 to bible time …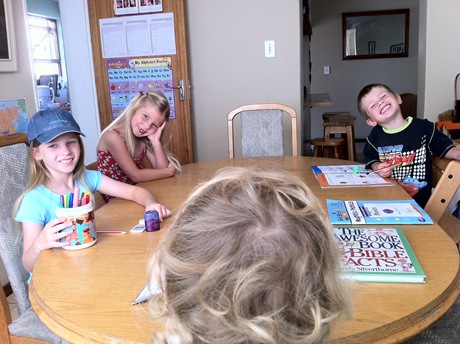 to even Science experiments that happen here …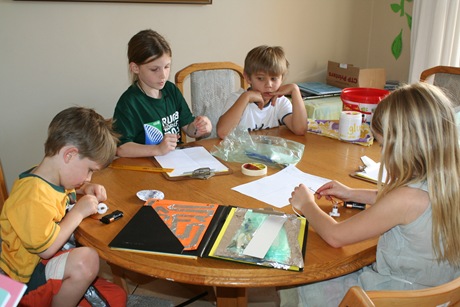 Most of our sit-on-your-bottom-and-write/do stuff happens in the dining room too…
but sometimes that also migrates to other parts of the house: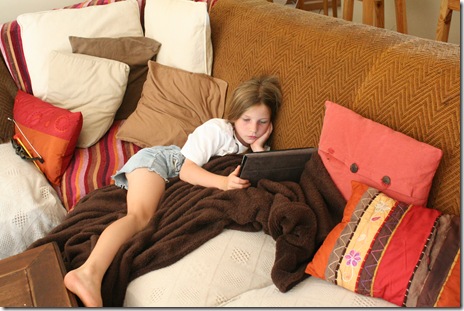 or city… (who is that cutie below?  Why, it's Sam at Kirstenbosch on a nature journalling afternoon – all of 3 years old!)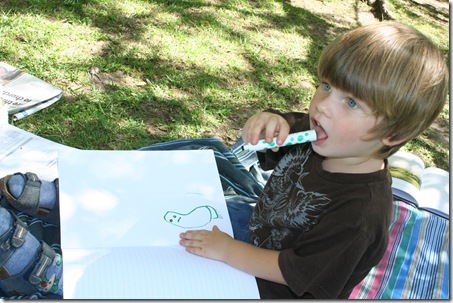 or other town … (school continues even though we're visiting granny and grandpa in Hermanus…)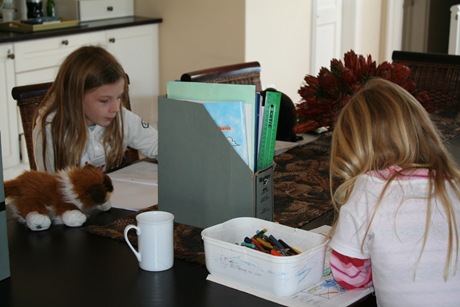 or even world…! (Here, two little girls journal about their day in Jerusalem – on the lounge floor of our wonderful hosts in Jerusalem itself 🙂
The Kitchen
Seatwork migrates to the kitchen counter from time-to-time, especially if mom is baking, or better still, if kids are baking!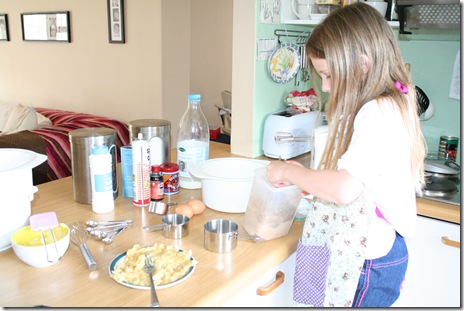 And science experiments have been known to happen here too …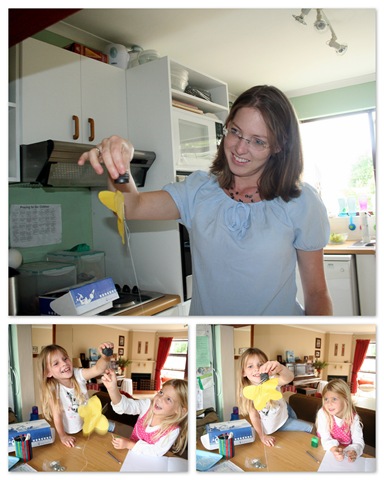 And when were are not doing seat work we are doing a bunch of other stuff that includes hours and hours on the couch, next to the fire place, on the TV room couch, in the garden reading, reading, reading the most wonderful, heart-penetrating stories that take us into other worlds, times, histories and places.  Our favourite is by the fireplace in winter …
… so much so we share it with our homeschool friends once a year 🙂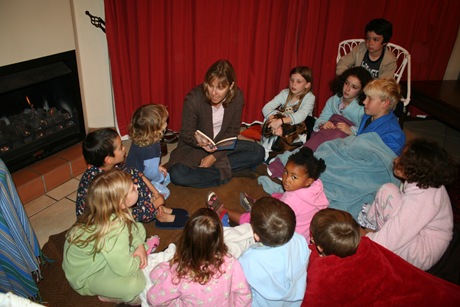 We look forward to starting our school year next week with learning spilling over into each room.  Hopefully with more harmony and happiness than has been the case at times!  And hopefully with as much learning and enjoyment that we've enjoyed a-plenty too.

The SACHS carnival 2012 is here! – head to Mel's space on the net to read all about it (live on Friday!): SA Carnival of Homeschooling: Learning Spaces and Places.  More information about the South African Carnival of Homeschool Bloggers is available here: South African Carnival of Homeschool Bloggers.  You too can join the carnival by filling in the sign up page! 🙂