Carmel!  Ah, what a beautiful place of tranquillity, friendship and lots of good times.  And the Newill-Hayes-Rous clan got to enjoy the experience in the first week of December.
This time, my hubby got time off work and joined us.  Yay!  No single mom experiences for me this time around.  Last time was stuff of nightmares in the parenting department and I was delighted not to have to repeat that part of our last holiday experience.
Ha! 
You see … where I gained in an extra pair of hands, I lost in the arrival of "three kids with gastro".  Catching vomit in the middle of the night was not high on my list of "fun things to do this holiday."  Pipped, perhaps, only by "not catching vomit in the middle of the night", and followed closely by "cleaning up resort blankets, towels, bedding and three year old's pjs in the middle of the night".  Thankfully, Craig was super dad for the moment, jumping up for Micah who started the rest of the kids rolling down the migraine, temps and vomit hill.    
But, it was not all bad.  The kids conveniently organised illness to overlap with one another, so the total number of down days meant that we could still enjoy most of the holiday.  Starting with: tractor rides!
Okay, okay … Craig is actually just posing in this shot!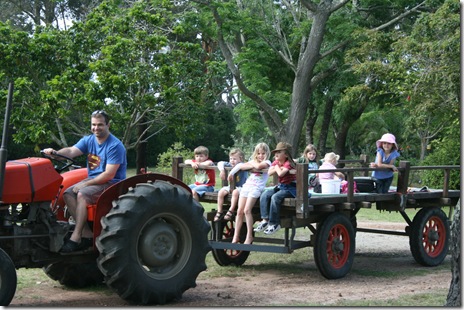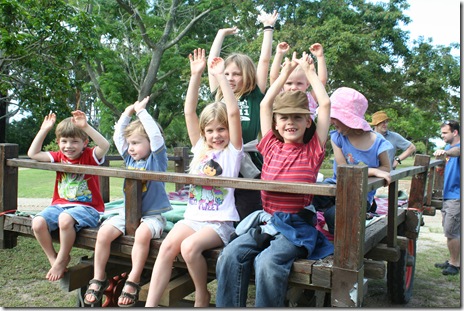 Carmel organises a tractor ride for the kids – a little excursion around their property and a chance to feed the geese and goat.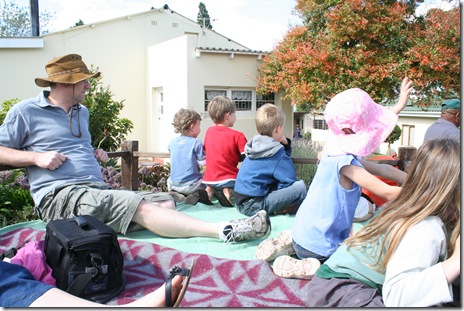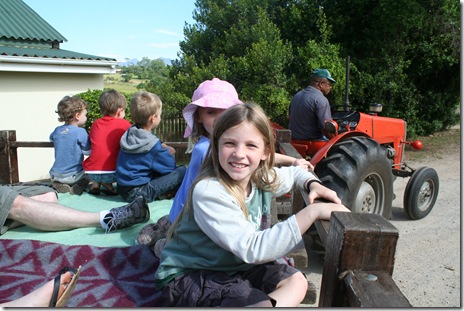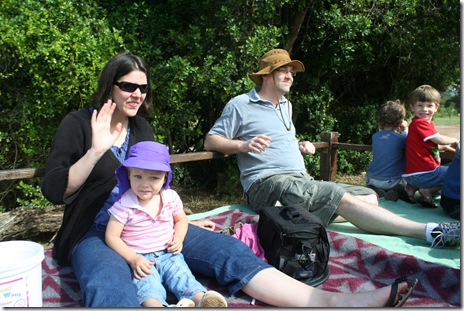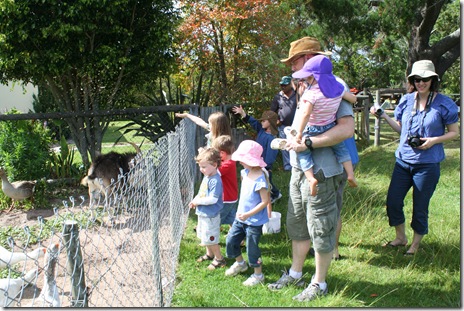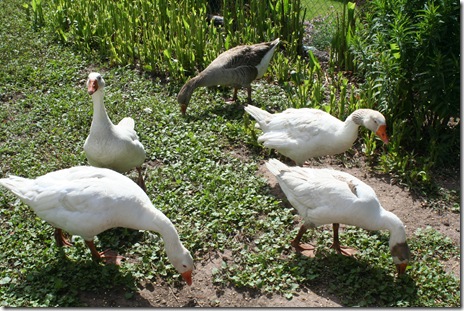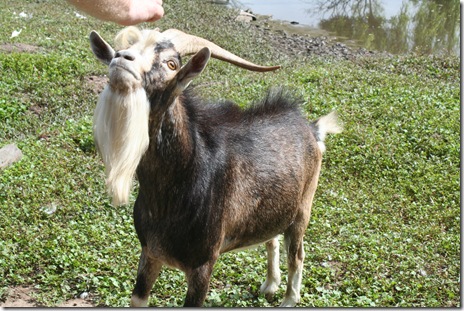 Did you know that goats have rectangular pupils?  Well, that's a first for me anyway.  Freaky, to say the least!
Breakfasts and suppers served in the dining hall.  The food was plentiful and good.  We ate a lot!  And the kids enjoyed it too: always a bonus!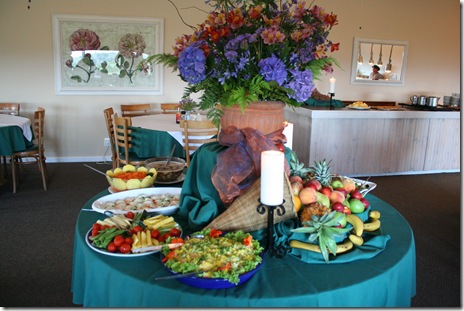 Mmm, freshness and good colour.  Yum yum!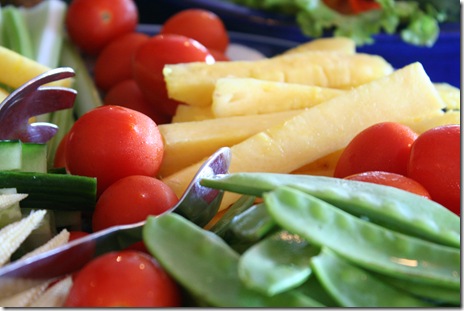 Of course, my brother can't let a moment pass without playing the fool.  Which is exactly where Jesse gets it from too.  Here is "the Bulldog".  Although the "Old dog" seems to be a bit short in the tooth.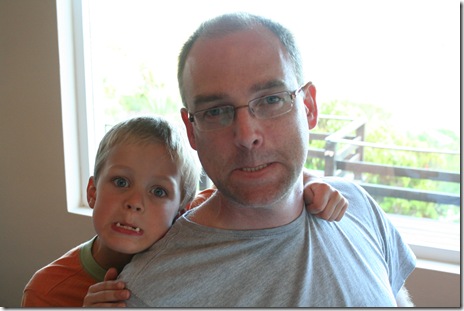 In the evenings we hung out in the rooms and played 30 seconds.  With sleeping kids in the nearby rooms, we had to stay close.  How the kids slept through the raucous laughter I do not know.  Special mention goes to mom and dad.  Never having played 30 seconds in their lives before, and a bit intimidated by the speed of the game versus the age of their brains, they did superbly.  Dad didn't pull any brakes during his turn.  The charades were a bonus!  Hence the noisy hilarity.
We swam on a few of the days together, but the weather was not always compliant.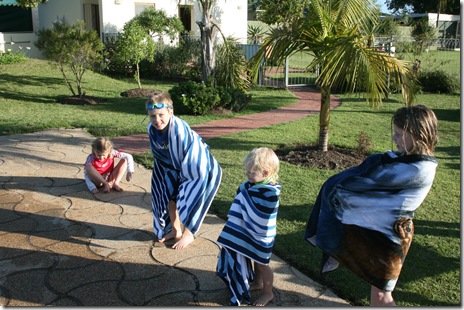 But, warm enough on that first day for me to get into the water at least!  It was Sam's last arm-band experience.  Since we've returned to Cape Town, he has realised that he actually can swim sans armbands in pools other than his teacher's!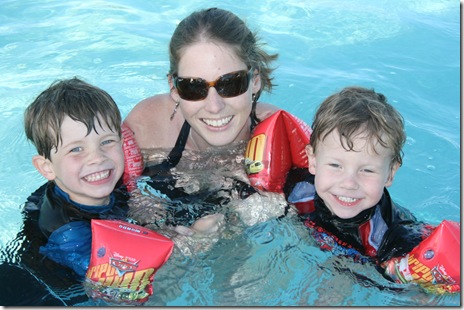 Rest time for Hayes kids, after a freezing swim in the pool: Hoodwinked on the iPad!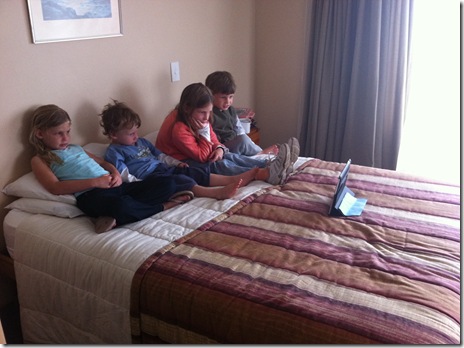 On a couple of the days we made our way out to various spots in Knysna and Plett.  While Kerry, mom and I went shopping in Knysna, the rest went off to the Wolf Sanctuary in Plett…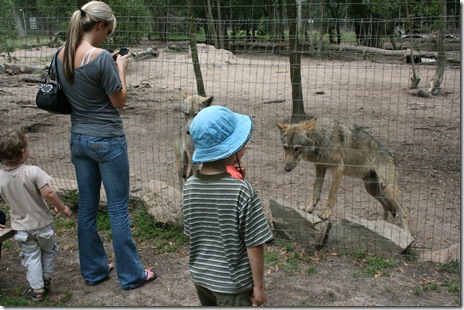 But, no shopping for our next trip …. This particular series of shots is from our trip to the Knysna Elephant Park, via the Seven Passes route and the Giant Yellowwood tree.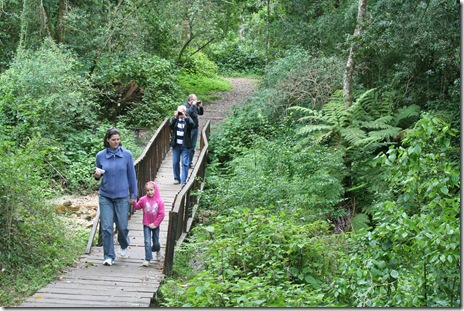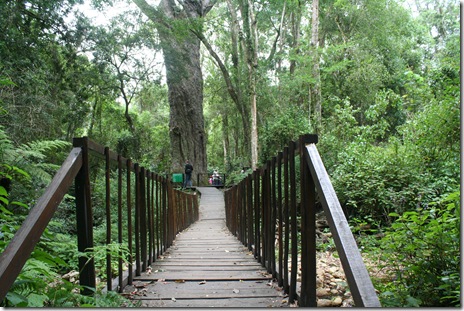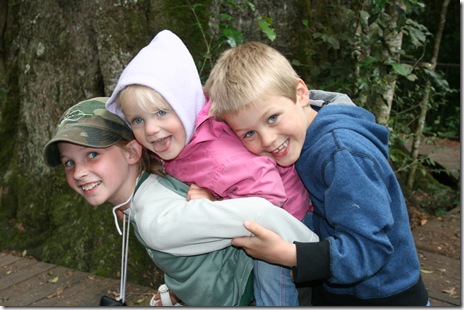 Much mucking about with cameras, jokes and enjoying the beautiful forest.  Sam was still feeling a little weak after his bout with that dreaded virus.  The good ol' Ergo / ABC came in handy again.  Love that even though none of our kids really need it any more, it still comes in handy from time to time, even for our then 8-year early this year, and now, Sam, all of 5 years old.
The Enviable Photo Shoot:  Craig and Kerry strike a few poses…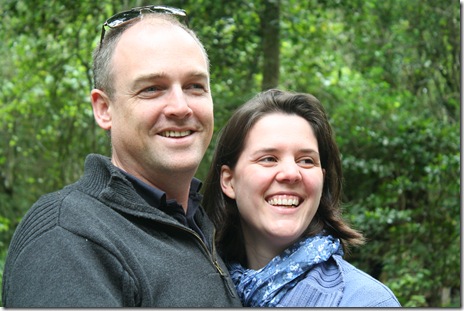 But much mucking about happened first …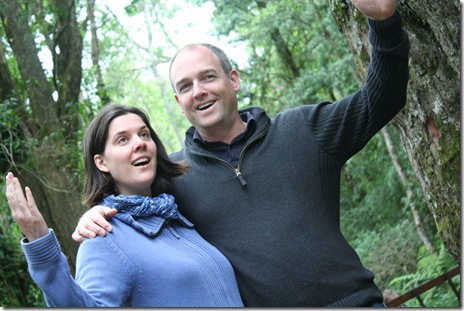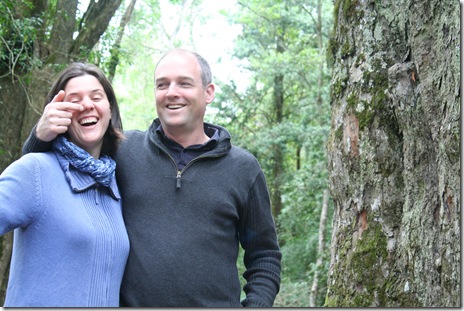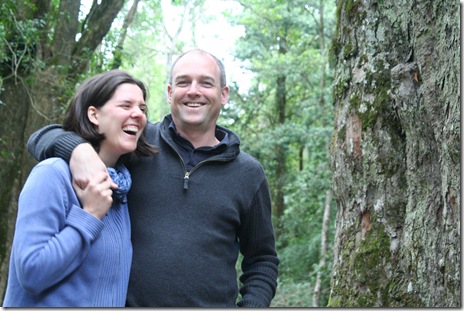 Curious to know what Craig pulled out of Kerry's nose?  Ah-hem.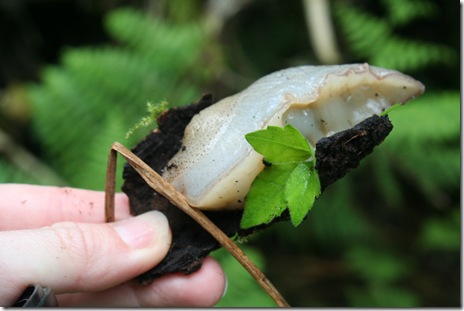 That would be one of the biggest slugs I've ever seen.  Shrek would've been proud. 
The drive along the seven passes was beautiful and long!  But finally we arrived at the Knysna Elephant Park and it was fun!   18 months ago, Craig, the kids and I came to the park.  It was as much fun this time round as it was then. Perhaps even better.  We got a ton more photos and opportunities to hang out with the ellies!
But first – the info video…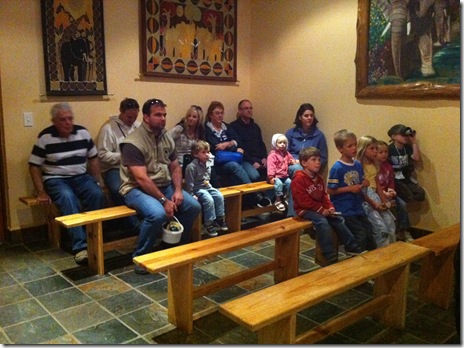 Ah! Now Ellie feeding time!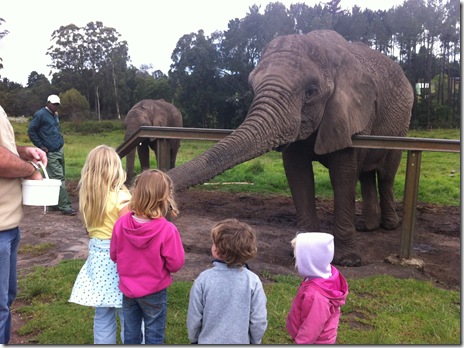 What fun!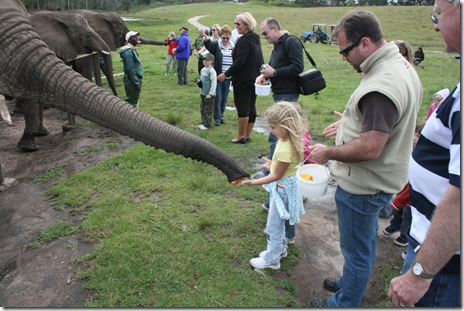 Sally, the human … meet … Sally, the elephant!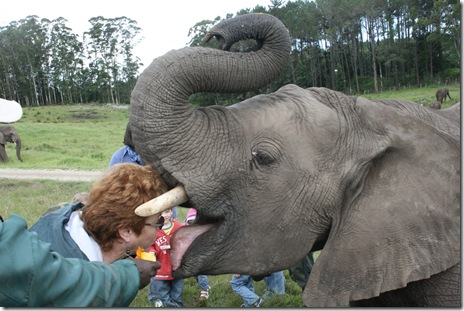 Photo ops galore…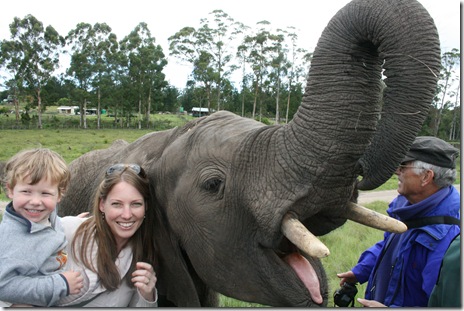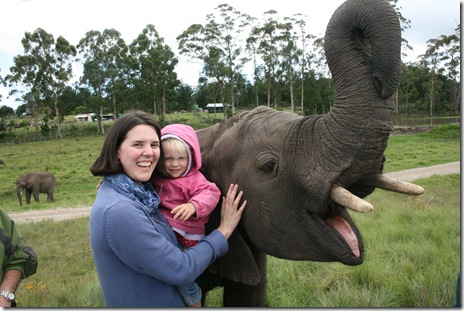 We are missing 9 people from this photo. 

  Gliks!!! We miss you!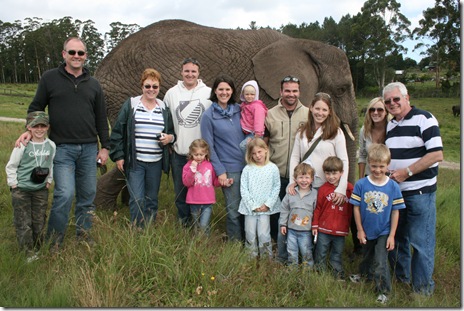 Home again, home again for supper and … happy birthday dad!  Grandpa celebrated his 69th birthday on this Elephant day.  What a fantastic day to enter your last year of the 60s in!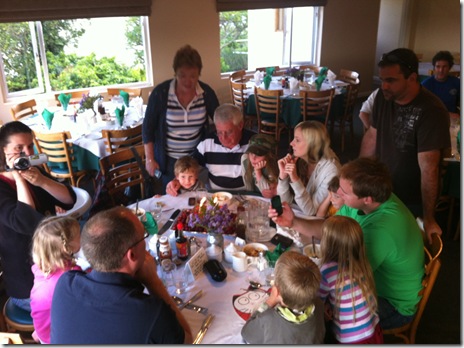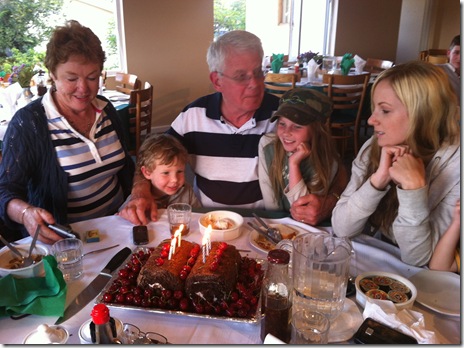 Although, 69 and all means you may just need a little help with the candle blowing …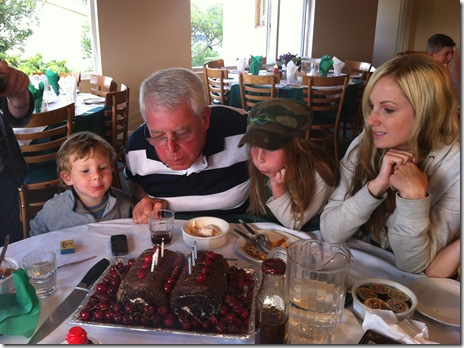 Love this

  Married for 43 years and counting.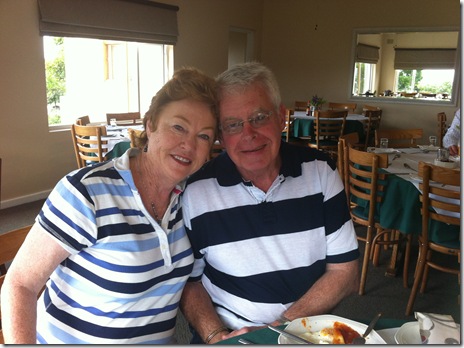 One of the kids most favourite people at Carmel is our wonderful host, Beryl.  She came especially to say goodbye to us on our last night there, as she would not be on duty the next morning.  Micah took to her immediately and would seek her out to come sit with us at our table during meals.  Funny little guy was much more cheerful this time around.  His last experience at Carmel was as a sick, grumpy 1-year old who didn't take kindly to being restrained in a high chair.  This time around, he strutted into the dining room each morning with an enthusiastic wave and a cheery "good morning!" to the entire room as if all the Carmel guests and staff had been waiting with bated breath for his arrival!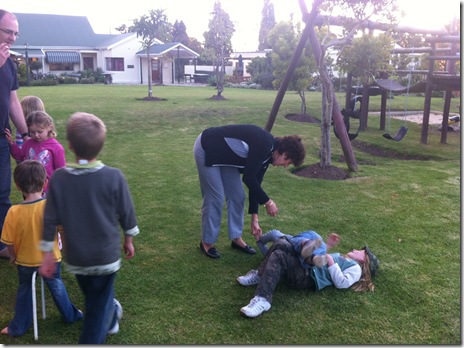 The little kids did some horse riding one day … and Jesse even got on this time.  And enjoyed it!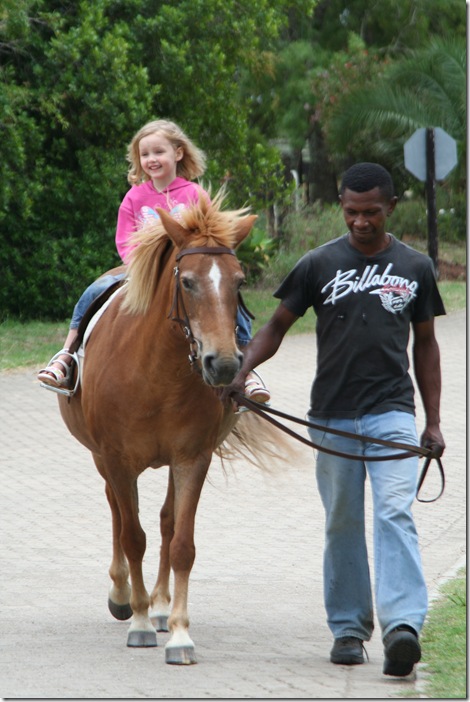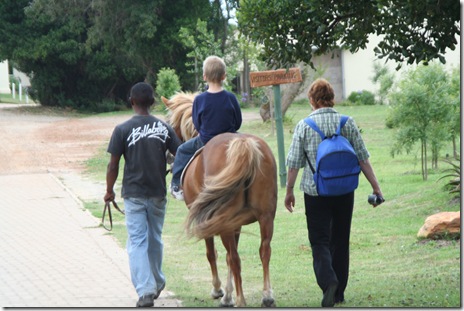 All too soon, it was home time. 

  But not before…  Family photo!  (an aside … imagine a clear day with that background … that would be our view from just about any spot on the grounds of Carmel.  Breakfast with picture-frame windows … ahhhhh, beautiful!)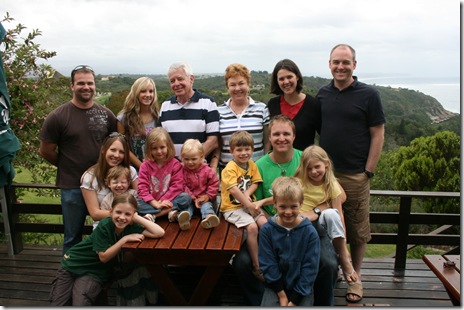 Heading home took us past Mossel Bay, so we took the opportunity to visit the Dias Museum.  What a surreal experience for me to stand on the same ship I stood on 23 years ago.  In 1988, 400 years after Dias first came to the Western Cape, a commemorative/re-enactment trip saw a beautiful replica of the real ship arrive on our shores.  Before it reached its final resting place, namely Mossel Bay, it stopped in Hout Bay for a little while.  Our class got to visit it as part of our school outing.  I still remember those fuzzy photos I took of my friends and I on the ship.  And here I am – 23 years later, married, four kids and standing again on the ship….  Still waiting for those photos from my boet tho!

  In the meantime, my phone's photos for you …
The kids marvel at the ship in its permanent home.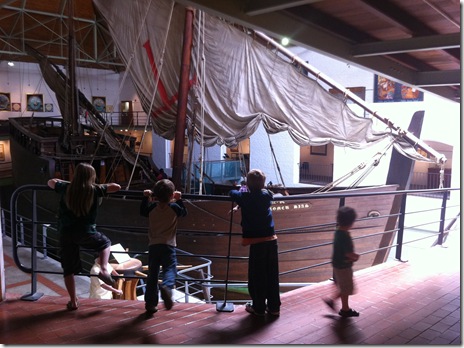 Before we reached the ship itself, we got to enjoy the greater museum experience.  Like the postbox shoe.  Legend (history?) has it that a mail service of sorts started up when letters were left for north bound ships to take back to Europe … left under a rock under a tree from whence an old leather shoe hung.  Today, the imagined spot is commemorated with this actual post box in the shape of a shoe…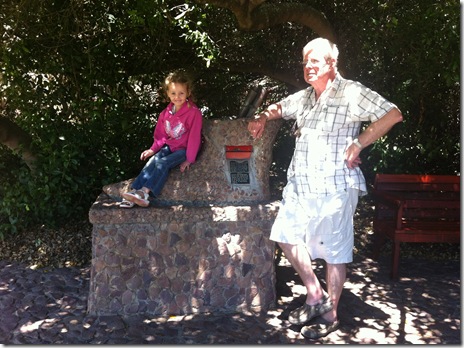 We were treated to a walk around the aquarium too – an unexpected part of the museum.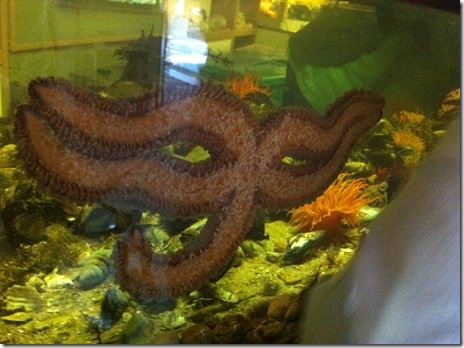 While a LOT smaller than our aquarium in Cape Town, the kids loved the experience – especially the touching pools…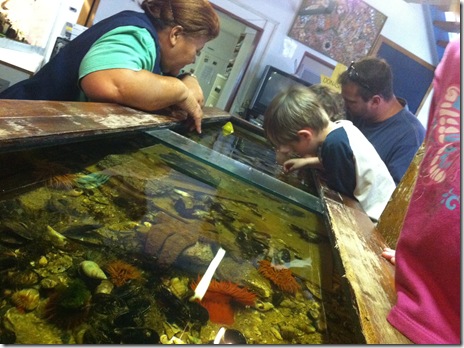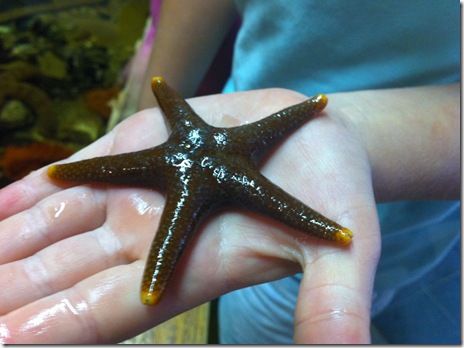 Finally!  Time for the ship!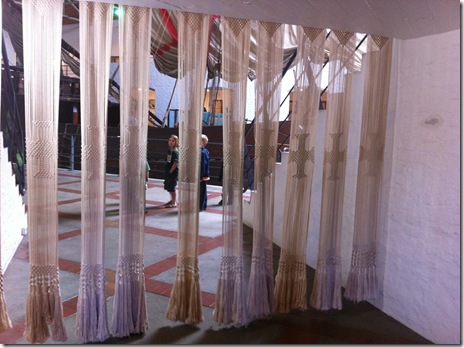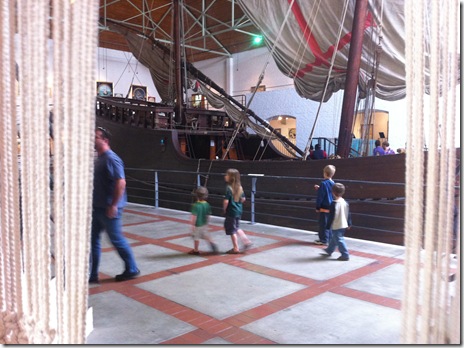 Loads more photos on the Newill's camera, hopefully coming soon!  It was an amazing experience!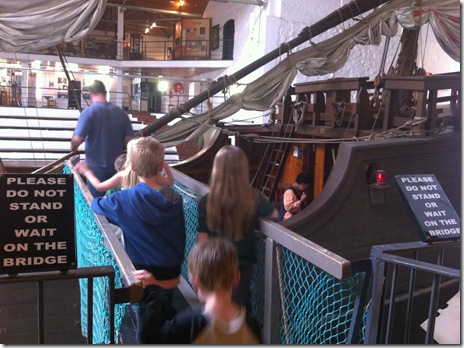 And this was pretty amazing too – a replica of the ship built almost entirely out of icing sugar!  Only the sails and ropes were synthetic.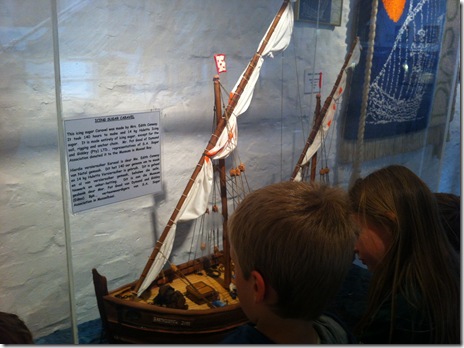 Last but not least … a stop on the road for a bite to eat at the One Stop ended with this unusual sight next to our car…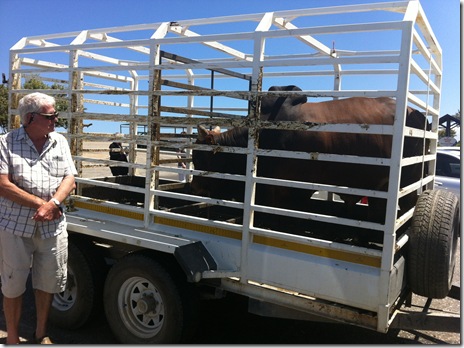 Only in Africa?