For the past couple of weeks the girls and I have been enjoying Joanne Shelter's autobiography, And The Word Came With Power. It details her journey into the mission field and more importantly her work with the Balangao people of the Philippines. It's another "just one more chapter, mommy!" book. Something we've come to expect from our Sonlight read aloud books. So we've read more chapters and then some more still. We've had dozens of interesting discussions as a result. Not least of which are those around the subject of true spiritual warfare. It's been challenging. And it's been exciting.
We are about halfway through the book now. Just the other night, after reading a couple more chapters, we decided to pray for the Balangao people. I knew that the book's timeline ended somewhere in the mid 1980s. We didn't really know what to pray for. So we asked God to provide the people who are serving Him there now with their needs to continue in gospel work.
That night, I decided to google the Balangaos. Maybe there would be an update somewhere, I thought. I didn't expect to find a blog dedicated to the ongoing work there.
The next morning the girls and I poured over the blog. They loved seeing images of the rice terraces they'd heard about, and the jungle paths, and the people themselves…. They loved seeing how God has obviously worked there. And continues to do so. I was amazed, again, how God works – stirring us to pray for stuff that we don't even know about and then blessing us with a glimpse into the very work we had just prayed for in faith. What timing! Had we read this book last year we would've missed this awesome experience!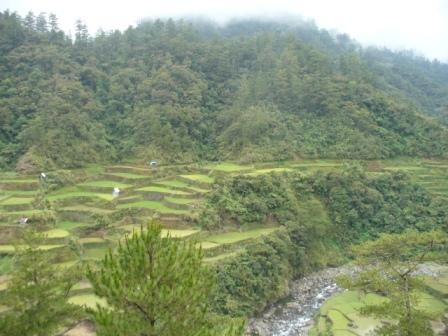 Kiera jumped at the chance to write to the author of the blog. And I was excited to share how we came to find them too. What a blessing! And what a blessed opportunity. To read of God working miraculously in the lives of people who are still alive today is exciting – and provides us with faces, names and living communities to pray for. Communities that, in another context, we would know nothing about.
I know that I wax lyrical about Sonlight to the point of an eye rolling audience, but I just can't help myself. I deeply love how the books Sonlight has chosen for each Core program manage not only to resonate with my kids, but also to cause their hearts to grow towards Him in ways I don't ever remember experiencing as a child. This year, as a direct result of the Sonlight books, we've already the kids have grown in their interest in gospel things. They started a collection for MAF after reading about the work they did in Madagascar. Their eyes have sparkled with joy and they've bounced on their beds or the couch rejoicing when God works His way in the stories we've read. They want to discuss deep theological points with me. And they want to reach out and pray.
This book was another brick in the foundation of their hearts. And the blessing of seeing the ongoing work of the Balangaos online is too. My prayer is that this foundation will grow and strengthen as the Lord works His way in them.