In the beginning: Homeschooling is for weirdoes!
In 1995 I was a Rotary Exchange Student to the United States.  It was a wonderful year filled with amazing experiences, many of which were brand new.  I learnt how to ski and waterski, talk to strangers comfortably, figure out an American high school system and cope with –40°F (wind chill) weather.  I lived in Menominee – a little town in the Upper Peninsula of Michigan.  Yooperland.  Ice fishing, deer hunting, Green Bay Packer-supporting land.  And I loved it!  I really embraced one of the many pithy sayings of Rotarians across the world – "It's not better, it's not worse, it's just different".  I even embraced the foods we ate, although, I was known to tease my host mom about all the "baa-ahxed" (boxed) food we ate – including beautiful looking stuffed potatoes! 🙂  But, the day I came across homeschooling, my embracing attitude came to a skidding stop.
"You're going to a what?  A homeschooling science fair? Uh. Okay…. Well, yes, okay… I'll come along."
My best friend babysat a couple of homeschooled kids.  It was the first time I'd heard of such a thing.  And the first thoughts through my 18-year old brain were, "Oh shame!  Those poor sheltered kids.  They must be so strange!  They couldn't possibly have any social interaction.  I wonder if they're like super shy or something.  Homeschool?  Homeschool?  Boy, that's just weird."

I went to the fair.  What can I say?  I was curious.  I went in wondering about the "weird, unsocialised homeschoolers inside" and yet came away a little shaken by the bright happy faces, the personable young kids, the awesome projects on display and the buzz of people.  I had honestly expected to see just one family's stuff on display.  I had thought hiring the church basement was a little over ambitious.  Turns out that I had no clue.
But, I wasn't letting go of my firmly held deep convictions.  Those convictions that I formed within a few seconds of first hearing the words "home" and "schooling" being placed together.  I, in my 18-year old arrogance, had determined that homeschooling was inferior on all counts.  And I felt deeply suspicious.  Why would parents want to reject all that schools offer?  It had to be sinister – or, at the very least, silly overprotective parents who were destined to have unmarried adult children living with them until the day they died.
Well maybe not weird … arrogant, then?
Fast forward a few years …  I'm infinitely more mature: all of 22 years of age, I have entered the work force as a high school teacher.  I'm slightly more aware that I don't know everything, but I'm pretty confident that I know a thing or two about education.  Hoo boy!  Looking back, I cringe.  But at the time, I thought I was well within the bounds of educated opinion when I met my first South African homeschooling family.  The mom was pointed out to me in a crowd, "She's the one who home schools."  We were at an educational conference on Christian education.  I remember feeling a mite offended that this mom was muscling in on a school-aimed conference.  After all, she had rejected our system in favour of her own.  Some time later, I met her kids at our school gala.  The school had opened our sporting events to homeschoolers in the area.  I remember purposefully trying to suspend my prejudice and be welcoming and warm.  When the young boy looked at me strangely, I put his behaviour down to "poor child must be embarrassed that he's homeschooled and is trying to play it down at this Real School event."  I neglected to take into account my, potentially, big fake happy smile and loud welcome that must've screamed "Oh, so YOU are the home schooled boy!"  The fact that the boy didn't run away screaming is a testimony to his superb self-control! I was that scary woman.
A few more years later, I left teaching.  Oh, I loved the profession.  I loved the kids.  I really loved my colleagues and the ethos of our school.  I would miss it all.  But, I had something I loved more: a little baby girl who was due to be born just 2 months after I resigned my position at school.
Homeschooling, a viable alternative?
Kiera was born in August and before long my every waking moment revolved around her.  Her wake times, her feed times, her happy times, her poo nappy times, her bath times, her routines, her sleeps – it was all about baby.  It was also about tea dates with other moms.  And with those tea dates I met many new women.  Other moms.  Before long, I began to hear the tales of schooling woes.  I learnt that popular opinion was that if I wanted my child to have a decent education, they would have had to be on a private school list from birth.  If I couldn't afford private schooling, I had better aim to move into the right zoned area for a good government school.
Education suddenly became a huge pressure in my life.  And my daughter was not yet 6 months old.
Meanwhile, all the way in Israel, my elder sister had decided to homeschool her eldest daughters.  They were 5 and 8 at the time.  She wasn't convinced that the school system was right for their family.  So she took the plunge and began to homeschool in a country with very little homeschooling support.  Homeschooling was now in the family!
Closer to home, my friend, Sue, began talking about home schooling as a possible option for her baby daughter, Tegan.  As former colleagues who had both experienced our government's attempts to introduce all sorts of undesirable learning material into the curriculum, Sue and I were aware that the question of education was indeed a pretty huge question.  We didn't want our own kids subjected to age-inappropriate material like s ex ed in Grade 1.  I didn't like the Outcomes Based Education system that was moving its way up the grades at the time.  Oh, I applauded the concept, but I also could see that it would not work well.  Not without an enormous amount of support, financially and physically.  Even our little school with its small classes couldn't really do the system justice.  I wasn't sure that I wanted my kids to experience an educational system that I didn't place much stock in.
And, as teachers, Sue and I had worked on the other side of the system.  Now we were the parents.   Having such insider knowledge meant that I was more discouraged than encouraged.  I knew how my own failures as a teacher had a negative impact on a classful of kids.  I didn't like the idea of how a single teacher has such enormous persuasive power over her classroom of kids – especially in the younger grades and especially when no other adults are present.  Kids intrinsically believe everything their teacher says, and with hours of unaccounted time with impressionable kids, well, a teacher could have fantastic influence … or cause a lot of damage.  I also really didn't like the idea of how much influence peers had over each other.  I remembered moments inside and outside of my classroom where impressionable kids would be led astray, just to be accepted or loved by their friends.  It was worrying.  And looking at the schools available to me, it was also quite depressing.
Soon, though, I realised that I was operating out of unhealthy fear.  And despite my fears, my kids needed to be educated, one way or another. I knew that there were wonderful things about schools and that focusing on the negatives, especially those that weren't givens, was simply self-defeating and pessimistic.  God had a plan for each of my kids and I could rest in that.  It was simply a matter of making a choice for our family that we felt fit our family, in the light of who God made us in Him, and asking Him to open and close the doors accordingly.   The best government school available was the obvious choice.  There were a few that we would've considered too.  Until home schooling started becoming a viable alternative….
It was when Sue showed me the Sonlight catalogue that the small seed of interest in home schooling began to grow and flourish.  She said something to the effect of "if I homeschool, it's because this catalogue sold homeschooling to me."  I read the catalogue and had to agree.
It was exactly how their advert said it: "The way you wish you were taught!"  The literature-based, rich programme of learning was exciting and interesting.  The catalogue was peppered with photos and interviews with real live families happily home schooling.  The testimonies spoke time and again of the very values and educational ideals I was seeking to find: family relationships solidifying, faith deepening, exciting learning, no dry boring textbooks, but rather living books that brought history and the world around us alive, flexibility in lifestyle, fathers involved, paced according to the kids' abilities and more.
I wanted to homeschool and I wanted to homeschool with Sonlight.
But reason dictated. And so did Craig.  He wasn't interested in the idea AT ALL.  And I wasn't 100% convinced, despite having a rather romantic notion in my head of happy families learning at home.  So I began to pray.  And I began to talk.  And I began to read.
I prayed that the Lord would clearly guide us in the decision.  I began to talk about the idea a little with friends and family around me – gauging their opinion, while voicing mine.  All in the name of research.  And I read and read and read lots of articles online and beyond.  Then, I talked some more.  Prayed some more.  And read some more.  Things began to happen.
And I began to learn.
Many of my friends and family weren't interested in home schooling and would either argue vehemently against my exploration of the subject or quietly ignore me.  It was one of my first big lessons in learning to be more gracious in how I presented my thoughts and ideas to others.  And, I learnt to think through things a little more deeply on my own, before putting it "out there" for open discussion and risking being hurt.  One lesson has stood me in good stead; the other has been a mixed blessing.
I want to home school! Does Craig…?
One evening during this time of searching, I happened to be browsing the book sale at our church.  At the time, Craig and I were alternating night church and it was my turn.  My heart was feeling quite burdened by my conflicting desires regarding home schooling.  On the one hand, I really wanted to give that life to my kids.  On the other, I was worried that it wouldn't be right.  It was a matter of prayer.  That night I prayed that I'd find something on home schooling on the sparse tables of books.
Imagine my surprise and delight when I came across the only home schooling book in the shop.  The only home schooling book in the shop that also happened to be on sale.  I had just enough money for its half-price tag.  Just enough to buy the book with the title that was my very own burning question, "Should I Homeschool?"
I read the book within 24 hours.  Written by home schoolers who were determined to be as open as possible to all the factors worth considering, the book made no bones about having a bias.  Instead they promised to be as balanced as they could given their bias towards homeschooling.  Then they began answering the many questions posed in each chapter in a way that resonated with me.  I finished the book convinced that homeschooling was a fit for our family.
But what about hubby?  What did he think?
Again I prayed!  I prayed that he would read the book.  I prayed that if it was right for our family, that the Lord would give him a similar conviction.  I prayed that I would graciously accept whatever decision he made and work with it from there.  The most important prayer.  And then I asked Craig to read the book.
It was a big ask, simply because Craig's not a big "parenting non fiction" book reader.  Reading a book on home schooling was definitely not going to rate highly on the 'what to do?' list.  But, knowing that it was a big decision, he agreed.  I promised him that if he didn't agree with the idea of at least trying it for a few years, then I wouldn't ply him with other books and information, but would rather explore the more mainstream options of schooling.  Craig read the book in a couple days too and came to this conclusion, "I think home schooling is a good option for the early grades.  We can commit to Grade 1, 2 and 3.  But I'm not keen on going further at this stage.  We can reassess later, but I'll commit to the first phase of school."
I was floored!  He did a complete 180 on his views.  While he wasn't shouting it from the rooftops, he was open to home schooling!  I was thrilled!
By this stage, Kiera was not even two!  I have a good chuckle at myself when I think back to this time.  There I was, frantically researching formal education, all while my child was still having day time naps in her cot!  But, if I had to do it over, I don't think that I would change a thing.  Because, from that moment on, I felt a sense of peace about our decision.  Oh, for sure there were times I wondered if it was the best decision, or felt pangs of regret for the things we'd be missing out on: school uniforms, break time fun, school plays and the like.  But, mostly I felt relaxed about the schooling decision.  We knew we would home school.  I could enjoy my child's learning at home without having to worry about applications and school readiness.  We would work at her pace.  And we would enjoy precious time together.
By the time our decision was made, I had already joined a little weekly play group with a few other moms.  Katie had arrived and Sam followed two years later.  Our group grew and then it shrank.  The other kids were heading off to school and it was time to say goodbye to our little group and hello to another one.  Enter: Lunch Bunch.  My friend Sue had also chosen to homeschool.  So, together with Sue, Kate and Caren, we formed our homeschooling co-op in Kiera's Grade R year.  And we've not stopped meeting.  Each week we meet together for enrichment studies in music, art, and Xhosa.  We enjoy educational and fun outings together and our kids are firm friends.
Homeschooling… it's for us!
It's been four years since we started "formally" home schooling.  When we started, my main motivating factors were fear-based: would the schools be up to scratch? what about large classes? what about bad influences? what about the crazy curriculum the government is proposing?  It was mostly about what pushed me away from mainstream schools that influenced my decisions.  Now, my motivating factors are lifestyle-based: the pull factors of homeschooling.  Because home schooling is more than an educational choice.  It's a life style choice.  And we've found that we love this life.:
We love the ability to pick up and go whenever we want.  We love being able to explore subjects of interest if we like or spend a little extra time focusing on a story we love.  We love that our biblical worldview is not pitted against a secular worldview on a daily basis, but that rather we get to explore the world through the lens of the Word of God.  We love that seatwork is over by lunch time.  We love that we can do school just about anywhere, even following dad up the coast on a business trip-family holiday and doing school in the resort gardens. Or hanging out mid term with granny and grandpa in Hermanus for a week.  We love being able to go at our own pace, whether that means slowing down to lighten my ADD daughter's work load or allowing her to read aloud as much as she likes because it's the one part of school that she loves.  We love that it means more family time and more opportunities to be a part of our kids' lives.  And we love that that means we sometimes catch the most amazing moments in the middle of a maths lesson, like a s ex talk I had with Kiera a while ago.  We love the leisurely hours of reading beautiful, living books that are filled with exciting history lived out in the lives of the characters – especially in winter time when we gather around the fireplace after lunch with hot chocolate and fluffy blankets, or in summer time when we lie outside under the shade of our big plane tree, sucking ice lollies, still wet from a mid-morning swim.   And I certainly love not having to battle the early morning traffic doing the school run!  There is something to be said for waking up after dawn, instead of before it 🙂
As I write this, we are nearing the end of Kiera's 3rd Grade and we have already bought the curriculum material for next year.  So, what happened to committing to Foundation Phase only?  Craig's of the opinion that "if it ain't broke, don't fix it".  He says,
It's working!  The kids are responding well and there are no reasons to change."
Home schooling has shaped the way we do the day-to-day business of life.  And we love it.  It's flexible and we've got so much freedom, without sacrificing on a quality education.  Of course, there are days when things are crazily chaotic or I second guess our decision.  And we don't know if we'll do this all the way to grade 12.  But, right now, it truly is the way that I wish I had been taught.  And it's been a journey I wouldn't exchange for the world.
___________________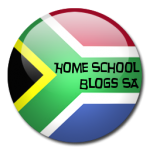 This post  features in the 9th SACHS Blog Carnival focusing on How We Came to Homeschool and hosted by Tanja of So Homeschooled.  To find out more about the South African Carnival of Home Schooling Blogs, head to our SACHS BLOGS page.