Review: Enzi Chair (previously Posture Perfect Chair)
When home schooling became a little more formal in our home, with seatwork done up at the dining table, I realised that I needed to make sure that the girls were sitting properly and comfortably.  Little pint-sized girls and dining chairs are not ergonomically matched, that is for sure.  I had made foam cushions to boost the dining chair seat so that kids could at least reach their dinner plate in the evenings, but there was more slipping and sliding than actual sitting. It was very frustrating.  That is, until I discovered an awesome chair design perfect for the growing child!
Enter:
the Enzi Chair!
We've recently just received a third chair of this design and since we are so thrilled with it, I'm going to share it with you!
Enzi Chair is designed in such a way that it allows your child to sit with exactly the right posture required when sitting.  Like my kids at the dining table, most kids struggle to sit comfortably in a "designed-for-adults" chair. Little feet dangle off the edge of the seat, putting strain on their backs, while little upper bodies aren't comfortably tall enough to cope with writing, eating or working at a table.  It's an ergonomical disaster!  And how do kids cope with it usually?  Sitting on their haunches or with one leg tucked awkwardly under their body, of course.  It's the sort of contortionist stuff that makes the physios and occupational therapists out there shudder!
But chairs are expensive!   Aren't they?
Again, this is where the Enzi chair is a great delight.  Where most leading baby high chairs run in excess of R1000 ($120), lasting only the first year or so, the Enzi chair is made of solid beech or birchwood, is aesthetically pleasing and grows with your child.  So, while it may be pricier than a standard office chair, the Enzi chair offers years of use for the growing child.  How?  As your child grows taller, both the seat and the foot rest can be adjusted to their growth.  We've had our oldest chairs like these for 4 years already and the kids are still using them, and will continue to use them until their feet can reach the ground!
I found Enzi Chair online, after having heard about them through a home school group.  It's an easily navigable website with everything you need to know right there.  Orders are taken directly from the site.  It's simply to register and purchase.  But, if you'd prefer to go through a more personal experience, Liz is a fantastic connection to make.  Her cell number and email contact details are available at Enzi Chair too.
Liz and I connected a few times via email and within the same week of ordering our chair for this review, our chair was delivered to us!  An exciting day for us all!
When it was time to unpack the box, the kids were so excited to get stuck in.  Mom was a little daunted by all the pieces however!  Lots of "no, Micah, you can't play with those screws" and "put that down, please, Sam" were repeated from these lips.  But, boys will be boys, and they got stuck into "helping" mom as much as they could.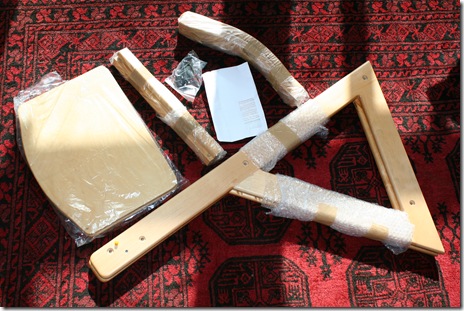 Assembly of the chair was not that difficult.  The instructions suggest that you set aside 45 minutes to an hour for assembly.  I'm proud to say that it took me just over half an hour.  But that is probably because I have two already assembled chairs in my dining room to help me double-check my steps.  You do not need any extra tools at all as the kit comes with an allen key that fits the bolts provided perfectly.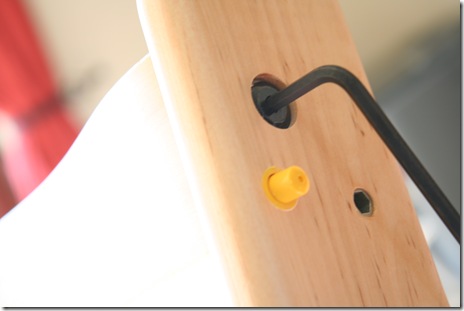 I decided to hasten the process however – turning the allen key over and over was a little laborious and so I opted for the speedy version: hubby's electric screwdriver with an allen key style bit.  That worked a charm and is probably the number one reason it all went so fast!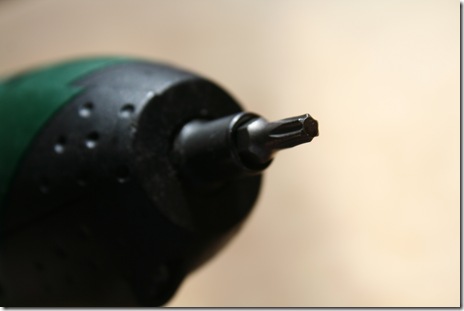 And of course, I had some help from my boys.  Micah relished the opportunity to give daddy's electric tools a go!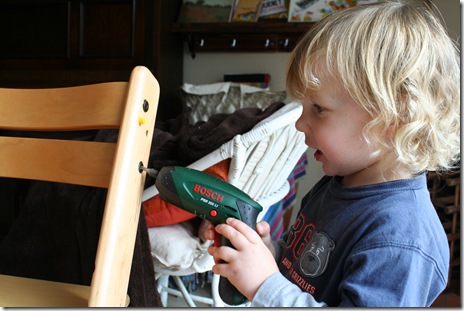 My only concern is that the instruction sheet needs to be updated to reflect their latest design.  Their earlier design used metal bars for the stabilising pieces, whereas now the stabilisers are made of wood.  The images on the instruction pieces show the metal bars, which can be confusing to mom or dad when they're assembling the kit.  I was even confused for a bit, and I had an already assembled chair to go by. (UPDATE: new orders now include an updated colour brochure that is easy to follow!)
My Enzi Chair comes with the high chair attachment goody (yellow peg) in case you ever need to convert it into the baby chair conversion which is also available at Enzi Chair.  The baby chair has a safety bar, harness and an easily stowable tray that swings and clicks away behind the chair when you want baby to share the same eating surface as the adults.  The toddler chair has the same basic design, but with the guard rail too. While we are unlikely to need to convert it, I appreciate that the homework chair version comes with this attachment for the "just in case" factor and the resale factor.
Micah was the first to give it a test drive.  Can you see how delighted he is?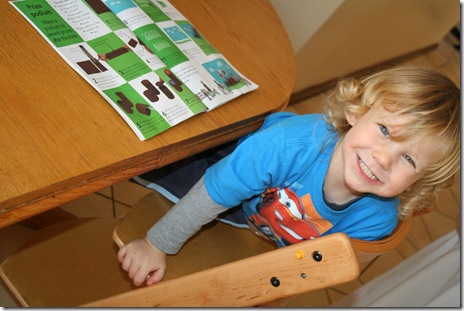 Luckily, Sam and Micah are almost the same height, so the chair is just the right setting for them to share at this stage – until we buy another one soon! Samuel got stuck into practising his writing skills at the table – no prompting required, no "sit up straight" Sam, no "stop wriggling" – just perfect posture!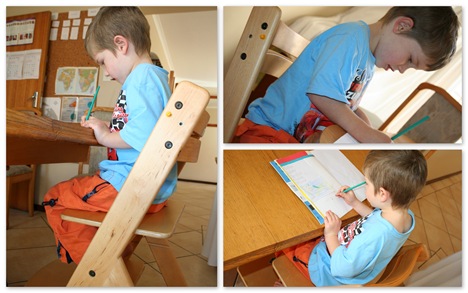 Interested in buying a chair like this one for your little-ly?  Then head over to Enzi Chair and order away!  Want to run by the pros and cons again?  See the list below.  Not sure yet?  Well, then you're just going to have to come over for a cuppa and an Enzi Chair test drive

___________________________________________________________________
PROS
ergonomically correct chair which means that your child sits the best position for his posture
adjusts to your child as he grows older
lasts from 6 months to adulthood – most certainly until your child's feet reach the floor
aesthetically pleasing
many different wood stains and extra cushion colours to choose from
easy to assemble
quick to assemble
ordering online is quick and easy
interacting with Enzi Chair owner Liz is a pleasant experience – she is friendly, helpful and replies promptly to emails
satisfied customers across South Africa have lots of good things to say about the Enzi Chair: testimonials
CONS
The instruction leaflet needs a little tweaking to update the images to reflect the new design, as it could be confusing to the person doing the assembly  UPDATE! Enzi Chair instruction leaflets have been updated: an easy to follow colour brochure is available with new orders!
because the back 'legs' of the chair sit further out than the backrest, it's a potential tripping hazard.  We are used to it now, but there was a time when we'd misjudge our step and trip over the back legs of the chair!
once you have one, you'll want to buy more and more for each child you have! (but that could be a "pro" too!)
____________________________
In the interests of transparency: While we already own and love this chair design, Enzi chair owner, Liz, kindly donated a third chair for the purposes of this review.  This review is my honest opinion of the product and is in no way swayed by the donation of the product.