67 minutes…
During the 90th birthday celebrations of arguably one of the best presidents this world has ever seen, organisers called for an international annual event called "67 Minutes".  The idea is that every year, on Nelson Mandela's birthday, people across the world spent 67 minutes doing something that benefits others.  Why 67?  It signifies the number of years Nelson Mandela spent working, fighting and striving for freedom and change in our beloved land: South Africa.
Since Madiba turned 93 this year, Mandela Day has only been "happening" for three years.  Yet, it's catching on across the world!  I'm fairly sure that in 5 years time, it'll be a day that most of the online world will celebrate – or at least be aware of. 
For the last two years, we've been a little slow on the uptake and Mandela Day passed us by.  This year I woke up to its arrival about a week before – plenty of time to plan something.  But my ideas were uninspired or simply too difficult to execute.  Thankfully, my friend Sue came to the rescue with a lovely idea about making cupcakes for our respective church staff to say thank you for all they do.  That, plus a more realistic version of my original plan to head to the train station to hand out hot chocolate to the commuters, made our 67 (+) minutes a wonderful time of sharing. 
Had I been a bit more on the ball, I would've checked out the official Nelson Mandela Day website where there are tons of excellent ideas of things to do to reach out to people around you – making a little difference in their lives. 
Our Mandela Day began with some cupcake baking.  Micah was my chief helper for this one.  Later that afternoon we went to Sue's to ice and decorate the cupcakes.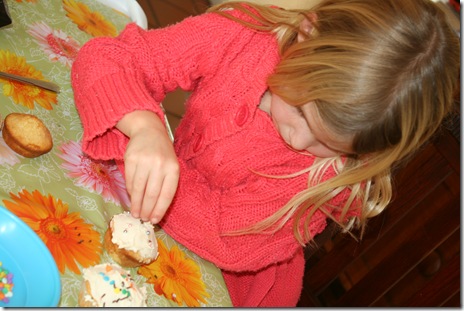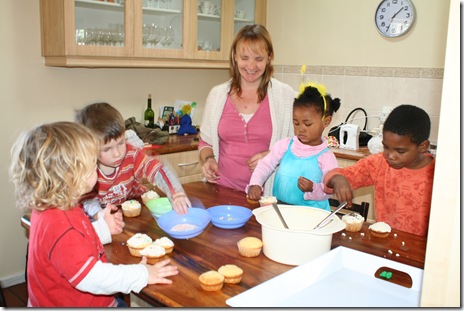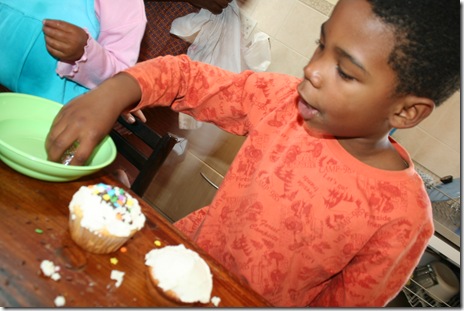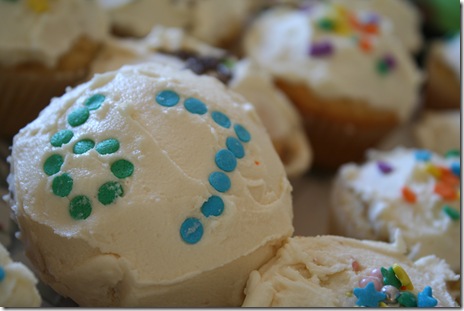 We returned home to get stuck into our hot chocolate preparation.  The idea was to set up a table outside our gate and give away hot chocolate to passersby.  It's winter here in Cape Town, and despite our Indian Summer weather, it still gets cold in the late afternoon.  I imagined a steaming cup of hot chocolate after work would be a welcome gift for those heading to the train station for the commute home. 
We had about 70 disposable cups left over from various functions, which the girls then labelled with "67 minutes" – or variations there of.  (Kiera enjoyed writing "who's the winner?  Nelson is!" on some of hers!)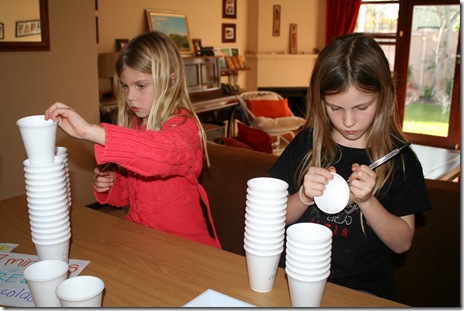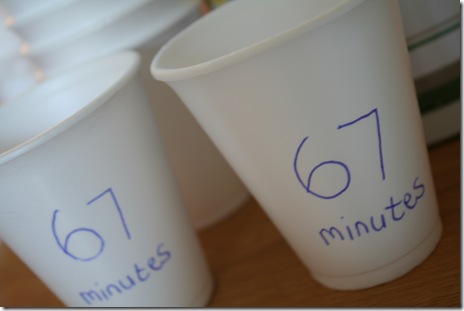 The kids all pitched it and soon we had our little stand all set up and waiting for our passersby.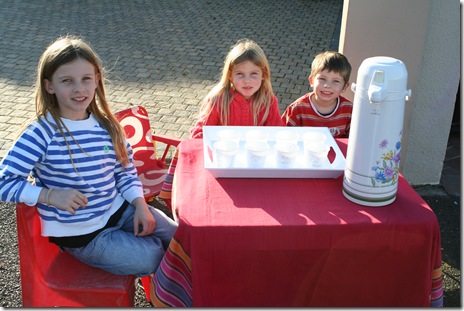 Before long people came along and the reward was all in their appreciation.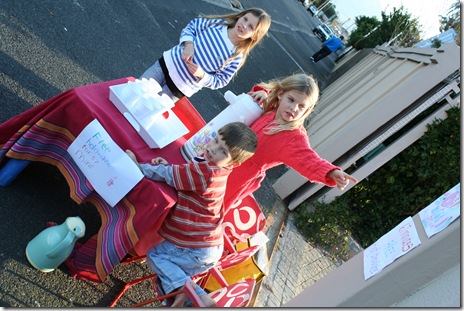 Averil, our neighbour came along and joined in the fun for a bit.  She was on her way to deliver 40 sandwiches to the homeless people in the Wynberg area as part of her 67 minutes initiative.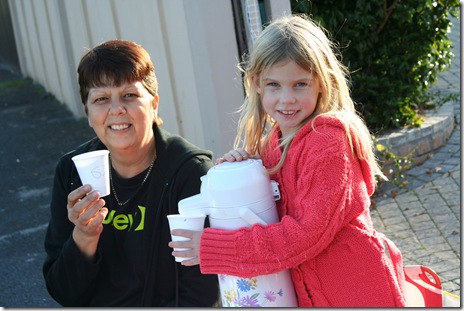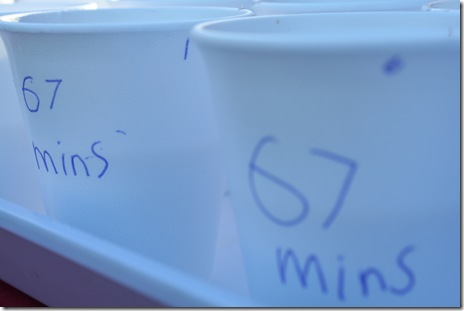 Most people were curious about our little stand – and then surprised that it was free – and then delighted!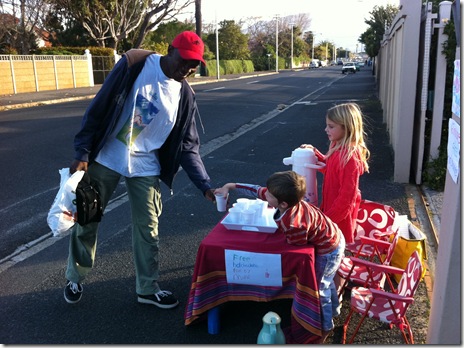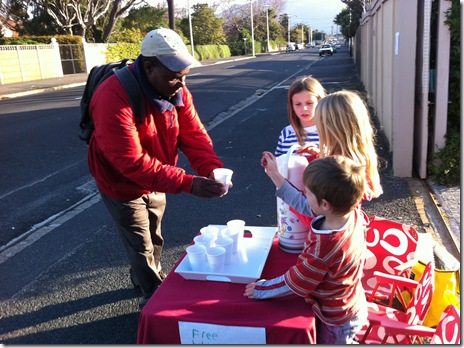 These women often pass our gate and chat to the kids, especially the lady on the left.  They stopped and had an animated chat with the kids, ending with a beautiful deeply moving birthday song to Mandela – imini emnandi kuwe – the Xhosa "Happy Birthday" song.  Really, I wish I could sing like a black woman.  God has blessed these women with a deep richness that is thoroughly absent in my reedy white voice!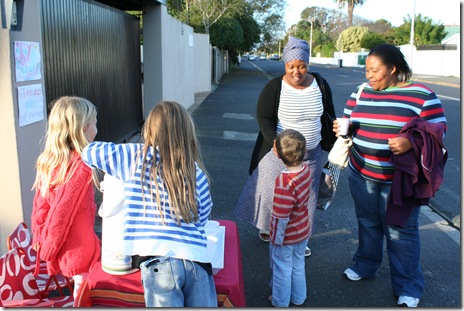 We stayed outside for a good hour and a half, enjoying the experience thoroughly.  The children had a bicker or two about who was going to do what – "it's not fair, Sam is getting to hand them out all the time! " or "I want to pour them now!"  *sigh*  But, to their credit, they figured out a rotational system on their own where everyone got to share out the roles equally.  They were totally game to shout out "hot chocolate for FREE!" and to tell passersby that it was all in celebration of Mandela's birthday.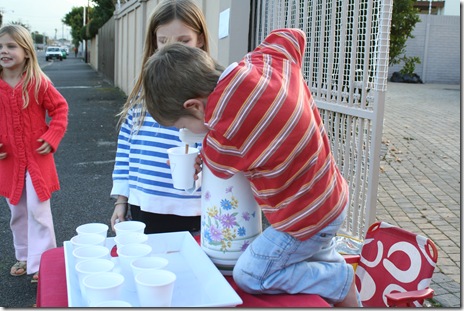 The reactions we got were priceless.  We had people running from the opposite side of the road just to grab a cup.  Children, adults, teens … black, coloured, white … walkers, runners, motorists and even cyclists – it was a wonderful representation of our rainbow nation!  A woman stopped to take photos to send to the local paper.  And several people were amazed that it was free.  One jogging couple came back along our way after having passed us on the opposite side of the road earlier.  They were so delighted with the idea of what the kids were doing that they interrupted their run for a cuppa hot chocolate.  It was almost comical waving them off and seeing them bedecked in their jogging gear, hot and sweaty from their run, yet casually walking away, carefully sipping their hot chocolate!  It was one of those days where you set out to bless someone else, but you end up feeling more blessed yourself.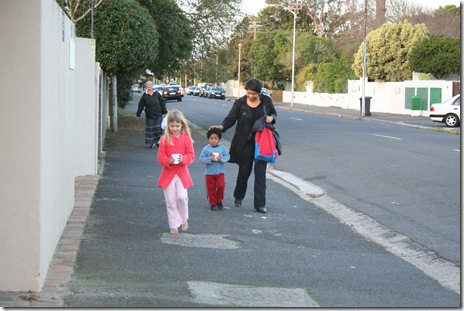 We had completely overrun our 67 minutes, but we still had to complete our first task – taking our cupcakes to the St James Church office to say a big THANK YOU to our staff there who work so hard to bring the truth of the Bible to the church.  With the day drawing to a close, we chose to set aside time on Tuesday morning to do just that…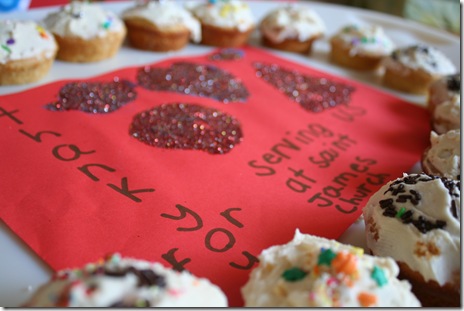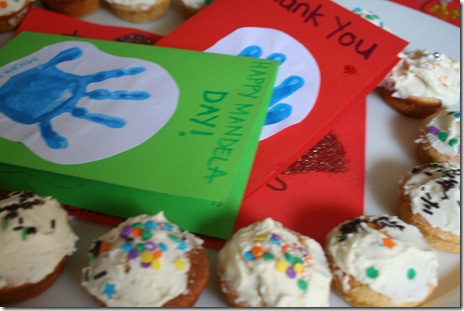 The obligatory "before" shot.  Do NOT ask me what Sam is doing in this shot.  I took this shot three times and in each photo he looks like he needs to pee in the most excruciating way.  It was his attempt to grin & wink at the camera.  Hmmm.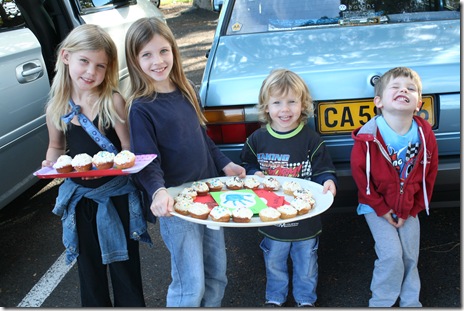 After that shot, he didn't want to feature in any more, so he hid behind me while I took this one of our favourite children's workers.  Jenni and Melissa have known our kidlets since they were born and have taught them the bible faithfully since they were tiny tots!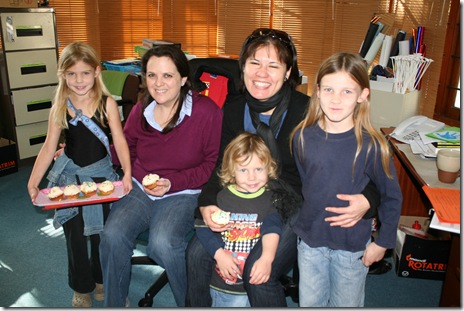 We surprised a few more staff members.  Micah jumped into Scott's arms with all the abandon of a little guy who digs his buddy's daddy.  Dawn's office (photo on the right) holds the scary monster paper shredder machine.  It has a scary photo of a shredded hand – courtesy of a terrible encounter with a shredding machine.  Thanks to the photo, my kids lost their appetite entirely and so they didn't consume their own cupcakes right away!  BUT, it was a fantastic object lesson.  You see, they moan bitterly that their friends get to watch some movies that I won't let them see.  Mostly, I'm concerned about violence and/or attitudes that are displayed in the movies.  Equating their yucky feelings of shock at seeing the gruesome picture of the shredded hand with how they would feel if they saw movies with violence that is too heavy for their little hearts, I was able to put things into perspective a bit.  And what perspective that was! 
Mervyn and Denzil taking a coffee break…
Flo high-fiving Katie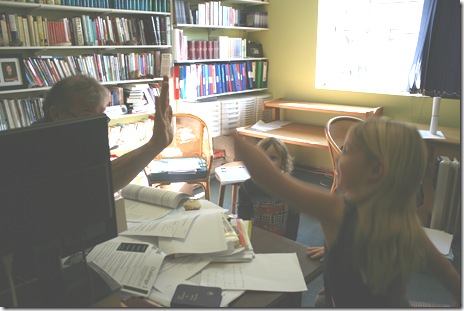 All in all – a wonderful morning doing fun stuff to benefit others that ended up benefitting us too. 
And, of course – all to continue the legacy of a great president and man: Nelson Mandela.  Happy birthday, Madiba!
________________________________________
For another activity that my friend Debbie did with her kids and some friends, head to her blog and read all about their fun litter pick up day: Hutton's Blog