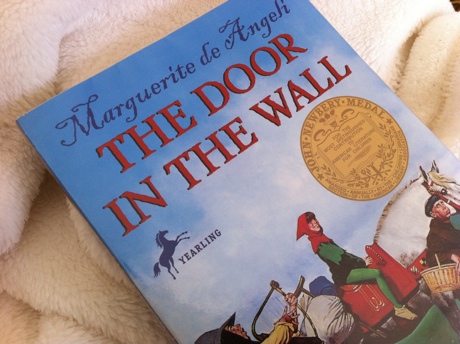 Talent is so often more of a burden than a blessing. At least the concept of it. I say this because the reality is that most people in this world have no extraordinary talents. Yet, in our society at least, there is an unnecessary burden placed upon children, and adults alike, to seek out their talents and become great. Shows like 'Idols', 'Australia's Got Talent' or Oprah's 'Most Talented Kids' have us believing the lie – the lie that we aren't special or capable of being significant if we don't excel at something or another.
Last night, Kiera fell prey to feelings of inadequacy and jealousy again when she watched children across the world perform upon Oprah's stage via Granny's PVR. Initially she was convinced that she could sing, dance, act and play music as well as the child prodigies on stage. When she realised her definition of talent was a little limited, she sunk into misery. We talked a bit. Admittedly, I spoke with a fair bit of frustration. It's not the first time that this topic has been addressed.
I tried to remind her again that most of the world functions well without extraordinary talents. The point is that we use what we have been given to the best of our abilities for the glory of God. That means serving each other and not ourselves and not our egos and not our bank account. Besides, I said, not being extraordinarily talented is often more of a blessing since it frees us from the burden of believing that we don't need God. If we don't 'have it all' in terms of worldly standards, then it is easier to see our own inadequacies and sin and the fact that we need Jesus.
She accepted my words begrudgingly but it wasn't until the next day that they seemed to sink in a little deeper….
We were reading 'A Door in the Wall' – a story set in the times of knights and castles: a period in history we've thoroughly enjoyed learning about these past few weeks. It's a story of a young boy who, through illness, loses full use of his legs. An ordinary boy who, under the loving leadership and care of an unassuming friar, learns to persevere through trials and embrace opportunities to do whatever he is faced with, with a joyful spirit. It's a story I've been amazed that my children are enjoying so much. It's a bit cumbersome with accented old English and elevated vocabulary. The story itself moves slowly. I doubt they would've persevered if they were reading alone, without my modernising the English a bit as we read. But, somehow they are loving the story and references to historical events and lives they have learned.
I realised that, once again, Sonlight had chosen a wonderful book that I may never have chosen myself. And I was grateful, once again, that I could rely on Sonlight to make excellent literary choices that I would've passed by.
Today I was further grateful for this story. How appropriately timed our very next chapter in the story was: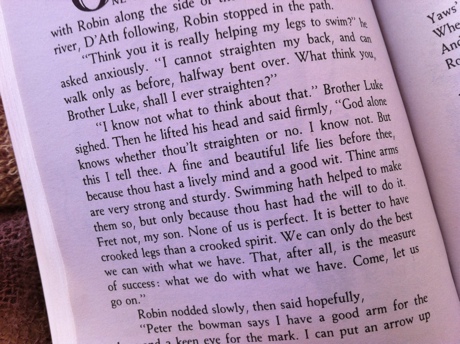 Brother Luke addresses Robin's question of whether his legs will ever straighten with a frank, honest and inspiring answer:
I know not what to think of that. … God only knows whether thou'lt straighten or no. I know not. But this I tell thee. A fine and beautiful life lies before thee, because thou hast a lively mind and a good wit. Thine arms are very strong and sturdy. Swimming hath helped to make them so, but only because thou hast had the will to do it. Fret not, my son. None of us is perfect. It is better to have crooked legs than a crooked spirit. We can only do the best we can with what we have. That, after all, is the measure of success: what we do with what we have…."
I paused the reading at that time and looked at Kiera and ask, "do you hear what he is saying?"
She cut me off with a quick roll of the eyes and then she broke into a grin and said, "yes! I see it". When she summarised what he said with clear understanding, I knew that she did, indeed, see. In that moment her despondancy vanished and a lightness of spirit overtook.
And in that moment I marvelled at Sonlight's awesome book choice that had spoken directly to the very heart issue she was struggling with. And grateful to God for timing it!