Katie's 7th birthday began the night before with her birthday dinner.  We normally do birthday dinners on the night of the birthday, but since it was Friday, the girls wanted to be at Kids' Club.  So we celebrated the night before.  My strange children order the most strange things for their birthday dinner.  The protocol for Birthday Dinner is for the birthday person to choose the meal for the evening.  They can choose anything (within reason and cost!) and they get to enjoy their chosen meal on the family Birthday Plate.  My kids consistently choose fish and chips or pasta, it seems.  Katie kept that tradition going.  We had fish and chips for supper.  That's it.  Oh, and some meringues that Katie and I made together that day.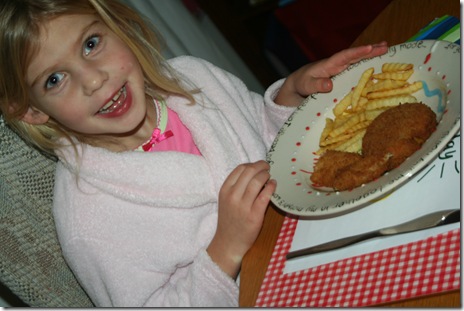 Despite being allowed the birthday honour of being served hand and foot, Katie wanted to do the final touches to dessert herself.  Too much help from mom, maybe!  But after that she took it away herself.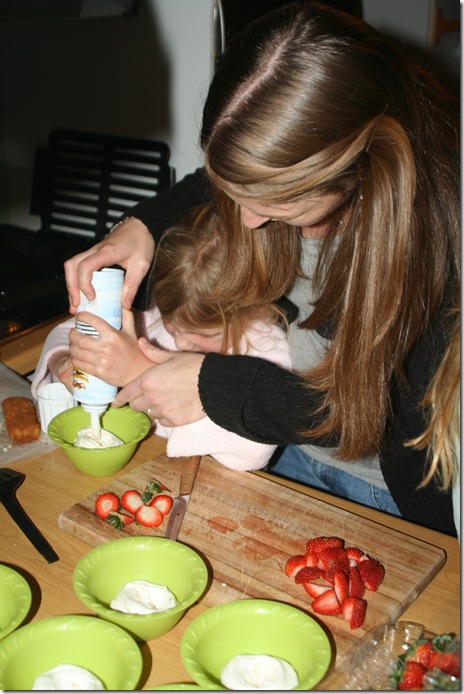 Mmmmmmmmmmm!
Next morning was the usual deal – the whole family "sneaks" into her room while it is still dark, singing "Happy Birthday" to "wake" up the birthday girl.  Of course, we had to sneak out her roommate first, so he could join the crowd (Sam and Kiera have been playing musical beds these last couple of weeks, since Kiera and Micah are early birds and Sam and Katie are late risers, I've given the sleepy-heads some respite from their early-rising siblings).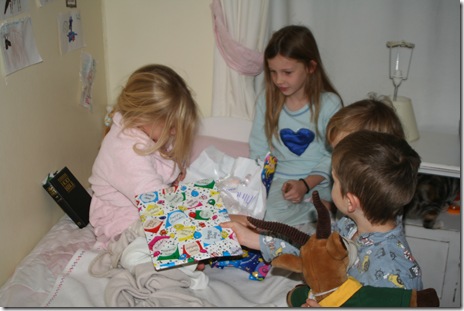 Katie was delighted with her gifts.  She had wanted a microphone to sing in.  This little cheapie has been a huge hit.  We couldn't find her a hobby horse ANYWHERE in Cape Town, despite spending four hours trawling the stores and phoning every toy, and just about every other, store trying to locate one.  She had really really really wanted one, so I knew it was a top priority gift.  Eventually, I decided to make one for her in the school holidays.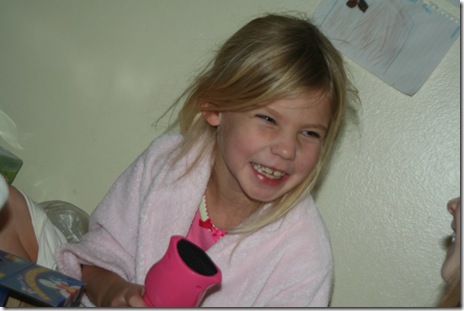 But, then my mom found one by accident!  She happened to be at Mr Price Home Store.  She happened to walk past the kids' section.  She happened to notice out the corner of her eye a bin of pink fluffy toy things.  She happened to take a double take and see that they were horse-like creatures.  And she happened to pull it out of the bin and discover a pink plush unicorn.  Just up Katie's alley.  So Katie, placated with the idea of mom making one later, was completely surprised when she went to Granny and Grandpa's and opened her gifts there that afternoon: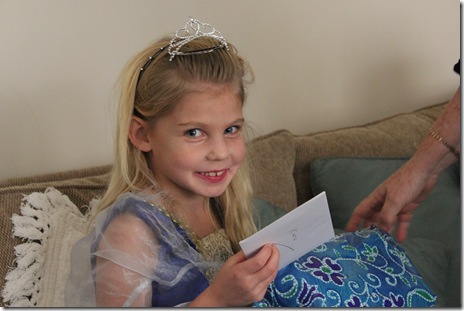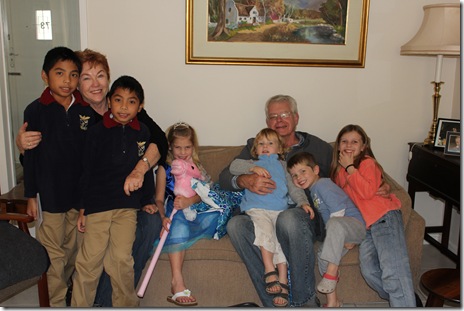 Katie had such a fun day.  Pressies in the morning.  Hot cross buns for breakfast.  Whisked off to the Waterfront with Granny and Gaa for a Sushi lunch and milkshake, plus a shopping trip for her birthday pressie.  She chose her princess outfit, a little dress up make up and some jewellery.  Of course, it all was carefully applied and worn within minutes of her getting home!  And she kept it on for as long as she could.  Off to Granny and Grandpa's house to open her surprise hobby horse and see her step-cousins, the Ramos boys.  It was a whirlwind of a birthday, because within half an hour of arriving at Granny and Grandpa's, daddy arrived to take her out on her special Daddy-daughter date.  Her treat balanced out the healthy sushi from lunch: Macdonalds.  Soon she was back again, all ready to head to Kids' Club.  A ball was had at Kids' club, and she had the added excitement of her and Kiera's great friend, Leanna come home with them for a sleep over treat.  It was not surprising that she fell asleep within seconds of her head hitting the pillow that night!  She was finished!  (Oh, and, there was the prospect of a birthday party the next morning too.  But more on that in the next post!)
A lovely, fun and exciting 7th birthday for a precious little girl!  Happy Birthday, Katie!