With each year that passes, my children grow more and more into their own little people.  Yet, I see myself in them more and more too.  Katie epitomises this conundrum.  Mommy's cheeks, yet bright blonde hair that neither her daddy nor mom really possessed, even in our early "blonde" years.  A day-dreamer, easily distracted little girl who finds school seatwork deathly boring, yet loves to write her own long stories and is a whizz at puzzles*.  Yes, a little of mom and dad in that combination too.  Her desire to please – so transparent and yet so deeply hidden too.  Echoes of mom, indeed.
But, her caring heart, I did not have.  Her kind patience with her youngest brother and the baby siblings of friends is all Katie.  Her wildly explosive temper and her deep gulping tears of remorse are peculiar to her only.  Katie seems to feel things so deeply that oftentimes we don't even realise.  Her little heart is often brimming with unexamined emotion and that's most often when my big Katie is my little Katie, crawling onto my lap, twining her arms around my neck and plaintively stating, "I need you, mom."
But these days, Katie's "need you" moments are reserved more for the end-of-day-exhaustion moments.  She faces the world with bravery and even excitement.  These days, her moments of shyness are few.  They surprise us, now – punctuating her usual sunny friendliness with an odd moment of squirming embarrassment.  Mostly, though, Katie seems to leave a wake of smiling shopkeepers and strangers behind her as she chatters with sweet abandon to all she encounters.  I've had many a delighted adult reporting to me on Katie's spontaneous and friendly introduction.  A characteristic that warms my soul.
Katie possesses a few of those: characteristics that warm my soul.  Like the time, just recently, when she announced that she wanted to start an MAF jar to raise money to support the work of Mission Aviation Fellowship.  Or when she was so very excited when Kiera won second prize in her gymnastic's bar routine, even though Katie didn't win anything herself.  Her selfless delight for her sister was spontaneous and only hours later did she mention feeling a little disappointed that she didn't win anything.  Or when she kindly introduces herself to a new child at Sunday school and takes care of him or her.  Despite being just as selfish as the next kid, Katie, our little conundrum, is often completely selfless in her care for another.
In those angelic moments, Katie's girly sweetness is amplified.  She really is all girl.  Unlike her big sister who was already veering off into TomBoy land by this age, Katie loves all things girl.  Make up and perfume and nail polish and dress up and fairies and princesses and pink still hold her fancy.  Horses are a new attraction, but magical ponies are even better.  Her penchant for dress up means that her bedroom floor is still permanently littered with discarded items of clothing.  The positive flip side is that she has a great sense of fashion, often combining items of clothing together that I'd never have imagined pairing.  Yet, somehow she creates an ensemble that simply works.  Sometimes, her overactive inner thermostat, that has her permanently in short sleeves in the middle of winter, means that mom has to encourage a few extra layers before we leave the house! 
Oh my Katie!  So full of life, excitement, adventure, games and a solid dose of romance:
Katie, my sweet sweet little girl.  No matter that you are now seven, you are still my little girl.  I love that you love so deeply.  I'm amazed how often you are more glad for others' achievements than you are sad that it wasn't you.  A rare gift indeed.  I love how you are growing in your responsibilities.  Even though you often forget the instruction given, it's seldom indicative of your desire to do right.  And when you remember, your beaming face makes the completed task a greater blessing to me.  I love that you love being a big sister.  The hours you spend enjoying your brothers and taking care of Micah like a real little mommy bring me great joy. Your funny sense of humour and gentle teasing nature is endearing.  And your ingenuous escapades of an independent nature, while sometimes quite scary, are also greatly admired!  Your hugs and kisses and "I love you's" are simply wonderful and we love them.

But even when you are struggling with that "yucky" feeling in your chest when things overwhelm you – be it a frustrating school problem or issue with your sibling – and even when it all erupts and explodes and your emotions run over like piping hot larva – and even when in your sin you aren't kind or helpful – or when you're feeling otherwise and are rude or obnoxious or grumpy – even then, my sweet Katie, I love you.  This year has been a difficult year as you sort through some of the bigger challenges that have come your way: "big school" and all the added expectations; a sick great-aunt; the grown up experience of travel to Israel; more independence and then some….  But, I'm so very proud of how you're learning to articulate how it feels and how you're trying to get to grips with self-control when it feels so very hard to do so.  

Oh Katie!  I see so much of me in you.  Sometimes I am sad that you'll have some of the same struggles I had.  But, when I see all the other wonderful facets of you that God has made you, I am thrilled with excitement to see how He is going to work His way in your compassionate little heart and in the lives of others.  I love you my sweet Katie and, while I am as scared as heck when I look into the future, I am also excited to travel down this road with you as you turn 7 and grow towards 8. 

I love you lots!

Mommy (aka Mama)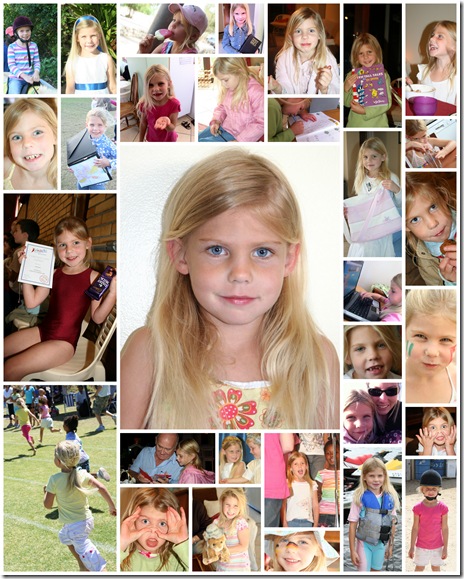 * speaking of puzzles, you surprised dad and I tonight during your birthday dinner when you figured out some of the lateral thinking brain teasers dad put to you kids – long before your siblings.  Watching your little brain whir through the options and then suddenly click onto the right answer was just priceless!