Every year comes and goes, and most of the time the Mothers' Day planning gets lost in the busyness of life for me.  This year, I have been on leave the last week and a bit, and still, the planning and everything crept up on me.  But not the desire to speak to my wife, the mother of my kids, in one of her love languages -  which is apparently in HTML!
So, we did the present shopping, and while Taryn is away chatting to young moms from our church tonight, we have a little bit of freedom to finalise our plans.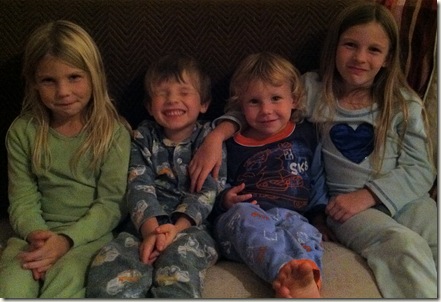 These are the four reasons that Taryn celebrates Mothers' Day, and they are the four testimonies to the job that my wonderful wife does in raising and nurturing them.  Not that they are perfect, or even close to it, but their failings (and ours) just highlight the love and commitment that Taryn has toward her job as mom all the more.
So today as mothers are celebrated everywhere, despite the every increasing pressure on them in all spheres of life, I would like to acknowledge my wife and the role that she plays in our family, especially with our kids, and her dedication to the decision that we made together for her to be a mom at home.
The love of a mother is not fully understood
It is deeper by far than is seen or known
There is never a question of must have or should
But rather giving and sacrifice alone
She tends to her children with patience and care
And is the glue that the holds them all near
She feels their emotions, her own are laid bare
In sharing their love, joy, anger and fear
She is a lioness protector, and a cool soothing balm
A friend to confide in, and yet much more
When life's troubles come she is rock steady and calm
And is peace for her kids' hearts that are sore
She is the mirror of joy in her children's delight
And adds much to their laughter and fun
Her face is radiant with echoes so bright
As she revels with them all, and each one
Sweety, I know that you don't always get everything right, and often do not mirror the words above.  BUT, I know that your heart is there, and that you work daily to be a loving, Godly mother for my kids, and for that I love you all the more.
Happy Mothers' Day…