Our second full day in Sun City dawned cold and rainy!  Not quite the long weekend we were expecting at the end of the rainy season in Mpumalanga.  But we still had loads of fun. 
First: breakfast with the Hayes Seniors at their hotel.  I love hotel breakfasts.  All these amazing foods to choose from.  I could eat a day's worth of food in one sitting!  Instead I enjoyed a few things we don't do much at home, like brie, parma ham, melon, kiwi fruit and loads of crispy bacon.  Mmm-mm!  The kids ate well and behaved beautifully, considering how disastrously they have behaved in hotel dining rooms before!  Granny and Gaa enjoyed their grandkids to bits, feeding Joey and having Micah giggling in hysterics!  As we were leaving, we were treated to a lovely African rendition of "Happy Birthday" for someone at a table nearby.  It looked like the entire staff came out to sing in the most beautiful harmony.  Lovely!  And such a treat!  Thanks Chris and Bev!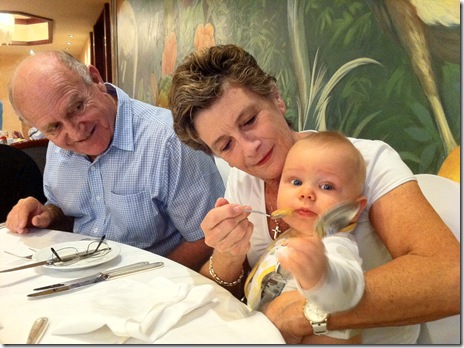 Being Easter Sunday, the kids were each treated to a yummy big chocolate bunny from granny.  Plus there was a mountain of free chocolate in the foyer.  Unfortunately, when our kids got there, the table was nearly empty.  Moments before it had been quite full, but Craig's brother had seen hordes of other kids scooping the chocolate by the armful and carting it off!  Something oddly amiss about the sacrifice and resurrection of Jesus being celebrated with greed!  Then again, perhaps it's apt that we are reminded that we all need Christ because, if we're honest, we are all as greedy as those kids.  We tend to varnish it a bit with a lacquer that makes it seem less ugly, but it's just as real. 
With the rain, our plans for a day at the Valley of the Waves went out the window.  But the kids still got wet and had lots of fun.
Craig's folks treated Craig and the kids to a wetbike (jetski) ride.   The three younger ones took turns with daddy.  Kiera chose to use her money on a horse ride the next day.  Then followed some quad bike riding, fun on the enormous jungle gym and even a ride on the train that took them through a mini game park.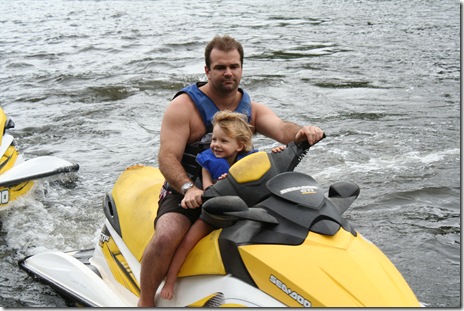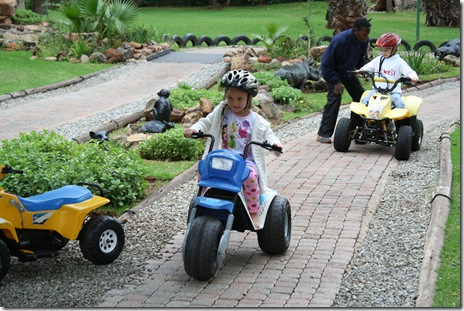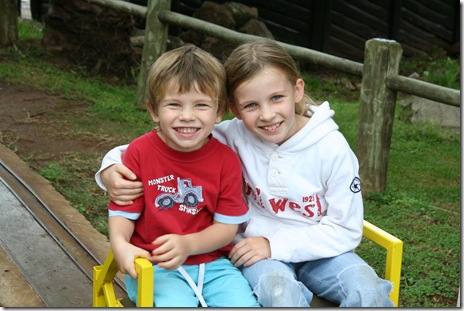 Lunch time at Wimpy.  It was so very busy, so we kept the kids entertained with some iPhone fun – including taking funny face photos of the kids and competing to see who could pull the ugliest face. I do believe that the adults won that one!  You can see those photos on the slide show below (don't worry adults, I left your photos off – didn't want to break my blog after all!)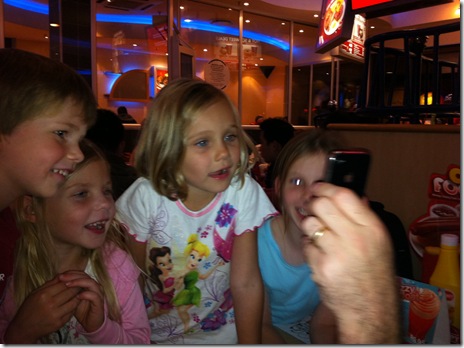 After rest time (boy these adults get grumpy without a nap! teehee!) Holly joined my kids for an Easter craft.  I brought a whole lot of goodies with, knowing that the weather wasn't going to be too great and thinking that there may be a gap to do something creative.  All our normal Easter celebrations were put on hold with the plan to celebrate the following weekend in Hermanus, not wanting to hijack the holiday with all our Easter traditions.  But, having a few creative goodies on the trip as back up turned out to be a good idea.  So … while the adults slept, the five oldest kids and I had fun creating Easter baskets.  We briefly chatted a bit about the gift that Jesus is to us and why we like to celebrate by giving gifts to others.  I wasn't nearly as eloquent as Craig was when he explained the symbolism of eggs to our kids at our passover meal this year!  But the kids enjoyed participating none-the-less. 
Here Kiera and Holly work on their paper plates – the aim was to turn them into beautiful gift baskets.  Along with the paper plate, a few pipe cleaners, beads, ribbon and a couple staples accomplished that.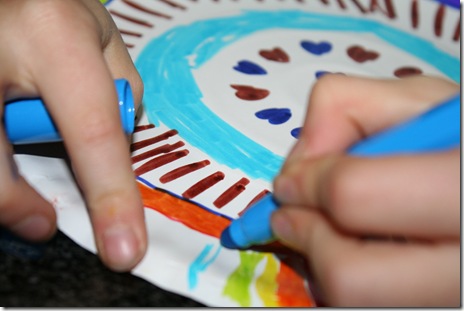 A sneak peak at one of the finished products …  More on that in another post!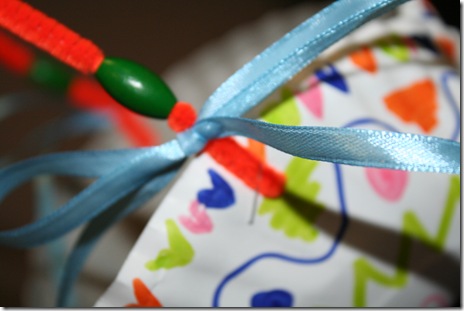 Dinner out and early(ish) to bed.  Craig and I relished the blessing of meals prepared by others and early evenings with kids all tucked up in bed.  Lovely!
More photos follow in the slide show below (or follow this link: Sun City Day 2)
I have loads of video clips that I will add as and when I can.  Keep posted!  In the meantime, enjoy this video from our game drive the day before: