Saturday 2 April was cooler than the day before.  It was good to enjoy a slower pace than the day before.  While Kelly prepared some food for lunch with the extended Glik family that day, I did some washing and straightened Kai's hair for fun.  Kai has naturally wavy hair which looks just beautiful, especially when she puts hair cream in it to give the waves more body and bounce.  But, since I had a hair straightener with me, I thought it would be fun to try it out on her lovely layered hair.  Look how gorgeous she looks!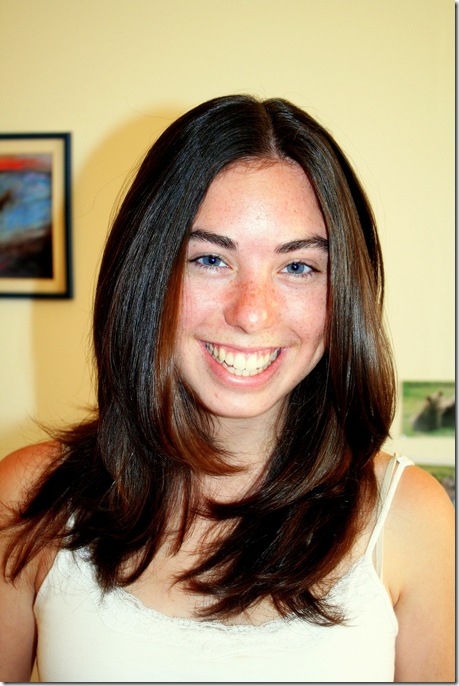 Kai with her beautiful mommy and my beautiful sister! (Kelly, if you photoshop the Monet picture out of the background, that'll be an awesome photo for your house!)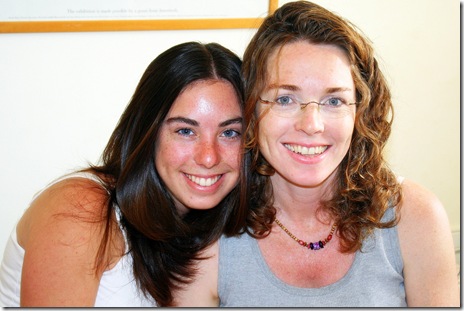 Much of the morning was spent enjoying shabbat's restfulness.  Kelly dug out some of their albums and we had fun paging through them, each page revealing a new step of the girls growing up: from Kai's first bath and beyond.  We don't do that any more.  Photo albums, I mean.  Blogs are great for detail and photography, but there is something special about being able to pull an album off a shelf at any time and have a browse.  Kiera enjoyed seeing herself and her sister at a young age, particularly.  Like this photo here of Kiera at 22 months and Katie at 1 month, with cousin Kai (7) Tess (4) and Hila (10 months).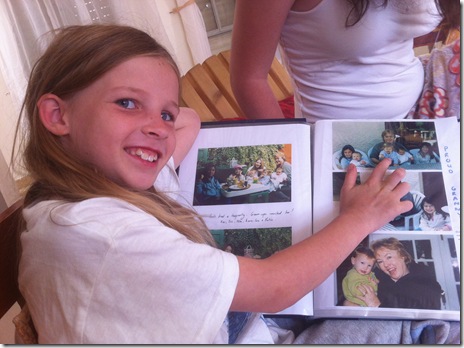 Kelly made a yummy brocolli and cauliflower dish with a white sauce – Na'amah helped mommy with that, stirring diligently!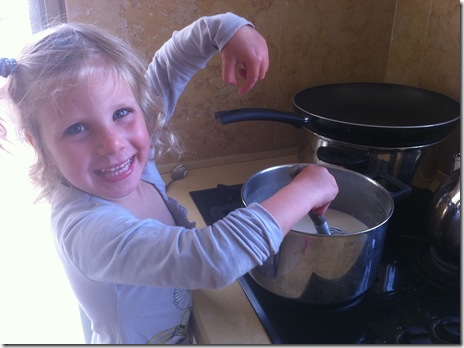 Then the extended Glik family arrived all the way from Tel Aviv.  The drive is just over 2 hours.  It's normal here for families to drive for 2 hours and then turn around and head home after sharing a meal together.  I know that the whole of Israel is the size of the Kruger Park and all, but it's still hard to get my head around driving for so long being such a non event!  It was good to see Dalya, Rafi (Yaron's sister and brother) and Yaffa (Rafi's wife).  Later Michali and her fiance arrived in time for lunch.  But before then, Dalya got to see the surprise video of Kelly and the one of Kai: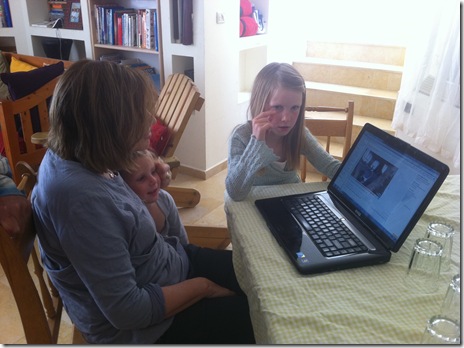 Rafi is such fun with the kids – letting the little ones clamber all over him and taking the older ones on at mini foozeball.  I wish I'd capture some of it on video!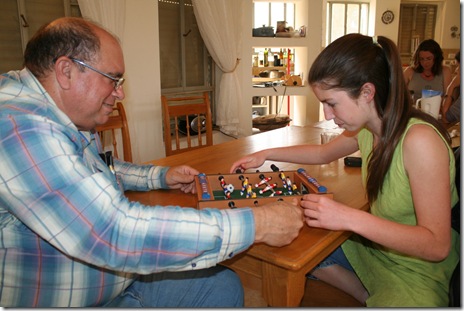 Lunch was just delicious.  Dalya prepared an amazing roast beef that was tender and simply yum.  Some of the kids ate at the coffee table as our numbers overflowed the two dining tables pushed together!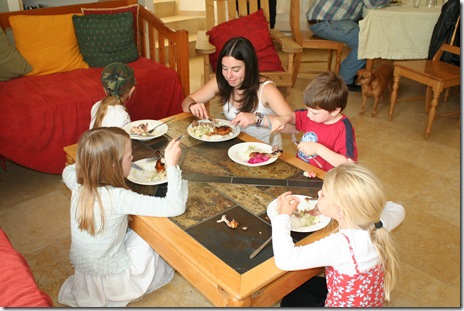 Rafi was the subject of a prank by Hila during the course of the meal – ice down his back.  No doubt payback for the foozeball fun!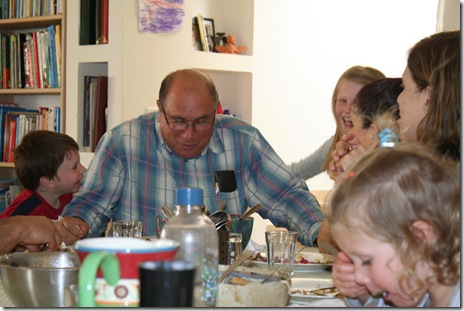 The girls entertained us after lunch with their Junk Band hits – in the (still to be completed) Wendy house at the bottom of the garden: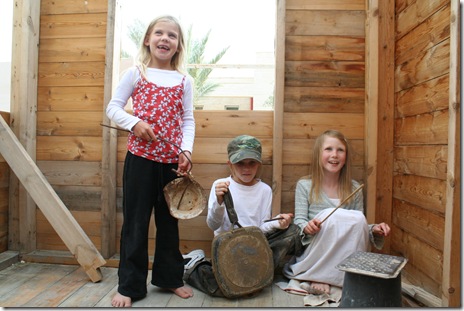 While the adults all kindly watched: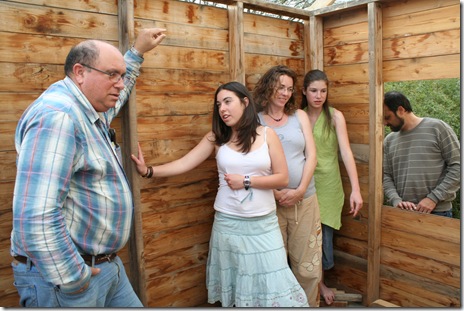 I have to show you this – it's Yaron's new baby – a work bench of sorts for his carpentry work; essential for his business!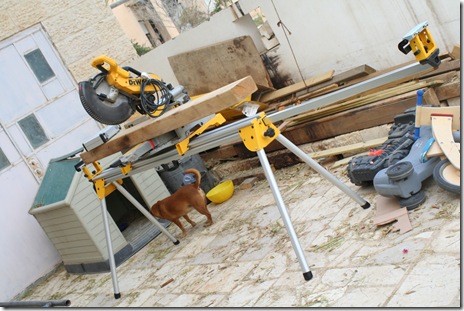 After the "show" we enjoyed a delicious dessert of upsidedown apple tart, chocolate bun cake and Kelly's amazing amarula vanilla icecream!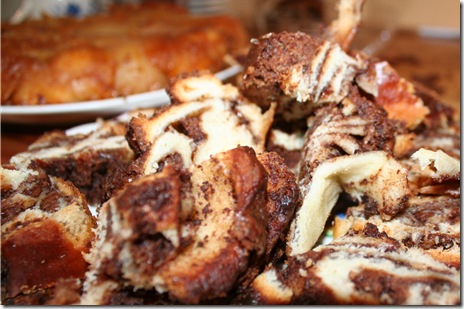 The ice-cream, of course, is a shared event of making and eating!  Each of these three took turns to churn the creamy custard into ice cold icecream.  Seriously, I am definitely getting one of these! (Although, they seem to be more expensive than I remember, so I may just be saving up for some time before I add another R750 – R1500 purchase to my appliances!  Pity our birthdays have passed already!)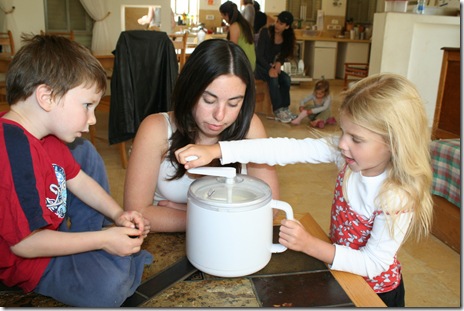 It was a lovely day, despite the weather being a little cold and cloudy.  Kiera even got to enjoy a little hammock time!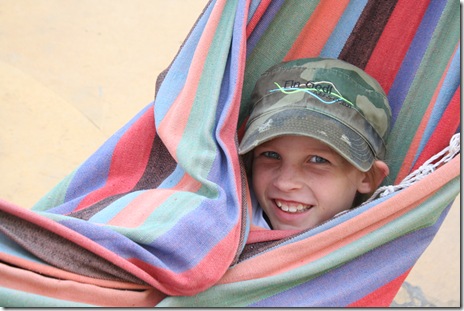 After the family left, more visitors arrived.  We enjoyed good ol' rooibos tea with Jeanie and Talanie.  Jeanie hails from the US and lives near Sde Boker.  In fact, she owns the house opposite the Gliks, but it's currently rented out to other people.  Talanie is a South African farmer, on holiday in Israel.  Talanie has been farming in Gansbaai for 2 years solid, building a farm from scratch.  A woman running an entire farm on her own – very brave indeed!  It was great to chat and meet with new people.
After all the clean up and bed for the kids, Kai, Tess, Kelly and I enjoyed a game of Pictionary – it was such fun to etch out my rusty Pictionary skills!  And, oh the funny results as we tried to quickly sketch obscure images such as "broken arm" and such!  So very enjoyable!
As usual, there are many more photos with captions on my picasaweb album.  Check it out below, or follow this link: Israel 2011 – Sde Boker Day 9