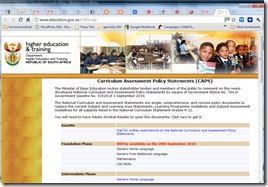 For 15 years, our education system has been based on what was considered a radically different approach to education – namely Outcomes Based Education.  In my most basic opinion, OBE didn't work as envisioned because we, as a country, lack the resources.  There just isn't enough money for training, teachers, materials, smaller classes, discipline and more.  OBE is a system that flourishes in a small group context with a lot of teacher support in the form of teacher aids and administrative staff.  During the brief 3 years I worked as a high school teacher, I found the OBE assessment requirements to be overwhelmingly time-consuming and often detracted from actual good learning experiences in the classroom.
After 15 years of OBE in South Africa, the results show that it hasn't been as effective as hoped. In fact, the results are not good at all.  This is just one of the many reasons more South Africans are choosing to homeschool.
But, this isn't a post about homeschooling.  This is a post about our National Curriculum.
As of the 3rd of September, 2010, the South African government has announced the revised National Curriculum and Assessment Policy Statements.  Whether we homeschool or send our kids to mainstream schools, the government would like our children to be taught under the same umbrella – namely the National Curriculum.  And, with the perceived failure of OBE, a new curriculum statement has been formulated.  This new curriculum is the proposed way forward for education in South Africa as of 2011.
And you have a say.
All members of the public have the right to read the National Curriculum.  And all members of the public have the right to comment on the National Curriculum.  This is a time in history where what we say now – or don't say now – may have a significant impact on the future of our children and our country.  I would like to urge all parents to read the National Curriculum Statement.  Decide for yourself whether you are happy with what the government will require your children to learn and whether it truly fits in under the umbrella of our constitution.
Head to: http://www.education.gov.za/CAPS.asp where you can get the entire proposed curriculum plus assessment policy statements.  And please note that the cut off date for comments is 24th September.  So the sooner we get reading and commenting, the better 🙂
For another former teacher's perspective, head to Nikki's blog.  She writes a very good, contemplative blog post about education in South Africa.  Her thoughts are valuable and insightful.
If you have any comments about the curriculum, or your experiences with the current curriculum, or curricula of the past, please click on the "comments" link at the end of this post. I'd really love to hear from you!  And I'm sure that others who are interested in our South African education system would value the input of others too.
Please note that the Curriculum and Assessment Policy Documents mentioned in this post can be found by following the links provided in this post.   Each learning area listed on the SA Basic and Higher Education and Training website for the National Curriculum Statement is hyperlinked so just click on any of them and it'll take you to the PDF of the document.   Please remember that the National Curriculum Statement is open for comment until September 24th 2010 only.