It's often in the midst of terrible suffering, hurt and pain, that God reaches out and meets our smallest need or our most humble prayer.  This has been Lerma's experience.  And the experience of many throughout history….
I've just recently finished reading a moving true story of a woman missionary trapped in the Indonesian jungle during the Second World War.  Suffering the most horrific of diseases and from starvation, she and her fellow POWs lived in the shadow of death on a daily basis.  Evidence Not Seen chronicles Darlene Diebler Rose's time of imprisonment.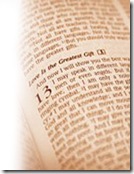 It's a deeply challenging book.  The easy pace in which it is written does not detract from the depth of emotion and story.  Reading how she remained firmly rooted in Him during this time; how she clung to Scriptures she had memorised, while feverish on the dirty floor of a Japanese prison; how she reached out to others and told her Japanese captor the gospel, so that tears streamed down his face … reading these stories can only inspire one "to live for Christ", knowing that "to die is gain" (Philippians 1:21).  
And, amongst the evidence of her faithfulness to God, is the overarching evidence of His faithfulness to her.  Even while suffering in a Japanese prison camp, she does not feel abandoned by God.  There is story after story of miraculous moments where God saves her mortal body time and again.  And then there are the stories of those small needs met; those humble prayers answered. 
Darlene relates stories of a torch (flashlight) that remained hidden and working the entire 4 year duration of capture – never ever needing a battery change, despite being used often.  She speaks of prayers prayed – a desire to know how her husband, imprisoned in another war camp, died.  When the friend she expects to hear the news from dies before he can relate the story, she is bitterly sad.  Yet, in the same day, God brings, through extreme circumstances, 3 individuals who could all relate to her their encounter with her husband in his dying days – answering her desire for knowledge and closure in ways greater than she could have fathomed.
It's inspiring. 
And it's heart warming.
For, while we know that God is all-power and ever-loving, somehow we're still delighted with the little gifts he gives us on top of everything else.  Much like a small child when his Daddy unexpectantly scoops him up for a cuddle and a hug.
_____________________…
Today, I got to experience a little of that firsthand.  I had made a pan of cinnamon buns last night.  This morning I thought that it would be something small that I could bless Lerma and her family with. I could always make another pan for our family later. Between errands this morning, I swung by her home quickly to drop it off.  It felt a rather foolish and small gesture, especially since I've not been able to see her yet, due to being sick with flu and then a cold.  But, clearly God had other ideas.  You see, I had no idea that she had particularly craved something sweet just that very morning.  I had no idea that her appetite had come back just recently.  And I had no idea that today and tomorrow are the only days that she has left before she starts her next round of chemo – when cinnamon buns will definitely not be a blessing!  In this little window period of good appetite, her humble desire was for something sweet.  And the same morning, God mobilised my lazy self in order to bring something sweet straight to her door.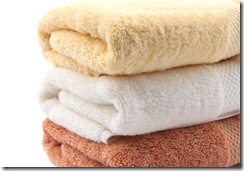 Speaking to my mother later, I found out that God has been doing quite a bit of this for Lerma!  Also, just recently, the family were discussing what to do about keeping the towels separate so that she isn't exposed to more germs than she needs to be.  While they were discussing this, the doorbell rang and Di arrived at the door with food and two monogrammed handtowels.  "Do you do bath towels too?" they asked.  "Sure!"  And Di left that same day with an armful of towels to monogram on her embroidery machine. 
Small things.  Simple things. 
Yet, they are exhilarating moments filled with a sense of assurance, love and joy for our Father, our Saviour and our King.
They are… hugs from God.