… and at a 17% discounted price for Hayes Happenings readers! Keep reading to find out more!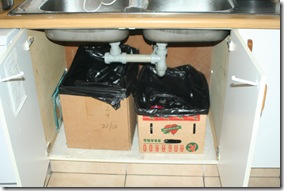 For the past few years, our under-sink cupboard space has been a general "collect all recycling" area.  Up until last year, I had a reason to head towards the Claremont area on a weekly basis, so it was no sweat to take our mixed bags of recyclables to Oasis, who happily accept drop-offs of unsorted recycling.  This year, however, I have had to remember to take our bags on a special trip.  This usually happens when the bags have been sitting out in the rain under our non-sheltering tree. Hauling 5 or 6 heavy, wet, tree-sap-sticky bags into the boot of my car is not fun.  Especially since I usually wake up to the fact during a torrential downpour!  
A much better solution would be to find a great recycling collection service.  Here in the Cape, however, finding any collection service, never mind a reliable, non-kooky one, has proven to be rather difficult.  And finding a service that is happy to accept recycling that hasn't been carefully sorted into paper, plastic, glass and metal, has proven impossible.  Until now.
A KoolWaste flyer changed it all for me!  And I am THRILLED! 
As of this past Monday, Koolwaste picks up my unsorted recycling on a weekly basis.  All I have to do is secure my black bag worth of recyclables and pop them outside my gate on Monday morning.  Their only stipulation is that cardboard boxes are folded flat and placed beneath the black bag/s. 
Finally a great recycling collection service!  No sifting through my recycling to sort it out into the correct categories.  No need for expensive sorting bins.  No worries about space issues to collect separated recycling.  No out-of-the-way trips to drop off recycling at friendly recycling depots.  None of that! 
Instead, I get a friendly guy called Basil arrive at my door and whisk away my black bags and cardboard with a smile and a wave! 
And, without sounding like a clichéd infomercial … you too can have this! 
Barry Visagie, owner of Koolwaste, has very kindly extended a discounted rate to everyone reading this post! 

Very simply, if you live in the Southern Suburbs* of Cape Town, you are eligible for a 17% discount for the first three months of Koolwaste Service.  All you have to do is fill out this form below.  You should receive a confirmation email shortly after you've filled out the form.  Barry will contact you soon after.  In the meantime, feel free to download their Do's and Don'ts of Recycling document, below, which gives you a comprehensive list of what constitutes as acceptable recyclable materials.
*Not all suburbs in the Southern Suburbs are included yet. Therefore, please include your suburb in the form above to ensure that Koolwaste is able to service your area.
Thank you Barry for this fantastic offer!