Most mornings, while the girls wait patiently (and, yes, let's confess, sometimes not so patiently and rather noisily) for "up time", they entertain themselves with books and conversation.  These wintery mornings have seen the Hayes family waking up a little later than normal, and by the time I am dressed and ready to get the kids up for breakfast, the sun is up and they're ready to face the day.
However, recently, when I walked into their room, it's not reading quietly or even bright-eyed, dressed and ready little girls that I saw.  Nope – it was two knitting wonders!  While Katie was thumb casting her needle from one end to the other, Kiera was well into knitting her second build-a-bear scarf.  The messy bed hair and blurry eyes is a poor representative for the deep concentration and wakefulness that was these two!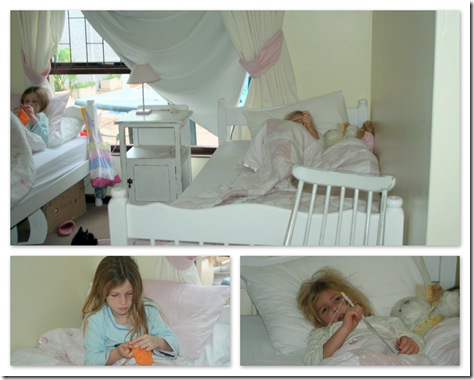 I had a good laugh!  You see, I have friends who tease me mercilessly about being THAT homeschool mom – the anti-vaccine, organic foods, child-training, long haired, might-as-well-have-the-cow-in-the-back-yard one.  So, walking into my kids' room and seeing them perpetuate that homely stereotype all on their own gave me a great chuckle! 
And the irony?  I can't knit!!!  Well, not anything more than a simple scarf.  And I didn't teach them to knit either.  :)  Their granny is responsible for that.  Who would've thought that it would stick so well that it would be the first thing they did when they woke up?  Certainly not me. 
Now… to find that free-range organic-fed sheep for some hand spun wool….