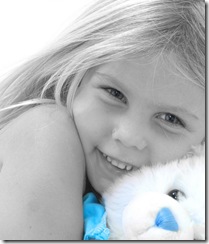 When did I blink and have another 6 year old?  It seems ludicrous that time can tick along gently and yet whizz by in seconds all at the same time.  It feels like forEVer that my sweet, chubby cheeked cherub has struggled with self-control of her hideous temper tantrums; yet, was it really as much as six years ago that those penetrating eyes first bored into mine?  It feels like … yesterday.
And yet, it's not.  It's been a whole year since the last time I wrote a "Katie is…" post.  Since then my little girl has grown in leaps and bounds…
She has exhibited a hugely independent spirit since she was a little girl.  The only difference is that now her antics have taken on a bigger shape!  Sometimes it gets her into trouble – selling her beaded shoes at the gate for example.  But other times I stand back and silently applaud her little mind that assesses everything and has it all figured out before anyone has even said "go".  She taught herself how to tie up her when she just turned 5.  Blow dry her own hair?  No hassle.  She has our remote controls sussed.  Kiera asks Katie how to work all things technical.  And, she even prepared gourmet hot oats on her own one morning when I was taking too long to get it going.  Before I knew it, there was steaming hot honey and raisin oats, beautifully puffy with just the right amount of water and milk to swell the grains to perfection. 
She still struggles with overwhelming emotions.  But, the howling wails that can be heard to Fishoek and beyond are a small price to pay for the equally intense hugs and kisses that follow as she determines to right wrong relationships.  And she's getting better at the self-control thing, too!  As always, my little Katie's intensity seems to rub off on her awareness of others.  She seems to be in tune to the insecurities that other kids may feel.  It's not uncommon to find her dipping out of a fun game in order to get alongside another kid.  Of course, there are days when she gallops roughshod over all and sundries' feelings too, but mostly, it's her tender caring heart that is remembered. 
And if it's not her heart, it'll definitely be her smile.  It's the sort of smile that tickles its way up her face as her shoulders play catch up to her ears, ending with the most brilliant chortly grin that somehow makes her eyes sparkle with more blue intensity than ever before.  Our friend Phillip has got the art of drawing her most endearing giggly smiles out of her down pat!  And we all enjoy watching her face shine with delight!
She's a deep thinker.  Too often I mistake her silence for inattention.  But, then, much later, she'll make a comment that showed that she was listening after all, but just needed the time to process it carefully.  And, very often, those comments show her most compassionate heart, for they most often concern the well being of others.  She is the one who most often remembers to pray for her cousins.  When the Gliks left, her reaction seemed detached at the time.  Only at home did the emotion well up and overflow with gulping sobs.  Those feelings run deep and fast.  Probably more than I realise….
In this year, Katie has ditched ballet (I get too sweaty mommy) and has embraced gymnastics (look at me, I'm upside down!).  Never mind that she works up a bigger sweat at gymnastics and hanging upside down is contrary to her suspected gravitational insecurity issues!  She's swimming like a fish and has taught herself to dive quite competently… that is, when she isn't belly flopping on purpose!  She's reading now too!  This past year we've been doing 100 Easy Lessons with her and she is now on to the Sonlight reading programme.  She is so excited about doing "real school" that she is loving it more than I ever my outside play girl ever would.  She still loves dress up and long hours outside with her siblings or talking to the passersby at our front gate. 
She is my cherub.  My surfer chick look-a-like, who is far too interested in lipstick and not interested enough in eating her veggies, is full of joy and love.  And we love her to little bits! 
For my Katie on her 6th birthday…
Don't ask me how! 
Dear Katie,

From 5 to 6, you've grown so much!

And yet, you still continue to touch

Your mother's heart with pride and joy

Even when you insist you're a boy!

To think that in this very year

You've learnt to listen and to hear

Your heart, your parents and our God

As you obey us better with a nod

And even when you succumb to fights and tears

You still yearn for the hugs, kisses and cares!

And to think that just a year ago

Your ABCs you didn't know

And now you're reading as if you're in grade one

And loving school time more than when you'd begun!

And even though you've had to say goodbye

To cousins that you've wanted to cry

You still remember them in your prayers everyday

And tell me to write them notes of what you want to say

It's been a fun year of firsts for you

Like running a race and losing a tooth too

And even though you've done some hair raising things

Your independent spirit secretly makes my heart sing!

I'm glad though that you're not too big or old

To play outside until you're blue with cold.

Nor that your favourite game of dress up fun

Is still your number one pastime, rain or sun!

So, although you are growing up so fast

I pray that these younger years a little longer will last…

For your sweet little smile and your cosy cuddles too

Warm my heart daily because YOU are a special you!

 

My sweet little big (!) Katie, I love you

Every day, thanking God for the gift you are too!

 
And your obligatory collage of the last year…