DD-0
The Very Last Day…
Craig and Kerry dropped the kids off for the morning and lunch time.  The weather was grey and rainy – mirroring our moods exactly.  Strange that just the day before it was boiling hot and we were swimming.…  Strange to smell wet grass and need a jersey in the height of summer….
But, it did mean that the kids got to enjoy their last hot choc mugs together at our kitchen counter… and make chocolate icing Marie biscuits.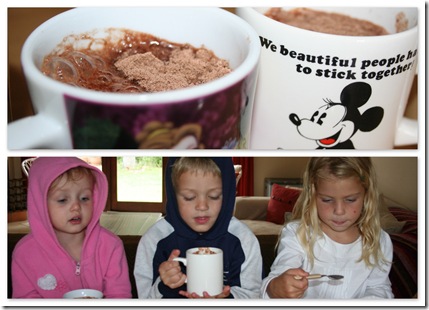 How many photos like these do we have of these 5 already?  How old will they be when a picture like this is taken again?  Will we ever take another?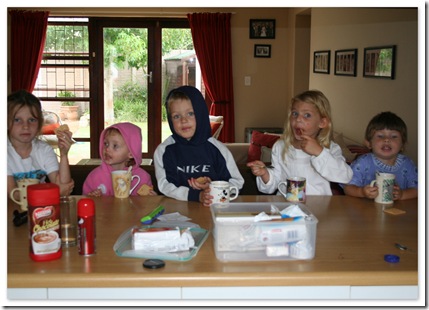 The kids wiled away their afternoon playing together – dressing up (or down – ah hem, Sam, where are your clothes?!); building castles; telling adventures stories.  Sam and Jesse have just begun connecting as little boys.  Sam is finally old enough for great interactive play and Jesse is such a great Big Cousin to teach him and play alongside him.  Will they pick up where they left off the next time we see them?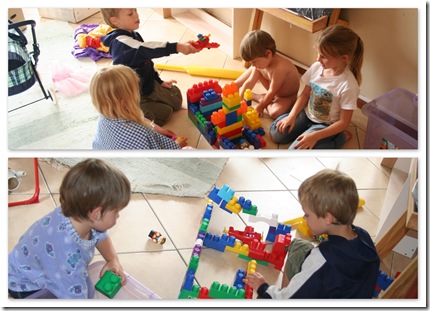 After lunch, Becky even managed to have a nap in Katie's bed – another last.  (Such a funny girl – she matter-of-factly stated to me that "when I wake up, Aunty Taryn, I am going to wake up sweaty"  Sure enough, she did!)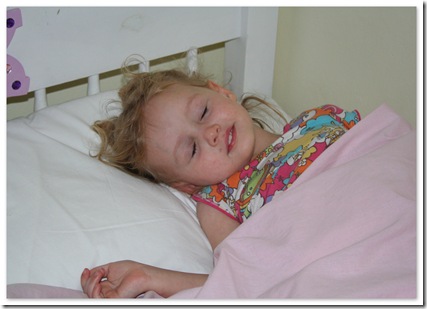 All too soon, it was 2pm and time to take them back to KP for our last goodbyes and their trip to the airport.  Jesse was jumping out of his skin with excitement.  The buzz was contagious and all our kids were flying about, laughing and shrieking and having fun… and catching those last few moments on the swing and playing catch.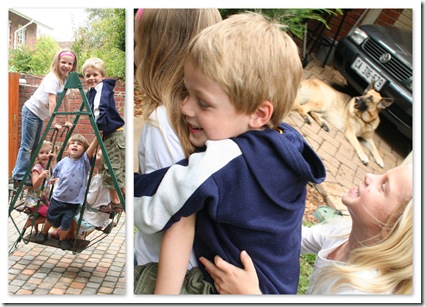 Granny had some fun too – yes, that's Emma-Kate packed up in there!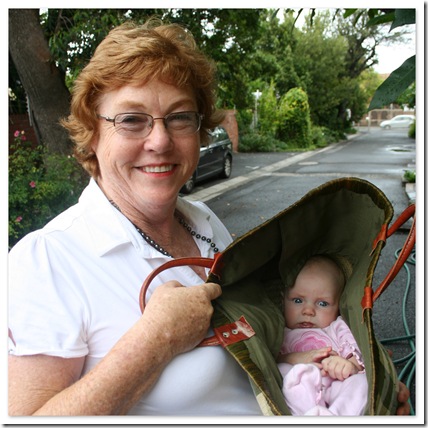 My heart lurched when I read their packing label on their suitcases – my brother's name with a home address that ends in "Perth, Australia".  Is this for real?  The empty hollow of the night before erupted into a rush of terrible sadness – the ebb and flow of deep, deep sorrow remains with me.  But in that moment and in the moments to follow, my throat, eyes and heart felt crushed in the overbearing weight of waves of loss. 
Smiles in this last photo of us with Makhulu – their wonderful caring weekly housekeeper, Veronica…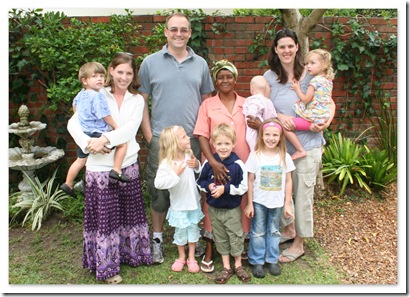 …heart-breaking tears when we hugged for the last time.  Just the memory of those last hugs hurt.  I know we have Heaven.  I know that we even have the potential to see each other again on this earth – so many lose loved ones, not to another country, but to death and forever.  I know I should feel a sense of gratitude for these things that I do still have.  And I do, cerebrally.  But emotionally, now, it feels like a loss too heavy to dwell on, without the sometimes-gentle-sometimes-fierce waves of sadness coming crashing down and enveloping me in the sea of self-pity.  Funny how times like these really highlight our sinfulness and selfishness…
Taking photos of these last moments was just about all I could do to keep myself from crumbling to the floor in gut-wrenching tears.  Having something practical to do helped ward off the worst…
The kids seemed oblivious to the emotions of the adults.  Instead they clambered in the car, one last time, visiting with their cousins and dishing out the "see you tomorrow" variety of hugs.  Kiera noticed my reddened face at one time and in that moment felt the importance of it all and tried to muster up her own tears.  But, the weight of the goodbye only seemed to sink in when she hugged Craig goodbye.  That hug was more of the "don't ever leave me" variety.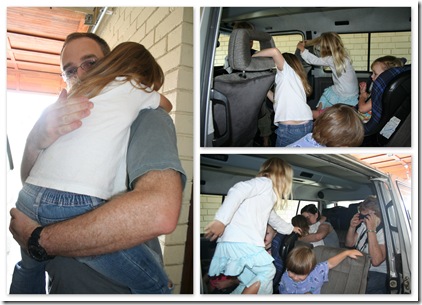 Craig and Kerry didn't want huge crowds at the airport wishing them goodbye – too difficult; too sad; too frustrating and too .. arb!  So, we waved them goodbye as mom and dad chauffeured them to CT International.  The grey Combi carrying away my precious family with the grey sky behind them … how more like a Hollywood movie could this setting be?   I have a dozen pictures of the car.  A stupid car.  A dozen of stupid pictures to keep the dozen stupid tears from spilling over once again.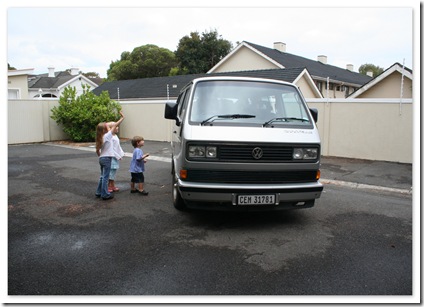 And then, they were gone.  We were staring at a closed gate and the moving traffic beyond it.  There was nothing left for us to do.  No last words.  No "Oh I forgot…" phone calls.  No "see you later"s.  Just an empty driveway and nothing else to do.
Except, get into our own grey vehicle and head home on wet, grey roads, almost blinded by tears, as they headed to the airport. 
Mom and Dad took these last photos – the loading up, the checking in and … the last waves goodbye.  Apparently they managed this parting without the expected onslaught of emotion – a small grace.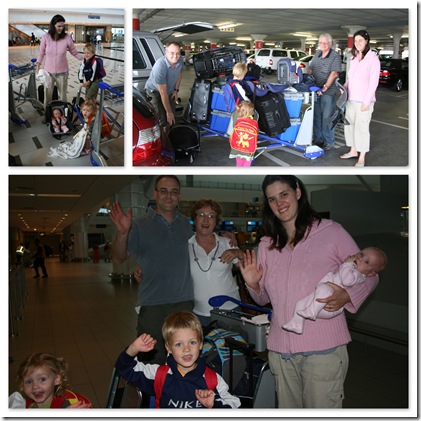 How have we fared since then?  It's been tough.  I know hundreds, no MILLIONS, of people experience this daily.  But, I've never had to say a goodbye like this to my brother and my best friend in one go.  So, it's been hard.  And I suspect that while the moments will grow further apart, they will return from time to time.  Despite the fact that my beloved big sis has lived overseas for almost half her life, the distance between us frustrates me and saddens me deeply at times – even after all these years.  I can't imagine it will be any different for our now Aussie family….
And how have they fared since then?  The sadness has been deep for them too – so many conflicting emotions.  They look forward to so many new adventures; reuniting with Rog and Les, Kerry's wonderful parents, and serving Christ in Perth.  Yet, leaving their friends, their church family, their family, their mountain, city and country behind dulls excitement and weighs heavily on their hearts too. 
Pray for them, please.  They write about some of their experiences so far on their blog: www.craigandkerry.wordpress.com  – it's a new world!