This past week was our first full-steam-ahead week of school.  And what fun it was!  I've made some changes in our morning routine so that our time in the morning is productive.  As productive as it can be with 1 toddler and 1 preschooler demanding attention from time to time.  It's amazing the difference just a little bit of decisive action can make in our mornings.  The two biggest distractions in our mornings have been a) the computer and b) the phone.  So, now I close down the computer (except on Thursdays when Kiera does her spelling test on the laptop) and ignore the phone.  No more "10 minutes here" or "half an hour there" disappearing while mom is distracted by the phone, emails et cetera.  (Now if only I could ignore the doorbell, too!)
So, while I apologise to those who've tried calling in the morning this past week (and in weeks to come!), I am delighted with the difference it has made in our mornings.  We've been able to read more; take things a little slower and I am infinitely more patient when I'm not pressed for time.  The kids aren't running off as soon as the phone rings or getting frustrated that mom isn't able to help them because she's "quickly answering an important email".   Hopefully I will be disciplined enough to keep this up!  Because, while the things we set out to do can be completed in an hour or two, taking the whole morning and including playtime with the boys and lots of great read alouds, has made our school mornings infinitely more relaxed and much more fun. 
My next experiment is to squish our 5 day programme into 4 days, leaving Fridays open (or some Tuesdays for a Coffee Morning break for me) for us to fill any gaps and do fun stuff like interesting experiments, drama shows, crafty activities.  Let's hope it works!
This past week we put into practise some of my great intentions for the year, including doing Science experiments more regularly and making Kirstenbosch a regular visit.
Here the kids are figuring out how magnets work – what they attract and what they don't.  The kid in me had loads of fun trailing after them trying to "stick" the magnet to all sorts of surfaces and things.  We then chose a few items and documented our hypothesis (whether we thought the item would attract the magnet or not) and the actual event.  Our Sonlight package includes a box full of Science non-consumable items, such as these magnets themselves.  Another big plus for Sonlight!  Making moms' life easier seems to be their forte!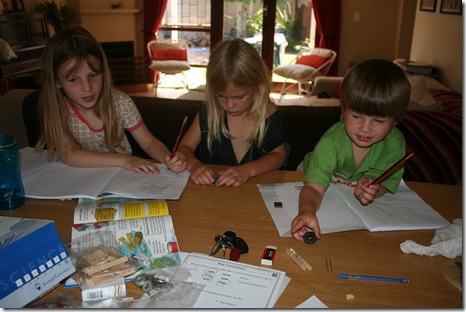 I bought a family pass to Kirstenbosch (and other SA Botanical Gardens) this last year.  Besides being atrociously dealt with by their office and being cheated out of 1 month of our annual pass, we are looking forward to using it to spend more time in the beautiful gardens.  My plan is to head to Kirstenbosch or some other natural location on Wednesday afternoons for our Nature study and Science components of school work. 
This week, despite the rainy weather, we headed off and had a wonderful afternoon under the Magic Tree – reading stories, chomping biscuits and finding plants (the aim is to pick up flowers and leaves fallen on the ground), discussing them, drawing them and writing about them in our Nature Journals.  The kids thoroughly enjoyed the entire outing, including running around in the huge open spaces our tiny garden doesn't allow.  And, due to the rather cloudy, drizzly weather, there was hardly anyone there.  Aside from the odd tourist group, we had the gardens to ourselves! 
Some kiddies hard at work…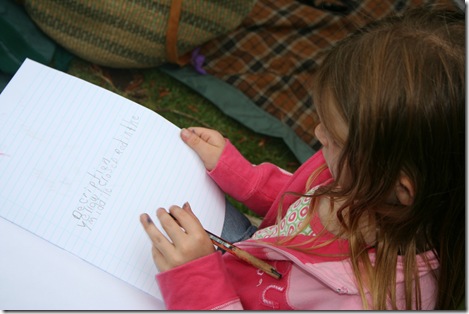 Our nature journaling… (Kiera's)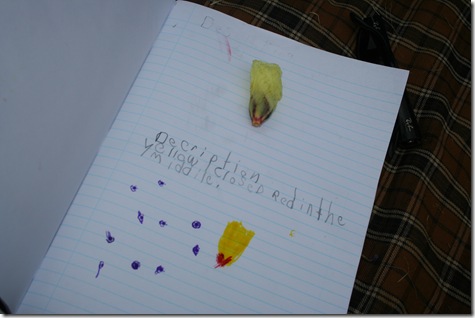 (Katie's)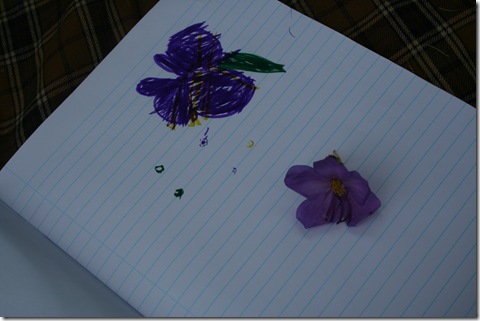 (Sam's)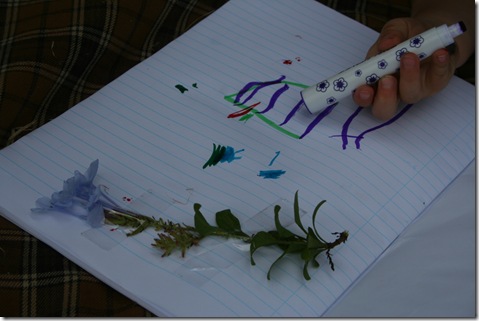 It was a lovely week, ending with gymnastics on Friday.  The girls have joined Brawn's Gymnastics with Ashley and Natalie Hobbs and are LOVING it!  Katie has suffered from a fear of dropping (my friend Sally, who's an OT, says it's called "gravitational insecurity") since she was a baby.  We'd throw her up in the air and catch her like we did with Kiera when she was a baby.  Instead of the loud chortles we'd expect, Katie would get a look of abject horror on her face,flail her little hands and arms and then wail in terror!  She's been quite wary of any tumbling type of thing, but is getting better with more time spent on the jungle gym and now that she is swimming a lot and doing forward rolls, she is getting better.  Gymnastics should sort the rest of her issues out (I hope!) 
So, school has started in earnest.  We're ironing out the creases, although, life is such that the creases will always reappear, and probably in different places.  Some days I will just have to start again with a different piece of cloth or just wing it with the wrinkled one!  And that's ok.  As my sweet big sis said – there is no point aiming too high, as life predicts that we will fail.  So, we do what we can and try not to fret and know that our kids are soaking in so much more than we could possibly imagine or control.  So, perhaps I will remember on those particular "creased" days that being along for the ride is blessing enough!