Sunday 29th November – Gavin Withers photographed all our weddings. He also happens to be a distant cousin of ours on my dad's side. And he also happens to be a really accommodating and enthusiastic photographer who was only too happy to join our family picnic and take a ton of photos of everyone on our very last afternoon together.
We gathered at Kirstenbosch. Even though the clouds threaten to pelt icy gray rain on us, it turned out to be a wonderful afternoon. Gavin's photos are still on disc and my computer needs some clearing up before Picasa can pick them up without crashing my computer, so these will have to suffice – photos from my battered Canon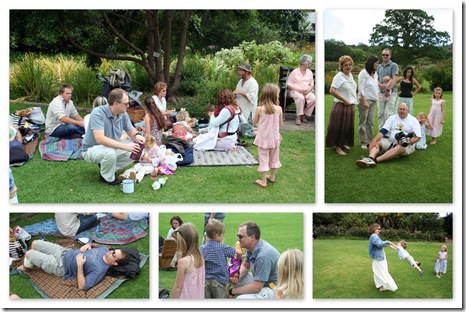 There was much wild antics from those behind the camera and even then we didn't manage to get the kids all sitting, all smiling and all visible! This was the best one that I had!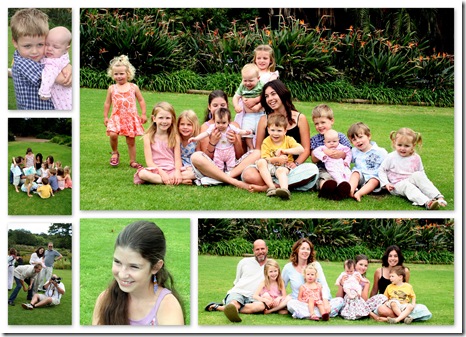 And we brought our Sonlight books along for a potential cover photo – and, good ol' Sonlight kept the crowd of kids around Craig long after Gavin was done taking photos.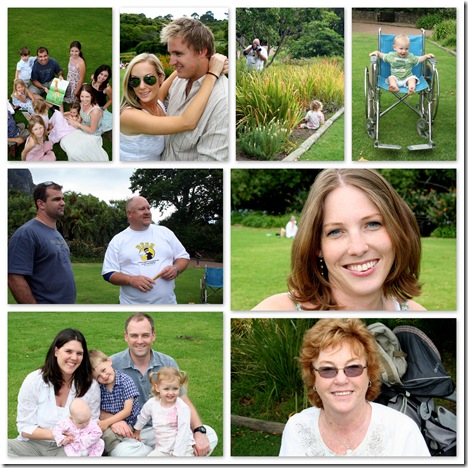 It was a wonderful, wonderful afternoon spoiled only by the first of the goodbyes - Kirsty, Adam and Craig (H) had work the next day, so farewells were said and tears were shed.
(Oh! I almost forgot! One other spoil factor were the guinea fowls. Yes, those quaint looking birds that grace so many South African curio objects, turned out to be vicious beasts! Besides scavenging for food and being generally annoying, their fierce mommy-protectiveness kicked in the second anyone even went near them. After a few incidents where the kids were near guinea fowl fodder, Craig N decided to shoo them away. And ended up being seriously attacked himself … the evidence was duly photographed and will serve forever as the day Craig was brutally attacked by … a bird.)