Micah Peter Hayes is 6!
For me, 6 marks the end of of an era of babyhood. 5 is still little. 6? 6 is big. 6 is reading and writing and school. And this little guy is no exception. In just the last two weeks, he has chosen to start reading small three-letter word books on his own accord. This, after a good year of gentle reading introduction through Reading Eggs online. Just the other early evening, Craig and I chuckled when we heard his little voice in the lounge, labouring over a difficult word, sounding it out with all the diligence he never possessed just a few weeks ago. Bob Books are now his favourite thing. For now. But, I figure if patterns are anything to go by, then Lego, Playmobil, Angry Birds and now, Minecraft, will still top the pile of favourite things in days to come.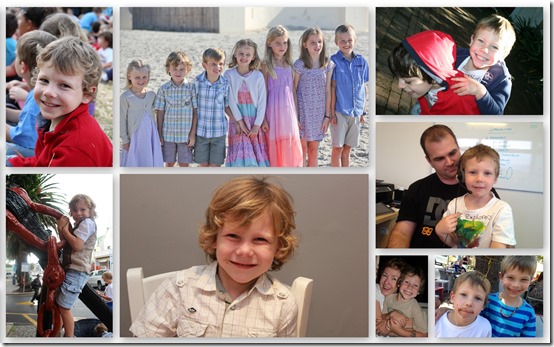 Even though he is becoming my big boy, there are still those little moments that remind me that he is still my baby. Like his tears when he realises that his favourite little toy rabbit, (Easter) Bunny, is missing. Or the little voice I hear from time to time next to my bedside in the middle of the night, "Mommy, I had a bad dream." The little body that snuggles next to mine, still smells of sweet baby sweat.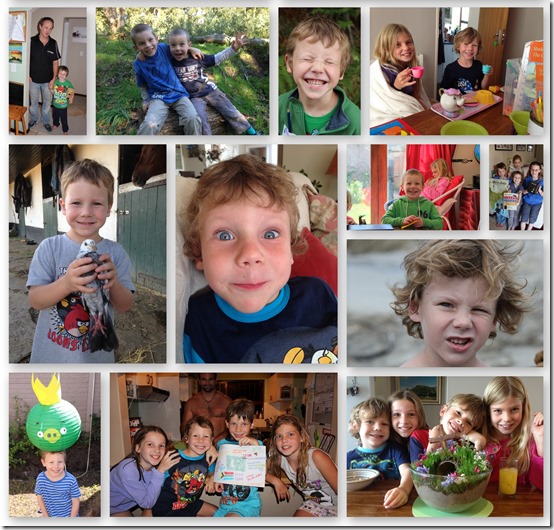 The ways in which he grows more mature are a delight, however. This is the year he tackled riding a bike for the first time on his own. Later than the others purely because we never got to teaching him. But, he pretty much taught himself, thanks to the wonders of the JD Bug. One attempt on a pedal bike at Greyton and off he went, riding like a pro. What delight!
This is also the year he decided to start gymnastics. Loving it? Absolutely.
And his latest step towards greater independence is banana-smoothie making. Or hot oats porridge. Or some other strange culinary concoction.
Not so successful was his attempt at hair-cutting this week. Another big chunk out of his fringe. Yes, another. He did that last two years ago.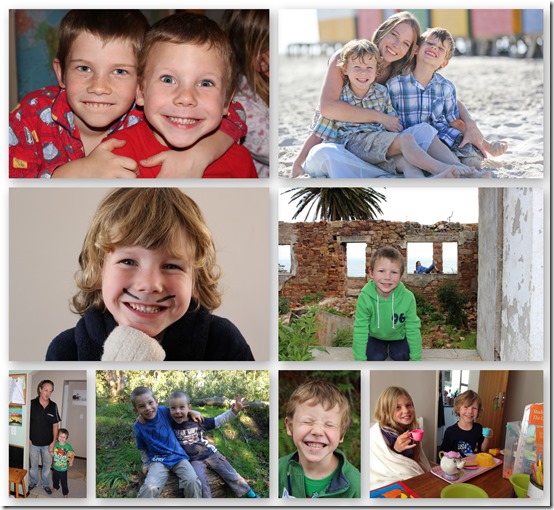 But, despite the funny hair, the ever-present aggression that he finds difficult to keep a reign on, and the persistent need to let rip with some daddy-defeating farts (Yes. I do believe that Micah is the reigning champ in that regard) he has this incredibly impish grin that can melt this mother's heart in seconds.
My favourite thing, however, are his questions. Deep questions. Questions about God. Questions about Jesus. And the questions that start, "Do you know what I'm going to give you, mommy?" Closely followed by breath-squeezing hugs and bruising kisses!
So, six it is – and on we go! My prayer is that he will grow in maturity and understanding – that his questions will gain answers that he will be able to own. And that he never stops with the loving, sweet hugs and kisses.
Happy 6th Birthday, Mr Micah!